The 2019 – 2020 Season of One Hundred Moments in Mosaic will include Three Exhibitions!
One of SAMA's most impactful programs for members is returning for its third season to once again include exhibitions on the SAMA Website, The Sculpture Objects Functional Art and Design (SOFA) Fair in Chicago, IL and a soon to be announced exhibition in conjunction with the 2020 American Mosaic Summit in Tucson, Arizona next May!
We are inviting SAMA Members to make a 2D mosaic on a 6″ x 6″ EZframe, shipped to you directly from our 100 Moments in Mosaic Project Partner supplier, WitsEnd Mosaic, and return it to SAMA HQ by October 22, 2019!   We are not limiting the number of participants but will close registration on September 30, 2019.  Participation is exclusive to all active SAMA Members.
Once again, SAMA is proud to partner with The Sculpture Objects Functional Art and Design (SOFA) Fair in Chicago, October 31 – November 3, 2019, at Navy Pier!
SAMA Volunteers from all over the country will be demonstrating mosaic techniques, tools, and materials with thousands of visitors during this event.  For 2019, we will again feature the One Hundred Moments in Mosaic project as part of our educational space at the expo.
After the SOFA Chicago event this Fall, the project will be presented as an Online Exhibition featuring each work and will include an opportunity for artists to sell their work directly from the SAMA website.  Last season, nearly a third of the work sold directly from SAMA's Gallery Website!
The third exhibition will be in Tucson, Arizona during the 2020 American Mosaic Summit.  We are still working through the details and will follow-up with all participants once things are final, but it is safe to say, that once your piece is done and shipped to SAMA for the series if it doesn't sell, you may not receive it back again till June or July 2020!
The result of our last two seasons of the One Hundred Moments in Mosaic Project was an amazing, non-juried collection of work representing the full spectrum of SAMA's diverse membership.  The work of seasoned professionals displayed alongside enthusiastic newcomers to the mosaic making process, culminated in over 100 moments of life rendered in mosaic by artists from all over the world. Viewers in Chicago both years, Boston in 2018 and Nashville in 2019 were enthralled with the diversity and creativity of our passionate SAMA Members!
TERMS OF PARTICIPATION
Theme and materials of mosaics must be appropriate for viewing by school-age children and a General Audience.  Both the Chicago and Tucson spaces will be heavily trafficked by a wide array of people.  This is SAMA's special opportunity to educate, inspire and promote excellence in mosaics to enthusiastic audiences.  Let's put our BEST on display!
Overtly offensive or explicitly themed work may be pulled at SAMA and/or the venue's discretion.
The mosaic can be made from any materials and can be executed in a flat as well as sculptural or bas-relief forms, however, the mosaic should not exceed more than one inch beyond the 6″ x 6″ frame and no alterations to the hanging hardware should occur.  Protrusions beyond one inch, and off-center or diagonal hanging alterations will result in the work being returned to the artist prior to installation. 
The mosaics will only be made available for sale through a gallery, that will be established for that purpose, on the SAMA Website.  Artists who chose to make their work available for sale will agree to donate 30% of sales to SAMA.  An Artist may also choose to present a work as Not For Sale (NFS) and the work will be returned to the artist at the end of the exhibition in Tucson, Spring 2020.
Click on the Button Below and order NOW!  Frame kits will be shipped within 5 days of receipt of payment.
The $150 fee includes:
One 6″ x 6″ aluminum frame including substrate insert and D-ring hanger.
Shipping of the frame kit to the artist in a reusable USPS Flat Rate Medium Priority Mail Box. (BE MINDFUL OF REUSE WHEN OPENING YOUR BOX!)
Display of Mosaic at SOFA Chicago, October 31 – November 3, 2019; on SAMA's Website and in Tucson, AZ, Spring 2020!
Return Shipping of your mosaic to you from Tucson, AZ near the end of June or early July, 2020 (if not sold or for sale).
Artists will be responsible for:
adhesive and tesserae for mosaic
Shipping of mosaic to SAMA HQ in Ligonier, PA by October 22, 2019, in order to be prepped for display during the event ($14.35 at US Post Office).
Artists must provide a short artist statement about the work, materials list, sales availability and pricing via email by October 15, 2019.
For Members Outside the US: 
Additional Shipping Charges will apply and will be communicated directly once we receive your registration and calculate your shipping options.
Participation is available to SAMA Members Only 
Cancellation Policy
By ordering a kit, you are committing to the terms we have outlined and promise to pay the $150 participation fee. Once participation fees are paid, only 50% will be refunded if you cancel before October 1, 2019, and there will be NO REFUNDS for cancellations received after October 1, 2019. All retained fees after cancellation will be considered tax-deductible donations to SAMA.
When your Kit Arrives
Open your Priority Mail box with care so that you can re-use to ship to SAMA for installation.
Most importantly… you need to ASSEMBLE YOUR KIT BEFORE you start to Mosaic!  You will damage your mosaic trying to assemble the hardware after the work is completed.
The D-Ring Hanger must be attached to the center hole in the aluminum frame.  It is essential that everyone's D-Ring be in the same position on the frame to aid in speedy installation!  We have limited time for installation and this will make the process mathematically accurate for hanging!
YOU WILL ONLY HAVE 3 Nuts and 3 Screws!  The instructions provided are for all sizes of the EZ Frame.  The 6″ x 6″ frames only require 2 corners and the center D-Ring for hanging.
Below are images of how an assembled frame should look…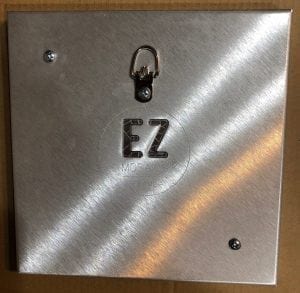 .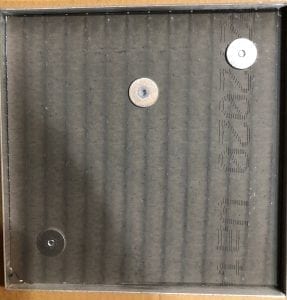 Please read the packing and return shipping instructions provided in the kit carefully.  Further Questions can be emailed to our Executive Director, Dawnmarie Zimmerman
Registration for the 2019 – 2020 Season is now closed
---
The Sculpture Objects Functional Art and Design (SOFA) Fair in Chicago is the premier gallery-presented art fair dedicated to three-dimensional art and design. On par with Art Basel and TEFAF Maastricht, SOFA is produced by Urban Expositions, a Clarion Events company.
Critically acclaimed and continuously running since 1994, what distinguishes SOFA from other top art events is its focus on three-dimensional artworks that cross the boundaries of fine art, decorative art and design.  SOFA is noted for its exceptional presentation, with an elite selection of international dealers presenting for sale one-of-a-kind masterworks in handsome, custom-designed gallery exhibits.
SOFA is held annually in the fall at Chicago's major destination, Navy Pier, with an average of 80 dealers and 35,000 people attending. Sales at the fair are estimated at 15-20 million dollars per show.
With a strong educational emphasis, SOFA CHICAGO includes an acclaimed lecture series and special exhibits exploring the artworks on view and surveying new trends in the art world.  A VIP program includes exclusive events tailored to high-profile gallery clients and collector/museum groups.
SOFA has evolved into a dynamic international marketplace and community – a confluence of perspectives where art, design and people intersect.