2016 American Mosaic Summit: Hyatt Regency Mission Bay, April 7 – 8, 2016
---
SAMA is proud to announce our Keynote Experience for 2016 will be with the incomparable Bernice Steinbaum!
Bernice: Queen of Arts with Bernice Steinbaum
Friday, April 8, 2016 – 3:00pm – 4:30pm
Bayview Ballroom, Hyatt Regency Mission Bay
Former academic BS, and that is not little b little s, has been an art dealer for more than 30 years. Her vision was clear from the beginning that women and artists of color were not being represented in the Mecca in New York City. It was a curious time for women in the arts given that 60% of those people graduating from MFA programs in universities all over this county were women and yet were not seen in galleries or museums; they were in a catch 22 situation where they were not reviewed, not exhibited or collected. That situation was even more difficult for artists of color. She was determined to change that and her roster of artists included five Mac Arthur Genius award winners (the only gallery ever to have 5 winners), multiple national endowment winners, Joan Mitchell grant winners, Pollock-Krasner winners, Guggenheim winners and too many others to list. In 2000, she moved her operation to Miami and her interest in women and people of color continued but with an additional interest in the global world in which we live. And she now included artists in her roster from Cuba, Venezuela, etc. Recently she was honored with an award-winning documentary which will be seen during the SAMA Conference and she will jury Mosaic Arts International 2016, to be presented at the Women's Museum of California in April of 2016. ~bernicesteinbaumgallery.com
---
2016 Featured Presentations
Get Lost: A Tale of Two Mosaic Travelers with Margo Anton and Richard Davis
Thursday, April 7, 2016, 1:00pm – 1:50pm
Location: Bayview Ballroom, Hyatt Regency Mission Bay
It's a big world out there, with a lot of mosaics. Ever wonder how you might be able to see some of them? Join Margo Anton and Richard Davis on a virtual mosaic journey around the globe, featuring images and stories from more than 20 countries.
Though both avid travelers, Margo and Richard have different slants on travel, and different mosaic goals in mind. Richard takes shorter trips and focuses on meeting international mosaic artists and seeing mosaics in foreign countries. He likes to work on a small mosaic while traveling (and thinks you should too!). Margo, on the other hand, is a true nomad, traveling extensively with her mosaic jewelry materials, working and teaching her way around the globe. Travel is a key component of Margo's personal inspiration, and seeing international mosaics and experiencing foreign vistas and cultures is a huge priority for her. Each of them will discuss how—and why—they travel for mosaics in the way they do. Learn how to contact and meet international mosaic artists, find mosaics to view, and even work on mosaics while traveling.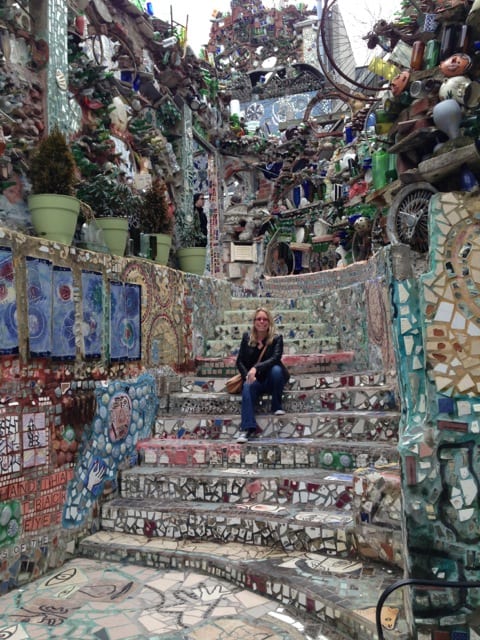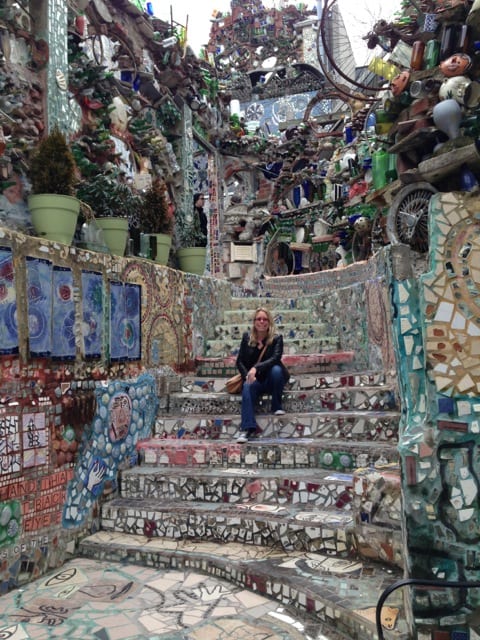 From Kyrgyzstan to Vietnam and Australia to Italy—journey with Richard and Margo as they share their photos, incredible stories, and insider tips on how to make your own globe-trotting dreams a reality. Time will be allotted for questions from the audience. The world is an amazing place full of mosaic and it's waiting for you!
Biographies
Margo Anton, a Canadian artist, arrived in the realm of mosaic in 2003, and has been gluing things to other things ever since. An avid traveller, Margo has combined her love of mosaic and her wanderlust by attending SAMA conferences, teaching and presenting in numerous countries, and viewing mosaics worldwide. Her artwork has also traveled for exhibitions in Canada, the US, and Italy.
In recent years, she has produced smaller and smaller pieces, starting with Mosaic a Day, a project begun in 2009, which led Margo toward her line of precision mosaic jewelry. Now, eschewing a permanent residence, she winds her way across the globe with a precisely-packed mosaic supply kit, supporting herself by creating, teaching, presenting, and spreading the mosaic love as she goes. ~ minervamosaics.com
Richard Davis has been writing about international mosaics and mosaic artists for Groutline since 2003, including articles about mosaics in Central Asia, Egypt, India, Vietnam, Japan, and Belgium—as well as an article about Tunisian mosaics for the British Association for Modern Mosaic. Richard first learned to make mosaics as a volunteer while living in Nelson, New Zealand in 1999, and his current studio is located on Whidbey Island, WA. He has contributed more than 80 photos to the Mosaic Atlas website. Richard has visited 36 countries, 29 of them since 1990, has lived in four countries, and is already planning his next expedition. He enjoys researching international mosaics on the internet and shares his mosaic discoveries with his fellow amateur enthusiasts. Richard has also been known to contribute additional historical facts to enhance the knowledge of a foreign mosaic or deceased foreign mosaic artist.  ~ richarddavismosaics.com
Vision to VisionShift: Development of a Large-scale Mosaic from Concept to Installation with Sonia King
Thursday, April 7, 2016, 2:00pm – 2:50pm
Location: Bayview Ballroom, Hyatt Regency Mission Bay
Sonia King's newest public artwork, VisionShift, is the only contemporary mosaic project in the Dallas Arts District—the largest contiguous urban arts district in the nation. Follow VisionShift's development from beginning to end: starting with initial client contact and concept development, continuing with step-by-step images of creating the mosaic in the studio, on to what might generously be called a 'difficult' installation, culminating with the successful opening of a major arts plaza. This presentation will be a short course in mosaic business practices, managing the production of a large-scale mosaic, tricks and tips, as well as what not to do during a big installation—all the while maintaining an artistic vision. There will be time for questions and answers at the end.
Biography
Sonia King's award-winning mosaic art is exhibited internationally and represented in private, public, and museum collections. Her mosaic, Depthfinder, is the first by an American to enter the permanent collection of contemporary mosaic art at the Museo d'Arte della Città di Ravenna, Italy. VisionShift, a large-scale, site-specific mosaic was recently installed in the Dallas Arts District. Sonia is a Senior Tutor at West Dean College in England and instituted the mosaic program at the Creative Arts Center of Dallas. She is a founding member and President Emeritus of the Society of American Mosaic Artists and past Vice President of the Associazione Internazionale Mosaicisti Contemporanei in Italy. Sonia's work has been featured on HGTV's Modern Masters and in numerous books. She teaches advanced workshops around the world and wrote the bestselling book Mosaic Techniques and Traditions from Sterling Publishing. ~mosaicworks.com

MAKING IT PERSONAL: How SAMA Enriches My Art Practice with Karen Kettering Dimit
Thursday, April 7, 2016, 3:30pm – 4:20pm
Location: Bayview Ballroom, Hyatt Regency Mission Bay
One of the special qualities of SAMA members is their unstinting generosity in sharing their knowledge and expertise with fellow members. No matter how a SAMA member characterizes her or his skill level or type of mosaic practice, the organization offers each one a mind-boggling array of benefits! Karen Kettering Dimit will take a cue from Elizabeth Barrett Browning and personally answer the question, "How do I love thee, SAMA? Let me count the ways!" Through show-and-tell, Karen will reflect on an amazing number of particularly transformational workshop experiences, reviewing the goals of each workshop, how the instructor utilizes those goals in her or his art, and how Karen has filtered that knowledge, through her own voice, to incorporate it into her personal art practice. In addition to workshops and presentations, Karen will also talk about other ways she has personally benefited from being a SAMA member, including networking and fellowship, MAI, artist salon, vendor marketplace, and Groutline and Andamento. Q & A will follow the presentation.
Biography
Karen Kettering Dimit has shown extensively in juried and invitational shows throughout the U.S., including four MAI shows, Philadelphia's Magic Gardens, InScape in Seattle, The Gallery at Penn College of Technology, the Long Island City Art Center Gallery, and in multiple gallery shows in New York City. Her Medusa won Best in Show in the MAI 2006; and Miss Willendorf 2008 won First Place in the Pen and Brush 62nd Annual Sculpture Exhibition in New York City. Her work is in collections throughout the US, Canada, and Europe. Public engagements include: moderating a panel discussion for SAMA; presentations for schools and organizations; co-founding and organizing a successful arts festival involving local businesses, politicians, media and 300 artists; teaching and conducting choirs at university and church levels, and extensive stage experience singing opera and recitals. ~kkdimit.com
From Pebbles to Pixels with Sheila Campbell and Lilian Broca
Thursday, April 7, 2016, 4:30pm – 5:30pm
Location: Bayview Ballroom, Hyatt Regency Mission Bay
Excavating, publishing, and curating mosaics from antiquity to the present—including floors, walls, ceilings, free-standing panels, and three-dimensional forms—provides evidence that there has been a shift in responsibility for mosaic style. In the distant past, style was determined by location—i.e., which country and what materials were available. In the Middle Ages, the large commissions paid for by the church were stylistically controlled by the theology of the commissioners. In the 19th century, when mosaics appeared in grand reception rooms in the villas of the "robber barons" in Britain and the US, style was determined by interior decorators. In the first half of the 20th century, mosaic was not so popular but by the 1970s the popularity of mosaic as an artistic medium flourished. But who determines style now? The various "isms" as identified by art historians, critics, and social commentators?
More recently, such terms as Modernism, Post Modernism, and Critical Modernism may, or may not, be appropriate in describing the style of mosaic artists. What has happened, after so many centuries of mosaic history, is that NOW it is clear that individual artists must be responsible for developing their own style or even styles appropriate to the work they are producing.
Biographies
Sheila Campbell has a PhD in art history and wrote her thesis on mosaics in a Roman city. She has published three books on ancient mosaics, and written chapters in three books on contemporary mosaics. Sheila has curated a show at the Royal Ontario Museum on the current work of the Scuola Mosaici di Friuli Italy, and has been consulted on several occasions by Canadian Customs and the Royal Ontario Museum to identify works which were suspected of having been illicitly removed from their origins. She is currently retired after more than forty years of teaching.
Lilian Broca received a Master of Fine Arts at Pratt Institute, NY, and taught studio art at Kwantlen Polytechnic University for fifteen years. Her work has been featured in over 70 exhibitions in Canada, the US, and Europe. Among her many distinctions, Lilian received the Lorenzo il Magnifico Gold Medal at the 2003 Florence Biennale. Her mosaics received First Prize in the 2D category at both SAMA MAI 2004 at the Italian-American Museum in San Francisco and SAMA MAI 2006 at the High Risk Gallery in Chicago. The documentary, Return to Byantium – The Art and Life of Lilian Broca, was selected and shown in six international film festivals and received the Best Documentary Award at the San Pedro International Film Festival, Los Angeles. The Hidden and the Revealed: The Queen Esther Mosaics of Lilian Broca, (Gefen Publishing House, New York, Jerusalem) by S. Campbell, Y. Wosk, and L. Broca was published in 2011. Most recently, her travelling show, Heroine of a Thousand Pieces: The Judith Mosaics, opened to enthusiastic reviews in Vancouver, Canada. Broca has given dozens of mosaic art presentations throughout Canada, Greece, Israel, Turkey, and the Getty Museum in the US. ~lilianbroca.com
SAMA Annual General Membership Meeting: (Breakfast with the Board of Trustees)
Friday, April 8, 2016 – 8:00am – 10:00am
Bayview Ballroom, Hyatt Regency Mission Bay
We are so excited to have you join us for breakfast and the 2016 General Membership Meeting. Definitely worth getting up for! Meet the officers, board members, and committee chairs who head up our programs and initiatives, as well as SAMA's hard working staff. In addition to our annual report on SAMA's many accomplishments since the last conference, we'll bring you up-to-date on the status of the organization and preview plans for the coming year. Included in this year's General Meeting will be elections to the SAMA Board of Trustees, findings from the 2015 Member Survey and a presentation from one of our Scholarship Winners!.  Join us and find out how you can be a part of SAMA's future!
Piece by Piece, Person by Person, Child by Child with Katherine England
Friday, April 8, 2016 – 1:00pm – 1:50pm
Bayview Ballroom, Hyatt Regency Mission Bay
We are a privileged group here at SAMA and all of us understand the healing quality of creating art in this medium. This presentation is about gifting this skill to the marginalized, underserved and often dismissed communities in our culture. In this presentation, Leigh Adams and I will share with the audience, the genesis of two programs that work with young people and transitioning the homeless in skid row. We will present the business model that has kept the programs self-sustaining while creating work opportunities for many as well as beautifying blighted neighborhoods. Many in our audience want to share their skill with their communities at home—our hope is this presentation can help them start this very satisfying journey.
Biography
Katherine England is a prolific visual artist who also teaches children of all ages in schools, in her studio, and at art retreats nationwide. In addition to creating and promoting public works of art, Katherine has taught and has been an activist for art education in the public school system for over twenty years. She often works with large groups of children and adults creating community installations. Her after-school program for kids (through All the Arts) has resulting in eight large murals in and around Fullerton made by kids and teens. Monies from the murals have gone back into the program, making it self-sustaining. ~katherineengland.com
Leigh Adams is a teaching artist and garden designer. Currently beginning her eighth year as AIR at the LA County Arboretum, she is also AIR for New Horizon School in Pasadena and has had teaching residencies in multiple area schools. A member of the Mosaic Mafia, the permanent teaching body for Piece by Piece, Leigh works with homeless and low income individual in high risk areas, group homes and underserved communities. ~laglassart.com
Niki de Saint Phalle – A Mosaic Artist with Jana Shenefield
Friday, April 8, 2016 – 2:00pm – 2:50pm
Bayview Ballroom, Hyatt Regency Mission Bay
Franco-American artist Niki de Saint Phalle is one of the more prolific artists in modern history.  She considered herself an artist first before being considered a woman artist in comparison or in competition with other male artists.  Born in 1930 as a Depression baby in France and growing up a young woman in New York of the 1950's compelled her rebellious and outsider point of view that produced a memorable body of work. Saint Phalle is best known for her colorful and whimsical style of painting, her large female form sculptures known as "Nanas", her large scale architectural projects culminating in her life work, the creation of the "Tarot Garden" in Tuscany, Italy and her activism for social and political causes. In 1993 the artist moved to San Diego due to health complications. The California years, though not yet truly recognized worldwide, were rich and inspirational for Niki's work, such as the building of "Queen Califia's Magical Circle", located North of San Diego.  The Niki Charitable Art Foundation Archives are located in East County of San Diego.  Jana Shenefield, Director of Niki's archives, will share her vast knowledge about Niki with us in this fascinating and educational presentation.  Who is Niki de Saint Phalle as an artist? Why, when, and how did Niki start applying mosaics to her large scale sculptures? What was Niki's inspiration to create the "Tarot Garden" and "Queen Califia's Magical Circle"? These are just a few topics to be revealed in this wonderful and rare presentation.
Jana Shenefield is the Director of the Niki Charitable Art Foundation (NCAF) Archives.  She started working at the private Archives of the artist in 2001. As the last staff member added to the artist's close circle before her death she was able to familiarize herself with the various aspects that comprise Niki's creative world. Jana was born and raised in East Germany and has a background in child education and art history.
The Foundation was created by Saint Phalle herself and became active upon her death.  The mission of the NCAF is to promote the artist worldwide, as well as exhibit, manage and conserve the artist's works including her personal collection of more than 1,000 sculptures and 5,000 graphic works of art.  Still today Niki's artwork is being revered and exhibited all around the world and we are so fortunate to have her work based here in San Diego. ~nikidesaintphalle.org