Thursday, April 7, 2016
Mission Ballroom, Hyatt Regency Mission Bay
Art Drop off: 7:00am – 9:00am
Salon Preview: 11:00am – 5:00pm
Auction: 7:00pm – 9:00pm
7:00pm – Salon reopens and bidding begins
8:00pm – Teal balloon tables auction will close
8:15pm – Purple balloon tables auction will close
8:30pm – Blue balloon tables auction will close
8:45pm – Lime balloon tables – Educational Experience Auction will close
9:00pm – All artwork needs to be removed

 Join us for the 9th Annual Mosaic Art Salon and Auction!
Any SAMA conference attendee can display their work for everyone to enjoy and even purchase. Tables will be set up in the Salon area to display the art all day on Thursday. Later in the evening, during the Auction, all attendees and guests may browse the salon and register a written bid on any piece they wish to purchase.  The auction room will be divided into sections, each section with a different ending bid time with the Educational Experience Fundraising Items up for bid last.  As bidding closes, each work for sale will go to the highest bidder. The payment transaction is then handled on the spot between the artist and the buyer, and the buyer takes the work home.
Highlights for this year's Salon:
Salon works will be on display during the Thursday preview (note: viewing only, no bidding).
Entry deadline: March 15, 2016 (or when space is filled)
Size guidelines: Maximum size (INCLUDING FRAME) for your work is 20"h x 15"w (x 15"d for 3D works). Works larger than this will NOT be allowed or exhibited.
You must ADD the Salon Artist Fee onto your conference registration to participate. A portion of each artist's exhibition space fee of $35 goes to the Robin Brett Mosaic Scholarship fund.
This is a non-juried event and any attendee can exhibit however SPACE IS LIMITED! If you want to exhibit, you must purchase a Salon exhibition space during the Conference Registration process, follow the artwork size rules and meet the entry deadline. Your mosaic does not have to be for sale to be shown in the Salon. Conference attendees do not need to purchase an exhibition space to attend this exciting and highly-anticipated event. Check here for updates. You will be emailed further instructions in February.
You will have the opportunity to donate the proceeds for a SOLD artwork in the Salon to SAMA. Special tent cards will designate which pieces' proceeds are being donated. This is a great way to help support our organization while getting a chance to exhibit your work.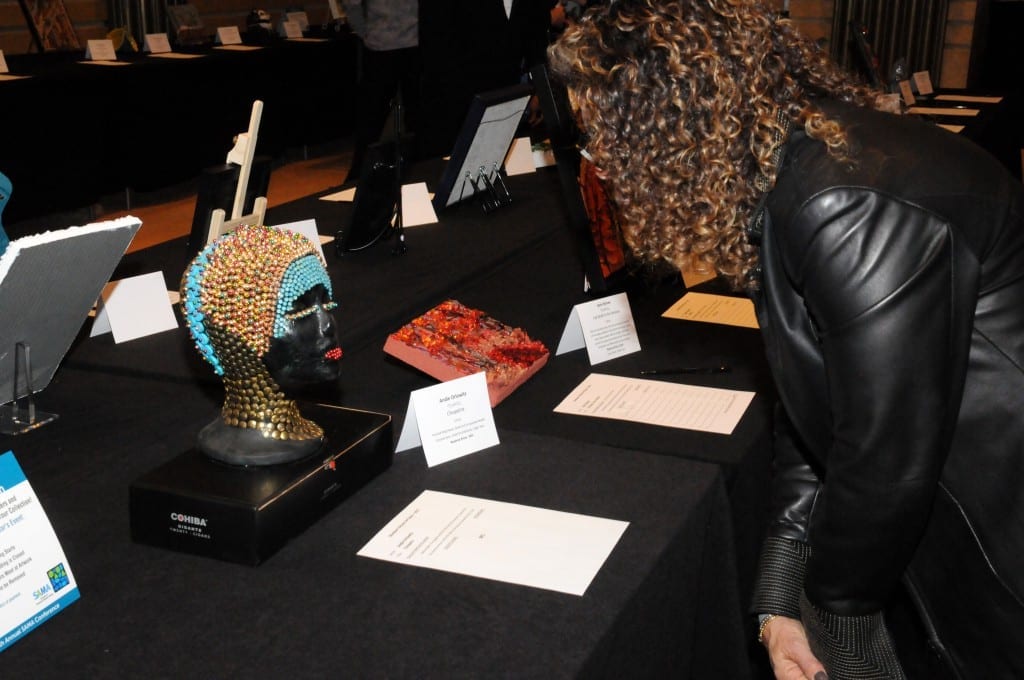 Educational Experience Fundraising Auction
For 2016, we will be adding a table of exclusive Educational Experiences to the auction segment of the evening to help raise funds for SAMA's General Operating Fund.  Looking to study mosaic in a far away place with your favorite instructor and raise money for SAMA too?  Do not miss the last portion of the auction on Thursday evening!
If you are an instructor or venue that would like to donate an exclusive Education Experience to the auction, contact our Sponsorship Team today!