2017 American Mosaic Summit: Detroit
May 2 – 6, 2017
Proposal DEADLINE September 30, 2016
2017 Education Program
Each year, SAMA has increased the number of course offerings to accommodate the incredible desire of its members to get their hands on materials and create a new chapter in their mosaic education.  The Education Program is noted as the main reason members choose to attend the conference per our annual surveys.
SAMA members eagerly work the website's shopping cart on overdrive when the registration period for courses first opens each Winter. If you are an experienced instructor who would like to touch the lives of the most enthusiastic mosaicists in the world, then we invite you to submit a course proposal.
On Wednesday May 3, and Thursday, May 4, 2017,  the Education Program will focus on the Professional, Artistic and Technical Development of its members. Proposals for 2 hour seminars, 4 hour (half day) workshops or seminars, 8 hour (full day), and 16 hour (2-Day) workshops will be accepted. Workshops will be classified as "Hands On" – are described as technical or material centered wherein the participants do manipulate materials and create a project or practice a technique.  Seminars or "Demo/Lecture" – are described as informational or discussion centered wherein the participants will not manipulate materials but participate in a discussion of the topic. This would include demonstration presentations.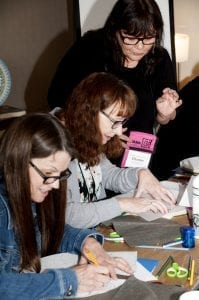 Due to the time constraints of our program, we ask that potential instructors keep the time frame in mind when composing their course content.  SAMA and our member attendees do not expect a week's worth of content to be squeezed into one day. We do however expect that all attendees walk away from the courses with ample understanding of your subject, reference material and/or tactical experience with a method and enough inspiration to continue further study and work on the subject.
Terms:
Course compensation is set by SAMA and scaled by course length, instructor experience, and prior demand.  Workshop registration fees for courses are split 40% instructor/ 60% SAMA. Any Materials Fees will be established and reimbursed separately.  Prior attendee evaluations of courses are considered during the selection process.
A feature of these forms is a "Save & Continue Later" button at the bottom of the form.  Make sure you save the link provided when this button is used so that you can return to your proposal.  We recommend, printing this page to assist in preparation of requested information BEFORE attempting to complete the form for submission.  We recommend writing text area in advance and copy/pasting entries in form at time of submission.  
If you click Submit and DO NOT receive a confirmation email, please contact Chris Forillo.
Course Proposals are Due September 30, 2016.  SAMA's Education and Executive Committees will review the proposals and notifications will be returned by October 21, 2016. Accepted Instructors will be provided an agreement outlining workshop pricing and instructor fees by November 1, 2016.