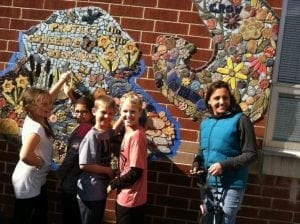 Handmade & Handglazed Clay Tile with Jessica Gorlin Liddell
Session 35: Wednesday, April 24, 2019, 8:00am – 12:00pm
Workshop: Hands-On 
All Levels
Price: $200  (Includes $30 Materials Fee)
Learn how to make and glaze your own ceramic tiles in this fun, hands-on workshop.  Working with clay will open up a world of possibilities and allow you to Incorporate different textures and shapes into your mosaics.  In this class, students will explore the popular tools and techniques used by tile makers.  Students will also receive important information on different clay bodies, outdoor projects, substrates, and firing kilns.
We'll begin our class by taking a look at different examples of how artists integrate handmade tile into mosaics.  Students will watch demonstrations of a number of techniques and then try them out themselves.  Learn how to roll out, cut and sculpt clay slabs.  We will experiment with stamps, stencils and other interesting texture tools.
Our class will cover different types of glazes and options for surface design as well.  At the end of the class, students will have a number of clay pieces made.  Pieces will be fired and available for pick up at the end of the conference or sent out via USPS.  Materials and handouts will be included with the materials fee.
Jessica Liddell
started her company, Bella Mosaic Art, in 1997. She specializes in large-scale architectural works and has created permanent mosaics in parks, libraries, schools, office buildings, hospitals and private residences across the US. In 2003, Jessica renovated a commercial property in Philadelphia, Pennsylvania and established a ceramic, mosaic and glass studio where she fabricates many of the tiles used in her projects. She also teaches adults and children in space. Along with her work in schools, Jessica has developed a corporate team building program and has worked with a number of companies to foster creativity and teamwork with their employees. Her artwork has been featured on HGTV and The Travel Channel along with many regional news shows and publications.
BellaMosaic.com