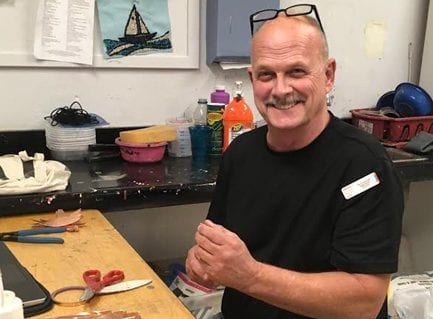 Organic Abstract Design with David Jarvinen
Session 6: Wednesday, April 24, 2019, 8:00am – 5:00pm
Workshop: Hands-On
Beginner/Intermediate
Price: $330  (Includes $45  Materials Fee)
In this workshop, our goal is to explore movement with line, balance, and repetition and explore the relationships and use of materials. Understanding movement within a confined space can be difficult at times and this workshop is designed to think in ways that enlarge our vision and understand from a bigger perspective- "an organic approach". This type of approach helps the participant to create from the senses as opposed to emotion. Participants can expect an immersive workshop experience with plenty of materials to explore. Participant needs to supply wheeled nippers & tweezers.
David Jarvinen has been actively instructing mosaic workshops since early 2004. Playing off his technical experience from the residential tile contracting industry, he understands the needs of beginners as well as intermediates to experience materials and tools in immersive workshops. This initial experience of "diving in" brings confidence to the participant and then that makes the next workshop even better! He breaks down all workshops in easily digestible formats and if you follow the steps- you will be successful! His motto is "Together we can learn more" Mosaicguys.com
---
Professional Development Seminars
Broadening the Understanding of the Business of Art.  Providing professional artists with best practices and tips to transition from non-art related field to an art business.
Artistic & Technical Development Workshops
Increasing an understanding of general art concepts in relation to a mosaic artwork. Increasing the technical skill of the mosaic artist through the exploration of materials, techniques, and tools.