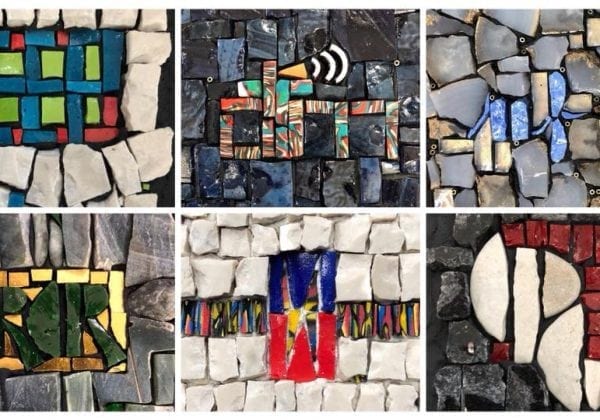 Make Your Mark: Your Mosaic Signature and Other Motifs with Kelley Knickerbocker
Session 7: Thursday, April 25, 2019, 8:00am – 5:00pm
Workshop: Hands-On 
All Levels
Price: $325 (Includes $30  Materials Fee)
In this fun, information-packed workshop you'll learn and apply principles of shape, value, contrast, and readability to the making of four small mosaics that capture your personality and style. You'll design your own signature block or logo as well as several other related motifs, and will gain an understanding of how motifs can enliven and unite mosaic design and composition. Instruction will be via slide show, handouts, demos, discussion, exercises, hands-on building, one-on-one guidance, and critique. A diverse variety of materials will be provided; all you need to bring are your nippers (Montolits recommended), a smile, and a sense of adventure!
Seattle-based visual artist Kelley Knickerbocker left a 22-yr administrative career at the University of Washington in 2006 to found Rivenworks Mosaics, where she designs and fabricates mosaic artwork for public, commercial, residential and gallery environments. Kelley's ruggedly dimensional mosaic artworks are a textural distillation of her fascination with contrast, material properties and the technical challenges of mosaic construction, and garnered her SAMA's Innovation in Contemporary Mosaic award in 2015. Her work is widely collected and regularly exhibited in the US and abroad. An instructor since 2009, Kelley travels around the world speaking, collaborating, and teaching in-depth workshops on mosaic style and technique.  Rivenworks.com
---
Professional Development Seminars
Broadening the Understanding of the Business of Art.  Providing professional artists with best practices and tips to transition from non-art related field to an art business.
Artistic & Technical Development Workshops
Increasing an understanding of general art concepts in relation to a mosaic artwork. Increasing the technical skill of the mosaic artist through the exploration of materials, techniques, and tools.