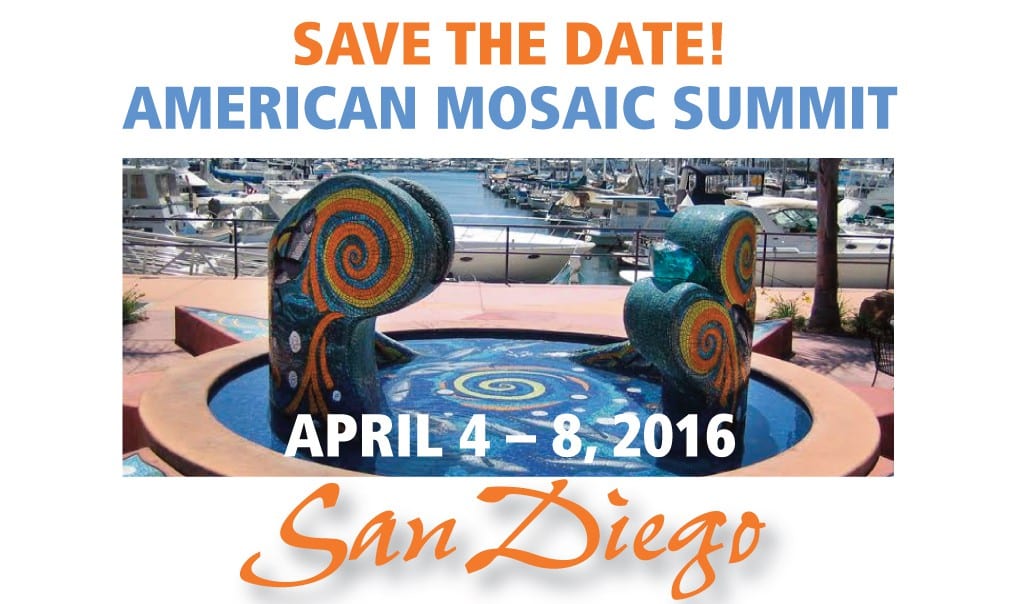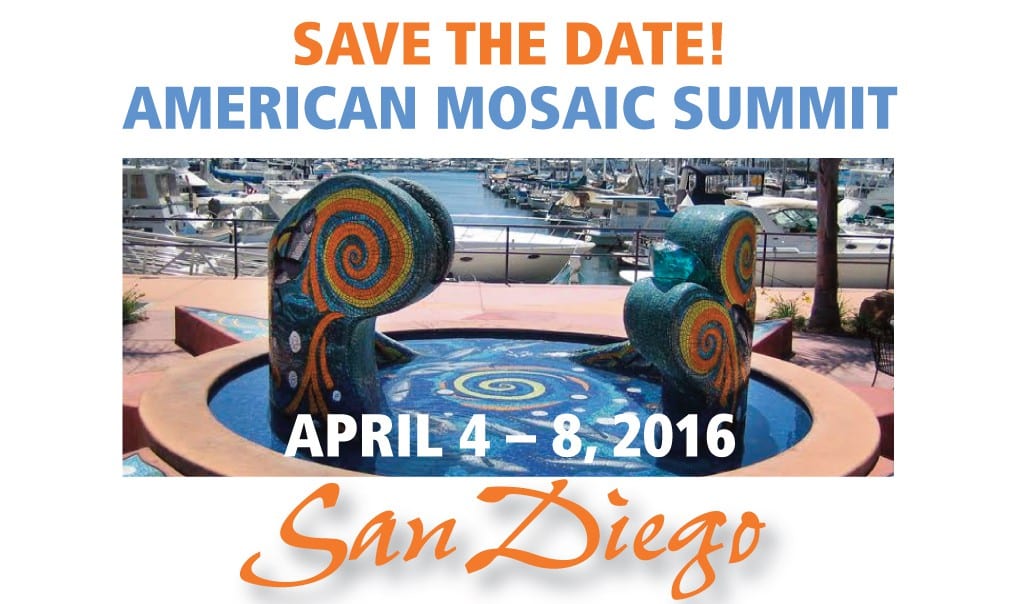 Image: Kim Emerson, "Ocean Dances", Sun Harbor Marina, San Diego, CA
We are thrilled to announce that SAMA's American Mosaic Summit will be returning to San Diego in April of 2016!  This won't be a repeat of the incredible event held in 2009… it will be BETTER!
We are working hard with new venue partners to make this the most convenient, relaxing, educational and inspiring event series we have ever produced… all in the heart of beautiful sunny San Diego!  This includes refreshing the Mosaic Art Tours and lining up another set of A-List Workshop Instructors and Presenters to knock your socks off!
We are even changing up the days of the week our conference program is held in order maximize the savings for you!  FREQUENT ATTENDEES TAKE NOTE!  Rather than starting on Tuesday Night and going through Saturday Night, the 2016 conference will begin on Monday, April 4th and continue through till the evening of Friday, April 8, 2016.  
So MARK YOUR CALENDAR for these key dates to return to the SAMA Website for more information!
American Mosaic Summit – Call for Topics begin: July 1, 2015 (CLOSED)
Mosaic Arts International 2016 – Call for Artists OPEN! updated
Vendor & Sponsor Program OPEN! updated
American Mosaic Summit Accommodations updated
Program & Pricing Available: November 16, 2015
Registration Opens: December 1, 2015 12 NOON!
Note: all dates above are our targets for these key events.   Bookmark this page on the SAMA Website to monitor updates or changes for any of the key dates listed.  
Do you want to help the 2016 Conference Team make this year a great success?  
We need energetic and positive team players for our Sponsorship and Public Relations committees!  Contact Donna Post, Volunteer Coordinator, now for more info!