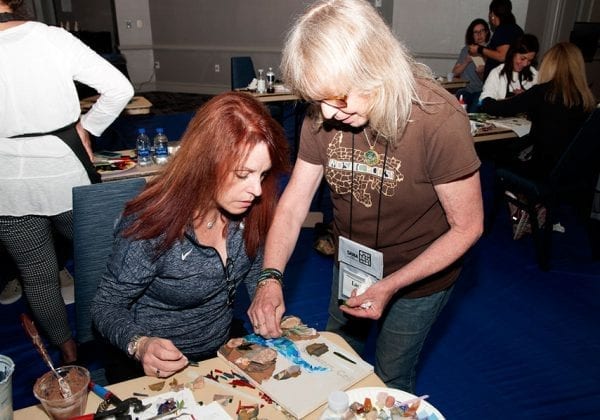 2020 Education Program
2020 American Mosaic Summit: Tucson
May 12 – 17, 2020
Proposal DEADLI

NE  September 30, 2019   Extended till October 2nd.
The Education Program is noted as the main reason members choose to attend the conference per our annual surveys and SAMA members eagerly work the website's shopping cart on overdrive when the registration period for courses first opens each Winter. If you are an experienced instructor who would like to touch the lives of the most enthusiastic mosaicists in the world, then we invite you to submit a course proposal.
Tuesday – Thursday, May 12 – 14, 2020,  the Education Program will focus on the Professional, Artistic and Technical Development of its members. Proposals for 2-hour seminars, 4-hour (half-day) workshops or seminars, 8-hour (full day), and 16-hour (2-Day) workshops will be accepted. Workshops will be classified as "Hands-On" – are described as technical or material centered wherein the participants do manipulate materials and create a project or practice a technique.  Seminars or "Demo/Lecture" – are described as informational or discussion centered wherein the participants will not manipulate materials but participate in a discussion of the topic. This would include demonstration presentations.
Due to the time constraints of our program, we ask that potential instructors keep the time frame in mind when composing their course content.  SAMA and our member attendees do not expect a week's worth of content to be squeezed into one day. We do however expect that all attendees walk away from the courses with ample understanding of your subject, reference material and/or tactical experience with a method and enough inspiration to continue further study and work on the subject.
Terms:
Course compensation is set by SAMA and scaled by course length, instructor experience, and prior demand.  Workshop registration fees for courses are split 40% instructor/ 60% SAMA. Any Materials Fees will be established and reimbursed separately.  Prior attendee evaluations of courses are considered during the selection process.
International Instructors:
Due to growing concerns over the difficulties experienced by our Instructor/Presenters traveling from outside the US to travel into the country to contribute to our conference program, SAMA will work to submit and comply with the nonimmigrant worker petition process so our Instructor/Presenters can obtain nonimmigrant work VISAs for their time contributing content for our conference.  This will apply for Workshop Instructors and Presenters only.  Mosaic Arts International Artists who are not also instructors or presenters for the conference are not required to travel to the US to exhibit their work and will not qualify under the classification of the petition we are submitting.   So that we are ahead of our target filing dates, we ask that all instructors planning to submit proposals email Dawnmarie Zimmerman as soon as possible, informing her of your intent to submit a proposal, so we can get a head start on the petition application.
---
We have UPDATED the Form System on the SAMA Website.  These forms can no longer be saved for later.   We recommend, printing this page to assist in the preparation of requested information BEFORE attempting to complete the form for submission.  We recommend writing the text area in advance and copy/pasting entries in the form at the time of submission.  
TROUBLESHOOTING!
If you click Submit and are not redirected to a Confirmation Page, please scroll back up and review your form for submission issues.  If your files are too big, submit your form without the uploads and email them to Dawnmarie Zimmerman.  If you are still not directed to a Confirmation page or DO NOT receive a confirmation email, please contact Dawnmarie Zimmerman.
Course Proposals are Due September 30, 2019   Extended till October 2nd.  SAMA's Education and Executive Committees will review the proposals and notifications will be returned by October 15, 2019. Accepted Instructors will be provided an agreement outlining workshop pricing and instructor fees by October 30, 2019.