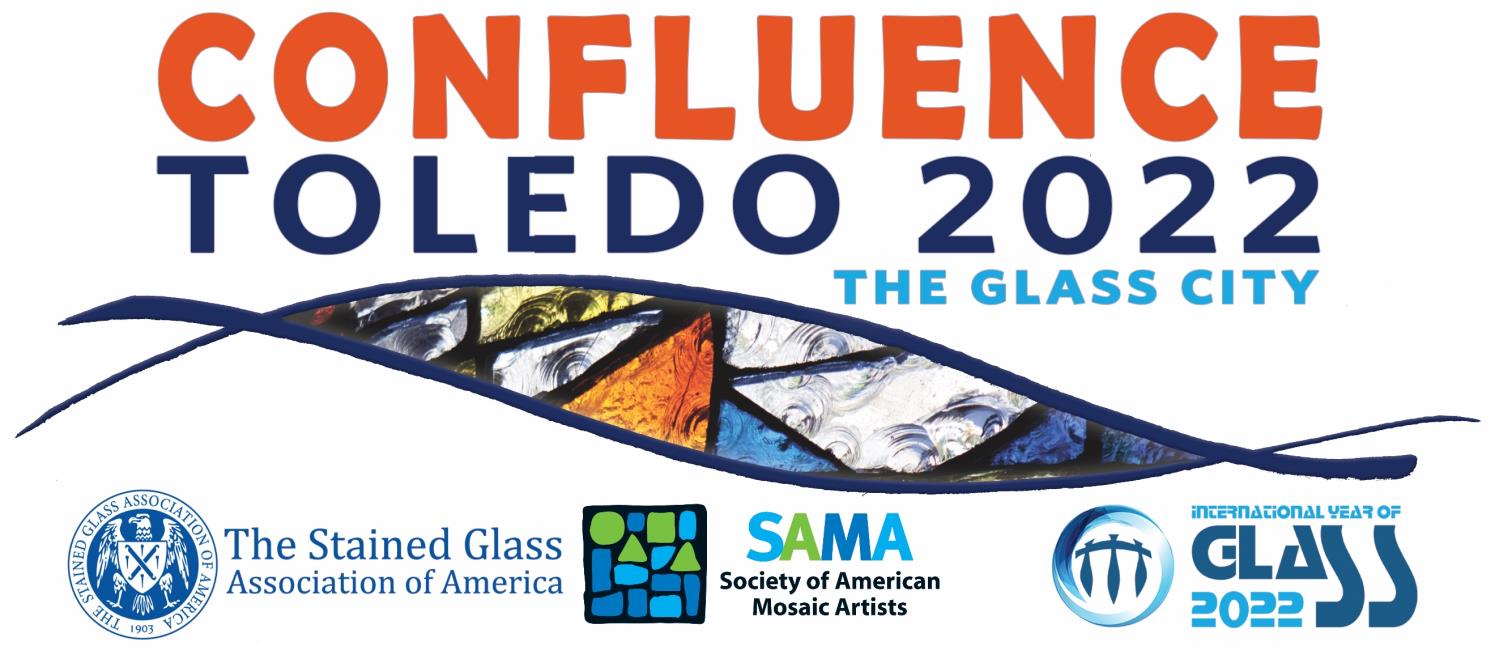 June 27-30, 2022
Please plan on joining your friends and colleagues both familiar and new for an inspirational and thought-provoking conference that will bring every facet of our industry together in celebration. 
Renaissance Toledo Downtown Hotel
444 N Summit St, Toledo, OH 43604
The energy and excitement in the SGAA + SAMA offices could probably power a small city at this point, and we're surprised the roads between Pittsburgh, Buffalo, and Toledo aren't glowing from the churn of our tires as we race around putting the finishing touches on what's really shaping up to be a momentous conference and celebration in Toledo! 
While we still need a bit more time, we would like to give you a general sense of where we are in regards to finalizing details and to give you an idea of what to expect in the coming weeks.
There will be a juried exhibition!  Adjoined 2022 will be a juried exhibition of original Mosaic Art, Stained Glass and Architectural Art presented by the Stained Glass Association of America and the Society of American Mosaic Artists held in conjunction with our joint conference, in Toledo, Ohio, June 27-30, 2022. This will be presented in a public space for a period of several weeks and we will celebrate the work and artists during our Toledo Conference.  The exhibition prospectus and Call for Entry details will be posted, emailed, and shared in the next 2 weeks. 
Your sponsors, the incredible suppliers, and manufacturers that support our industry are already filling the Vendor Marketplace. If you would like to add your support, review the sponsor and vendor opportunities and place your commitment soon!  Space is limited!
We are putting the finishing touches on an incredible program!  Bringing two communities together affords a rich well to draw for presentations and workshops that will provide quality foundational references while also inspiring artistic exploration across the gathering's varied interests.  We are also organizing field sessions and opportunities to explore all that Toledo has to offer. There are a lot of moving parts and we appreciate everyone's excitement, enthusiasm, and patience while we put all the pieces in place!
This conference will take us all over the city of Toledo and beyond. Here is how you can join us:
Pre-Registration- Open NOW through April 9th!
Early SGAA & SAMA Member Registration $ 365.00

Early Non-Member Registration $ 395.00

Includes featured presentations, access to workshop registration,  the vendor marketplace, networking and award events, art salon, sponsor swag bag, and more! 
Workshops & Classes – Updated March 19th
Thank you for your Excitement! 

Workshop Registration, Apr 9, 2022 at 12 noon EST.

We are also planning special demonstrations and field sessions for those interested in alternate experiences, outside the traditional workshop or general session type conference content.Many are making travel arrangements and would like more information on the schedule so we have outlined the Preliminary Schedule here. 
Exhibition 
We are exploring options for a juried exhibition to be staged in Toledo for several weeks and will have updates soon with the call for entry details!  Stay tuned!   
Bus Tours & Other Events
Post-conference bus tours and other add-on conference events will also be posted later in March. 
General Registration – April 10 – May 31, 2022
General Registration – SGAA & SAMA Members $ 415.00

General Registration – Non Members $ 465.00
————–
For more than 100 years, The Stained Glass Association of America's annual summer conference has served a vital role in the industry, bringing together artists and studios from across the country to exchange ideas and perspectives. This year's national conference marks the beginning of our partnership with the Society of American Mosaic Artists.  By partnering with SAMA's 20-year legacy of inspiring, educating, and promoting excellence in mosaic arts, SGAA and SAMA are setting the stage for an expansion of opportunity for artists, historians, manufacturers, architects, designers, and preservationists in both membership communities.