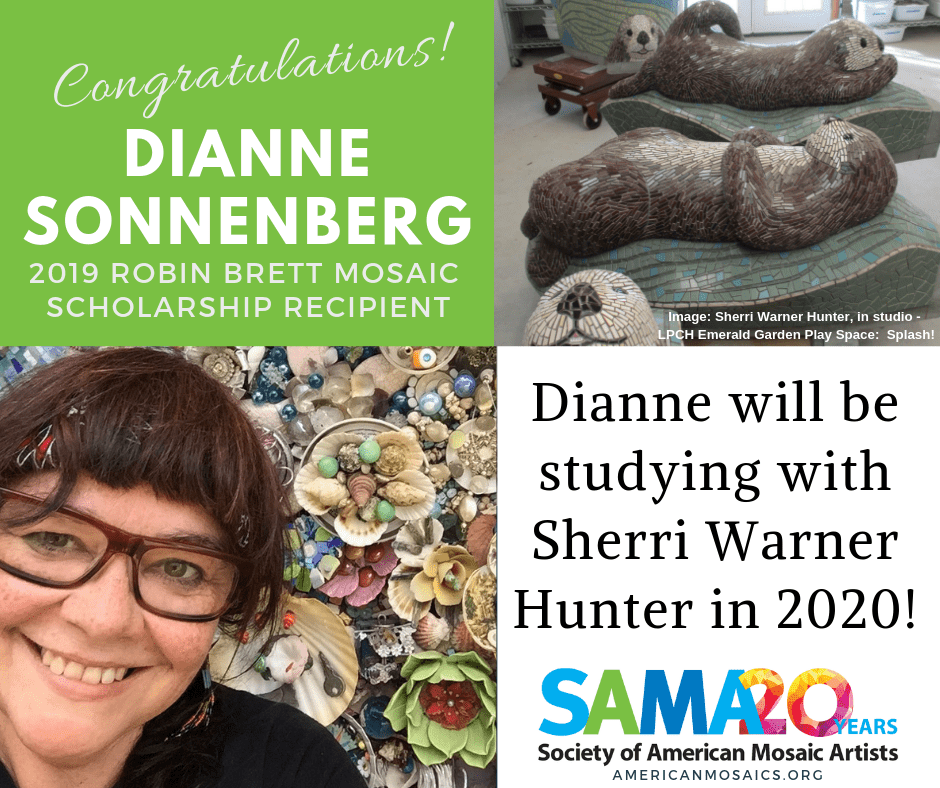 ---
2019 Scholarship Application:
APPLICATION IS NOW CLOSED
2019 Application Guidelines Eligibility 
Applicants must be SAMA members for at least 12 months prior to applying
Applicants must be 18 years or older.
Applicants must demonstrate an interest in mosaic art, and must clearly articulate how a focused educational opportunity will support their growth as a mosaic artist
Who is not eligible to apply?
SAMA Staff, current Board of Trustees and Advisory Board members, and their families
Groups, organizations, businesses, and 501(c)(3) tax-exempt entities
One individual may not apply on behalf of another
How many Scholarships will be awarded in 2019?
The Robin Brett Mosaic Scholarship will award one scholarship in the amount $2000.00 for 2019.
What types of learning experiences will be funded?
Applicants must demonstrate that the proposed learning experience will give them the critical skills and knowledge necessary to take their next big step as a mosaic artist.
Learning experiences provided by established, credible organizations and/or instructors.
Examples of acceptable learning experiences include workshops, classes, conferences, training, master classes, and seminars.
Funding is not limited to mosaic-specific programs.
Who will choose the Scholarship Recipient?
The SAMA Scholarship committee will screen the applications for completeness, and then forward them to a volunteer panel of reviewers who will choose the Scholarship recipient.
If I receive the Scholarship, will I be required to provide a follow-up report on my learning experience?
Yes, within 30 days of completing your learning experience, you must provide a follow-up report that includes a written narrative along with images and a list of expenses. You are also required to talk about your experiences at the following SAMA Conference general meeting after your scholarship experience.
If I receive the Scholarship, how will the money be awarded?
SAMA will pay one half of your scholarship ($1000.00) within one month of the award.  The second half ($1000.00) will be awarded upon completion of all education and receipt of your written follow-up report and expense report.
How can I get an Application Form?
Apply online on Slideroom, the application will go live 5/15/19, If you want guidelines ahead of time you may print out before applying – click this link:  Application Guidelines is available here for reference.
Any questions or issues with the form may be directed to, Libby Hintz at scholarship@americanmosaics.org
THE APPLICATION IS ANONYMOUS SO PLEASE MAKE SURE YOUR NAME IS NOT ON ANY DOCUMENT, LETTER OR FILENAME. Please do not put your name anywhere in an attached document or in the filename of a document or image you are attaching.
Here is a checklist of all the items you will need prior to starting your online application process, you will need to fill out the information about yourself online and attach the following documents:
Narrative statement (Title it: "Narrative Statement")
Budget (Title it: "Budget")
Resume (Title it: "Last Name" Resume)
Recommendations – two letters of recommendation (Title it: "Recommendation Letter No 1" & "Recommendation Letter No 2")
Documentation supporting learning experience (Title it: "Documentation")
Image Documentation: This is a list of the five images you will be submitting with the corresponding titles for each image (Title it: "Image Documentation" This list allows the panelists to refer to all images submitted)
5 images of your artwork – You will be able to attach your images in a separate location in Slideroom
NOTE:  ALL applications must be received via SAMA website by July 15, 2019, 11:59pm EST.  Applications WILL NOT be accepted by hand-delivery, fax, or email.  Slideroom will keep your application in draft form until you are ready to hit apply.
What are the key dates and deadlines 2019 Scholarship?
Application available: May 15, 2019
Application deadline: July 15, 2019 11:59pm EST*
Award Notification: September 15, 2019
Who do I contact if I have questions about the application process?
E-mail scholarship@americanmosaics.org
Libby Hintz
How can I donate to the Robin Brett Mosaic Scholarship Fund?