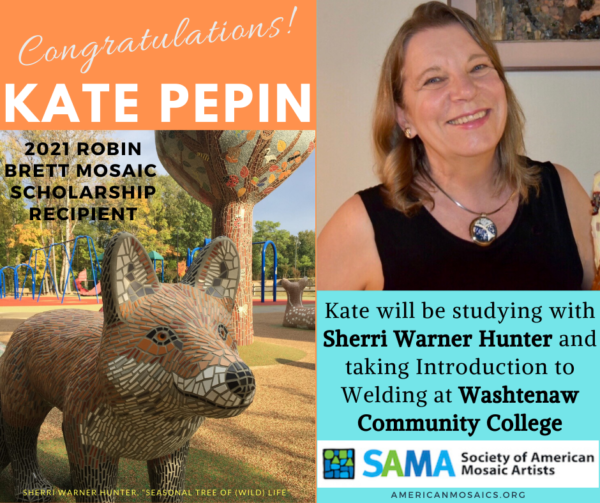 The 2021 Robin Brett Mosaic Scholarship has been awarded to Kate Pepin who will be using the funds to take the Hybrid Armatures Class with Sherri Warner Hunter in Bell Buckle, Tennessee and Introduction to Welding at Washtenaw Community College in Ann Arbor, Michigan.
The panelist this year is Shug Jones.
Shug Jones started her artistic journey when she attended an oil painting class with her uncle at the age of twelve. Since that time, she has traveled the world, lived in the Far East and Europe, and returned to Texas to raise her family.  Her artistic path has taken many twists and turns, from oils to colored pencils, scratch board to watercolors, and finally to mosaic. Shug was co-founder of Tesserae Mosaic Studio, Inc., creating large scale mosaics for residential, commercial, hospitality, and healthcare installations in addition to her fine art mosaics and teaching across the United States and in Australia for over 13 years. Since 2014, she has focused on her fine art almost exclusively as Shug Jones Mosaics.
Shug Jones writes:  Kate has a very good grasp on where she is along her mosaic journey and where she wants to go.  Her statement and budget clearly outlined her plan and how she would use the scholarship to achieve her goal.  Crisp, clear, and properly framed/cropped images showed her work to its best advantage. It was obvious from reading the letters of reference that they were written by people who are very familiar with her work, work ethic, and her dedication to bettering her art. I believe that she was an excellent candidate for the scholarship and will use it to every advantage. 
---
Scholarship Application:
Scholarship process is currently on pause while we reorganize and fundraise.
How can I donate to the Robin Brett Mosaic Scholarship Fund and keep it going for the future?