For Immediate Release
Contact: Dawnmarie Zimmerman
info@americanmosaics.org
The 17th Annual Mosaic Arts International Exhibition Series (MAI), sponsored by the Society of American Mosaic Artists (SAMA), invigorates a new perspective of mosaic art in numerous contexts and celebrates established as well as emerging artists working in the medium today. The selected works reflect the multiplicity of the mosaic medium and its unlimited applications. But, regardless of the style, colors, textures, materials, or vision, each of the works exhibited speaks an ancient language with a contemporary translation.
SAMA is honored to present this annual exhibition series in partnership with two of the finest contemporary art, craft, and design organizations in Boston, the Society of Arts + Crafts(SAC), and the BSA Space at the Boston Society of Architecture. 
"We are deeply grateful for this opportunity to present this collection of work by 40 artists who fearlessly explore the limits of mosaic materials and methods throughout a wide spectrum of applications.   In this three segment exhibition, we celebrate the leading edge of contemporary mosaic fine art and large-scale public and private installations." Dawnmarie Zimmerman, SAMA Executive Director.
Mosaic Arts International: Invitational – Sophie Drouin
February 15 – March 18, 2018
Society of Arts + Crafts
100 Pier Four Boulevard, Suite 200
Boston, MA 02210
617-266-1810
Societyofcrafts.org
Monday – By Appointment
Tuesday – 10:00a – 6:00p
Wednesday – 10:00a – 6:00p
Thursday – 10:00a – 9:00p
Friday – 10:00a – 6:00p
Saturday – 10:00a – 6:00p
Sunday – Closed
---
An Opening Reception will be held at Society of Arts + Crafts
Thursday, February 15, 2018 from 6:00pm – 9:00pm.
Artist Talk with Sophie Drouin
Saturday, February 17, 2018 from 1:00pm – 3pm.
---
The Society of Arts + Crafts will host the Invitational segment of the Mosaic Arts International exhibition series, February 15 – March 18, 2018.  This solo invitational exhibition showcases the work of Sophie Drouin, a second generation Canadian artist whose alchemical blend of natural and manmade materials result in exquisite sculptural mosaic explorations of weather patterns, the natural world and its relationship with humanity.
Classically trained in Italy, France, and the United States, Drouin is the English editor of the French publication 'Mosaique Magazine' and has herself written numerous articles about exhibitions and fellow artists.  She has also acted as professional translator for lectures by such artists as Verdiano Marzi.  Her art has been featured in professional exhibits in Italy, France, the United States, and Canada.  She has been commissioned for many mosaic installations, has performed as a juror in several important competitions, and has taught technique classes at all of the important mosaic studios in the U.S. and Canada.
Jacki Gran, SAMA President, and Exhibitions Committee Chair, discussed choosing Drouin as the 2018 Invitational artist.   "Sophie's passion and devotion to not only the (mosaic) medium but to the international mosaic art community is incomparable.  It is an honor to highlight the work of an artist whose technical mastery is equal to their generous commitment to share their experience with other artists and to educate the public on the nuances of the medium.  We deeply appreciate Sophie's work toward furthering SAMA's mission to educate, promote and inspire excellence in Mosaic Art."
---
The Mosaic Arts International: Fine Art and Architectural & Site-Specific Exhibitions
February 15 – April 27, 2018
BSA Space at Boston Society of Architects/AIA BSA Foundation
290 Congress Street, Suite 200
Boston, MA 02210-1024
617-391-4000
Architects.org
10:00 am–6:00 pm on weekdays
10:00 am—5:00 pm on weekends and holidays. 
These concurrent juried segments of Mosaic Arts International will be hosted by the Boston Society of Architects/AIA BSA Foundation at BSA Space, February 15 – April 27, 2018. 
The Mosaic Arts International: Fine Art segment was juried by a panel of internationally accomplished jurors, Lindsy Parrott, New York, NY, Carol Shelkin, Drexel Hill, PA, and Pamela Irving, Melbourne, Australia.  Their dedicated work culminated in the selection of 28 works for inclusion in the MAI Fine Art exhibition from over 200 entries.
This exhibition includes works by the following artists: Maria Abagis, Cherie Bosela, Kathi Bulfin, Lynne Chinn, Susan Coombs, Meagan Corrado, Richard Davis, Karen Dimit, Christopher Elam, Deb Englebaugh, Cynthia Fisher, Guillermina Gomez, Sandra Groeneveld, Neriman Guzel, Etty Hasak, Annie Laprise, Valerie Mcgarry, Andryea Natkin, Cathleen Newsham, Cindy Robin, Angela Sanders, Joan Schwartz, Marian Shapiro, Consuelo Sierra, Julie Sperling, Donna Van Hooser, Meghan Walsh, Amy Wassum.
The Mosaic Arts International: Architectural & Site-Specific segment is a juried exhibit of the best in contemporary architectural and in situ mosaics from SAMA's diverse international membership. This segment was juried by Julie Burros, chief of the City of Boston's Office of Arts and Culture, resulting in 13 installation works to be represented via digital and print images within the exhibition.
This exhibition includes works by the following artists: Kim Emerson, Deb Englebaugh, Karen Glanders, Dmitry Grudsky, Katia McGuirk, Dawn Mendelson, Trish Metzner, Cathleen Newsham, Rachel Sager, Julie Sperling, Lee-Ann Taylor, Laurel True, Meghan Walsh, Joshua Winer, Kim Wozniak.
Fine Art segment Juror, Carol Shelkin noted in her juror's statement, "Mosaic Arts International 2018, offers a special tradition of this early art form as well as pioneering in mosaic.  It offers mosaic art not seen before and invites the viewer to look at mosaic art in a completely new way.  I cannot think of another medium that extends itself with such innovation, originality, and inventiveness.  There is no doubt that MAI 2018 is a progressive and positive force offering excellence in the arts worldwide.  I hope you enjoy the show!"
In addition to creating a collaborative selection of work for the exhibition, the jurors were tasked to select several works to bestow SAMA's annual awards.  We are proud to present their selections here…
Mosaic Arts International: Fine Art
2018 Best in Show
Primordial Traveler
Andryea Natkin, Chicago, IL
Juror, Pamela Irving commented, "Primordial Traveller, by Andryea Natkin was unanimously selected as 'Best in Show'.  It is a consummate piece of mosaic work. It really sat above most work as being very accomplished, having a solid vision and masterly use of materials. It shows a fine art education combined with a thirst for understanding about the mosaic. Mosaic is not painting nor sculpture. It somehow sits in between, and alone, but it requires the same rigorous attention to the potential of the medium.  Natkin's piece is a true example of mosaic as "art"."
2018 Contemporary Innovation Award
The Hol(e)y Book, Where Am I?
Karen Dimit, New York, New York
This award is presented to the work that best encourages experimentation and challenges the definition of mosaic art and for the 2018 Jury, it was a unanimous decision.
Technical Distinction 2018
As the Fish Rots
Sandra Groeneveld, Montverde, FL
Once again, a unanimous decision by the Jury for the work they felt exemplifies excellence in the methods, materials, and execution of traditional mosaic-making.
Juror's Choice: Lindsy Parrott
Verbatim
Cherie Bosela, Orlando, FL
Juror's Choice: Carol Shelkin
The Beauty that Still Remains
Donna Van Hooser, Goodyear, AZ
Juror's Choice: Pamela Irving
Keep Peeling
Etty Hasak, Chicago, IL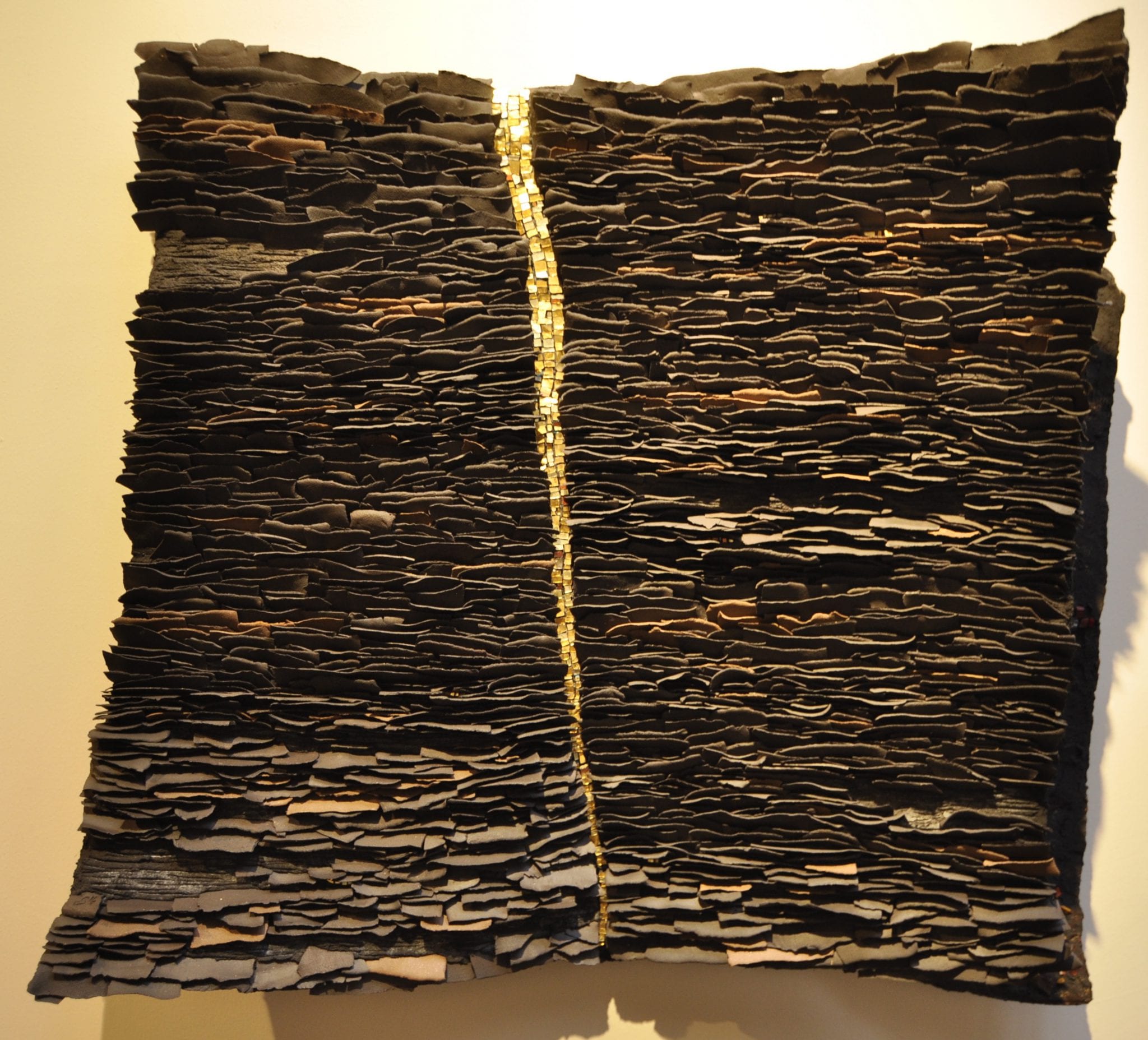 Mosaic Arts International: Architectural & Site-Specific
2018 Best Architectural & Site-Specific Mosaic
Fishers of Men/ Manannán mac Lir Mosaics: Spirit of Place – Ireland
Meghan Walsh, Rachel Sager, Julie Sperling, Deb Englebaugh, Lee-Ann Taylor, Spirit of Place Design/ Travis Price Architects
This award is for the work that exemplifies excellence in design and installation methods. Sustaining harmony and timelessness with the surrounding architecture and environment.
The Spirit of Place "Fishers of Men" is a site-specific sacred space that embraces anthropology, archaeology, philosophy, and its environment and is inspired by both pagan and Christian traditions. The project is part of an ongoing series of architectural installations located all over the world and undertaken by architectural students under the direction of Architect and Professor, Travis Price. The Fishers of Men stands as the first in this renowned architectural series to include the art of mosaic, and an example of mosaics informing architecture. The entire structure, including the mosaic art, was created from scratch at the build site in Cong, Ireland, in just nine days. The mosaic elements, integral to the structure, were designed to symbolize an ascension from the dark depths of the water to the light.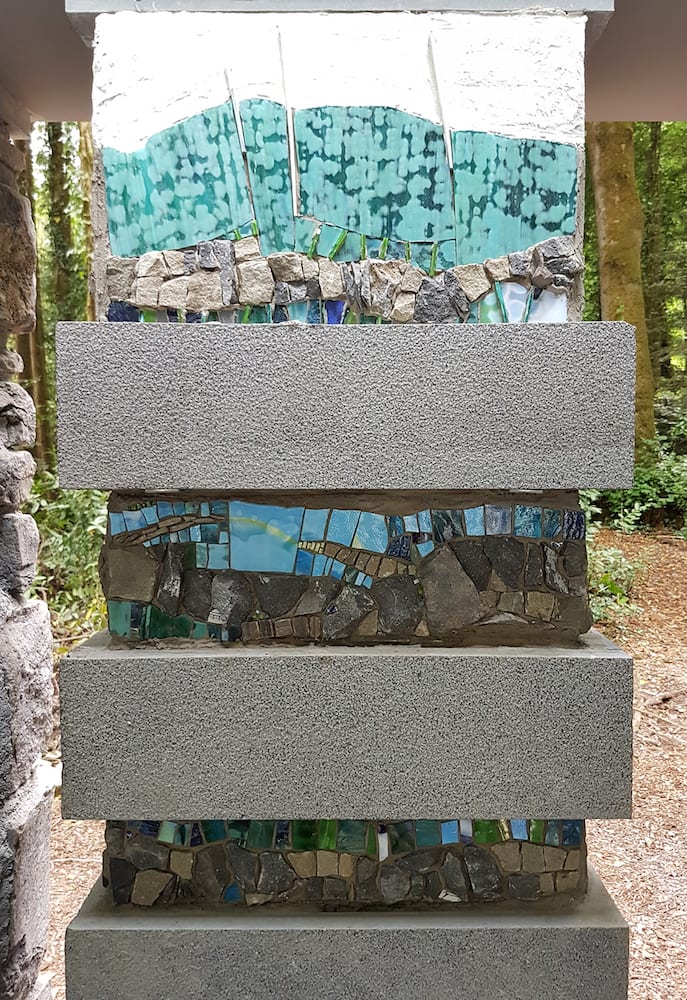 2018 Best Community Mosaic
Just Like the Lotus
Joshua Winer, Watham, MA
This award is for the work that exemplifies excellence in design and installation methods. Representative of the community and organization for whom and where it is installed.  "Just Like the Lotus" was Designed by Joshua Winer, in conjunction with the Director of the Psychiatric Division of the American Embassy in Thailand. Fabricated by the hospital patients (adults and children), hospital nurses, international volunteers under the direction of Joshua Winer.
Juror's Choice: Julie Burros
Come to the Well
Karen Glanders, Nashville, IN
The Pastor of  St. Charles of Borromeo, in Bloomington, IN requested that the image depict Christ welcoming parishioners into His house.  Juror, Julie Burros felt this work was worthy of special distinction due to its achievement in integrating the design interests of the client with respect for the architecture, while providing a contemporary perspective to a traditional environment.
About the Society of Arts + Crafts
Incorporated in 1897, the Society of Arts and Crafts has been at the forefront of the American craft movement, fostering the development, sales, recognition, and education of crafts for over one hundred years. Our highly committed founders developed standards of excellence in design and technical mastery for crafts that inspired the American Arts and Crafts Movement.
The dual mission of the Society of Arts and Crafts is to encourage the creation, collection, and promotion of the work of contemporary craft artists and to advance public appreciation of fine craft. To fulfill our mission, the Society sponsors exhibitions, the Artist Awards Programs, and educational programming. We also promote the work of over 400 craft artists in both our galleries on an ongoing basis.
For more information visit, societyofcrafts.org

About The Boston Society of Architects 
The Boston Society of Architects/AIA is committed to professional development for our members, advocacy on behalf of great design, and sharing an appreciation for the built environment with the public at large.
Established in 1867, the BSA today consists of more than 3,500 members and produces a diverse array of programs and publications, including ABX and Architecture Boston.
A chapter of the American Institute of Architects, it is a nonprofit, professional-service organization.
The BSA is located at BSA Space. BSA Space features more than 5,000 square feet of gallery space for creative explorations of the potential of design to inspire, create community and transform the world we inhabit. BSA Space is also home to the BSA Foundation (formerly the Boston Foundation for Architecture).
For more information visit, architects.org.

About SAMA
The Society of American Mosaic Artists (SAMA) is a nonprofit organization dedicated to educating, inspiring, and promoting excellence in the mosaic arts.
SAMA was founded in 1999 by a small group of mosaic artists who wanted a venue through which they could share their knowledge, expertise, and interest in mosaic art—this most ancient of art forms that was experiencing a significant contemporary revival.
Today, seventeen years later, we remain a vibrant and ever-expanding group of more than 900 members, including mosaic artists at all levels, mosaic aficionados, collectors, materials suppliers, and art educators. We have put renewed emphasis on strengthening ties with other mosaic organizations around the globe to pursue common goals and developing new programs relevant to our diverse membership.
Society of American Mosaic Artists
PO Box 624
Ligonier, PA  15658
AmericanMosaics.org