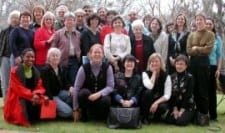 The Society of American Mosaic Artists (SAMA) is a non-profit organization dedicated to to educating, inspiring, and promoting excellence in mosaic arts. The association was formed in 1998 by founding members Janet Kozachek, Allison Way Hank, Jeri Burdick, Sonia King, Connie Wannamaker and Sven Warner. Lia Catalano, George Fishman and Nathaniel Wallace were early additions to the Board of Trustees.
SAMA was officially incorporated on February 11th, 1999 and everyone who joined that first year retains the designation of Charter Member. SAMA soon became a registered 501-c-3 non-profit and began to grow quickly.
Initial development was aided by grants from the Orangeburg County Fine Arts Center, which is funded by the South Carolina State Arts Commission that is supported, in turn, by the National Endowment for the Arts. Funding also was obtained from the Puffin Foundation, charter memberships, and donations. Further assistance was provided by the South Carolina Humanities Council and National Endowment for the Humanities as well as the IP Stanback Museum at South Carolina State University and SCANPO.