Transforming City, Transforming Art with Albert Young
Friday, May 5, 2017, Detroit Marriott Renaissance Center
Albert will discuss the influence of working in Detroit as a regional artist, and his journey from a studio in downtown Pontiac to a 4,000-square-foot warehouse at the Russell Industrial Center in Detroit. A slideshow will present images of his sculpture, which combines steel and glass, using his innovative casting technique.
Albert Young was born and raised in the Detroit area and has an associate degree in machine tool and welding technology from St. Clair Community College, 1979; a B.F.A. in ceramics from the College for Creative Studies, 1982; and an M.F.A. in sculpture from Wayne State University, 1988. He currently owns and operates Michigan Hot Glass Workshop and has been teaching privately and academically since 1983. michiganhotglass.com
---
Picassiette: The Magic of the Broken Dish with Bonnie Fitzgerald and Jolino Beserra
Friday, May 5, 2017, Detroit Marriott Renaissance Center
Piecing together the broken, is a common metaphor for mosaic, and for many of us, found objects and grandma's broken dishes were the start of our relationship with the art form. Almost all of us have tried our hand at picassiette.
Frenchman, Raymond Isadore, is widely credited as the "grandfather of picassiette." In this lively presentation you'll be taken on a virtual tour of his extraordinary Maison Picassiette in Chartres, France. Isadore was the town's trash collector, and for over 30 years, he covered every surface of his family home with a wide variety of mosaic pieces.
Together, Fitzgerald and Beserra, will showcase works by other contemporary artists—many of whom are SAMA members—who work in picassiette. Guaranteed to entertain and inspire, both of these longtime SAMA members are looking forward to sharing with their SAMA colleagues, the magic of the broken dish, and to remind the audience of the importance of picassiette in the world of mosaic art, both within a historical context and contemporary applications. Attendees will learn lots of unique fun facts about Isadore's home in France, which Fitzgerald researched while visiting his property. Beserra will take us on a virtual tour of his studio and share some of his own works in picassiette, as well as highlights from the past 20 years of his explorations and technical insights.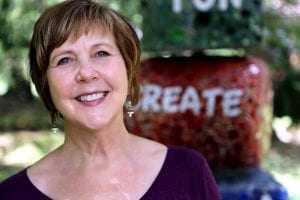 Bonnie Fitzgerald is a former SAMA Board of Trustees Executive Committee Member and a longtime SAMA supporter. She is the founder of Maverick Mosaics, a working mosaic art studio in metropolitan Washington, D.C. Bonnie teaches workshops throughout North America, including the Smithsonian Institution, and leads study tours to destinations in Europe. She is the author of two best-selling mosaic books Bonnie Fitzgerald's Guide to Mosaic Techniques (2015), and 300+ Mosaic Tips, Techniques, Templates, and Trade Secrets (2012). To learn more about Bonnie, visit www.bonniefitzgeraldart.com and http://www.maverickmosaics.com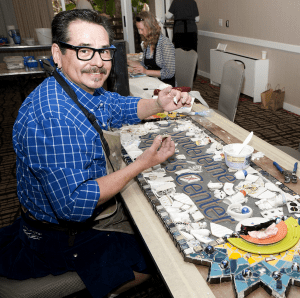 Jolino Beserra has created award-winning picassiette mosaics which range from intimate fine art and functional pieces to large-scale architectural works. His work has been an evolution from telling stories as a commercial illustrator to the art of subliminal story-telling through his mosaics. Beserra's "painting" with colors, textures, and objects allow each viewer to make up their own stories as they discover his personal journey.
His work can be seen at www.jolinoarchitecturalmosaics.com
---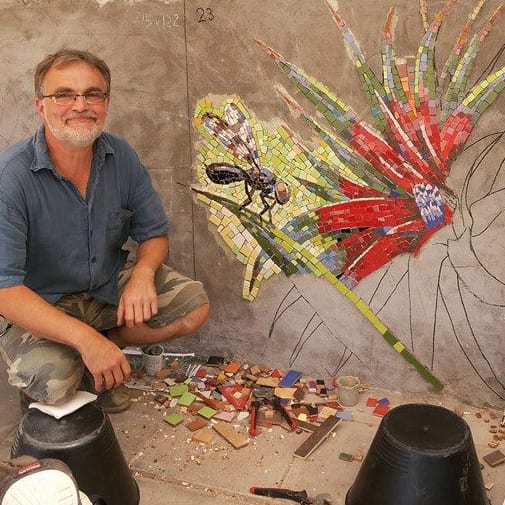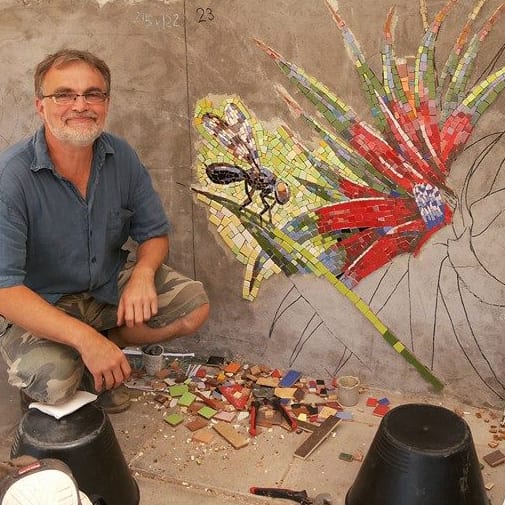 Creating the California Mosaic Trails with Gary Drostle
Friday, May 5, 2017, Detroit Marriott Renaissance Center
Over nine-hundred-square feet, Gary Drostle's latest mosaic work is the culmination of four years of planning and designing and two years of actual construction. In this presentation, Gary will guide us through the project from beginning to end. The work consists of two trails of mosaics over two floors of a hospital, and includes 19 mosaic panels, terrazzo design, and cast-glass inlays. Gary will discuss the design procedure, construction of the mosaics using the paper-faced reverse, and the final installation.
London-based artist, Gary Drostle, has been a professional mosaic-maker for thirty years and has completed award-winning major commissions in the UK, USA, and South America. Gary is President of SAMA's sister organization in the UK—The British Association for Modern Mosaic (BAMM), and is a regular lecturer at the Chicago Mosaic School. He has been awarded prizes at three of SAMA's MAI exhibitions, and won the National Tile Contractors Association (NTCA) TileLetter Award for mosaic installation in 2011. http://www.drostle.com
---

Mosaic – A Non-traditional Philosophy with Giulio Menossi
Friday, May 5, 2017, Detroit Marriott Renaissance Center
Giulio Menossi will discuss his life as a mosaic artist, beginning in 1970 until today. Through a series of photos, he will explain the "philosophy" of his work and how his growth as an artist has evolved over the years. We will review his work on private commissions, iconography, and his personal work. Mr. Menossi's work is abstract, very colorful, and includes various non-traditional elements such as Lego® pieces, forcing viewers to take a closer look at the depth of his work. Mr. Menossi has taught at previous SAMA conferences but this will be his first presentation to members.
Giulio Menossi is an internationally recognized master mosaic artist who lives and works in Udine in northeastern Italy.  His training, under the tutelage of Maestro Domenico Colledani, started in the mid-1970s in Milan. That city's vibrant cultural and artistic community captivated Menossi and exerted a profound influence on him. Maestro Menossi's talent and passion for the art of mosaic have earned him an outstanding reputation not only for his copies of ancient mosaics and for his portraits, but also for his "dynamic mosaics," which he developed through long and painstaking research. Throughout his artistic career, Maestro Menossi has participated in regional, national, and international exhibitions, receiving many awards and distinctions. Since 2009, Maestro Menossi has offered courses in his Udine laboratory, and abroad, to mosaic enthusiasts from around the world. About Giulio Menossi
---
The Ruins Project: Year One – A Tour Through Time: Geology, Industry, Art with Rachel Sager
Saturday, May 6, 2017, Detroit Marriott Renaissance Center
Sit back and listen to Rachel Sager, The Forager Mosaicist, as she weaves her story of Year One at The Ruins Project, a long-term, out-of-the-box mosaic installation set in the foothills of Appalachia. Laugh with her as she tells the story of how she bought a coal mine "by accident" and realized that she had come to own the biggest substrate ever. You will learn about the connections between a particular geology and the art of foraging for material. Through Rachel's love of good storytelling, you will be introduced to an entirely unique, long-ranging mosaic installation that breaks out of any kind of preconceived vision of "what mosaic can be." Attendees will be educated about the layered history and legacy of coal in Southwestern Pennsylvania. Listen to video interviews from the local community, who hold the past in their memories, and are proud to share the story of coal, family, and work ethic.
You will be inspired by the personal stories of Year One visitors to The Ruins Project.
Through high-quality slide images, you will see how students and artists bring pieces of themselves to its sprawling walls and leave behind their notes interpreting "intuitive andamento." You will hear Rachel share her struggles to label a project that resists labeling, a vision that is bigger than herself, and one is that is meant to be shared with the mosaic world.
Rachel Sager: Artist. Teacher. Speaker. Writer.  Rachel works on the cutting edge of the contemporary mosaic fine art movement—her innovative work has been represented in cities throughout the US and internationally, and has been awarded multiple bests of show in juried exhibitions. Her Marcellus Shale Series stands as a true Pittsburgh success story, and her work is collected with passion by private clients and corporations all over the world. Rachel's commitment to the classical language of mosaic paired with her intuitive andamento style has shaped a strong voice in the mosaic world. She brings these classical techniques home to the "here and now" of the present American mosaic movement. Rachel proudly hails from the foothills of Appalachia and passionately preserves her storytelling, hillbilly roots, as she weaves the colorful tales of family, nature, self-reliance, humor, and the legacy of coal through the lens of mosaic. Whether she is digging into the earth of her native Pennsylvania or traveling the world as a teacher and speaker, her mission to "build the line" in mosaic continues to inspire new generations of mosaicists. http://www.rachelsagermosaics.com
---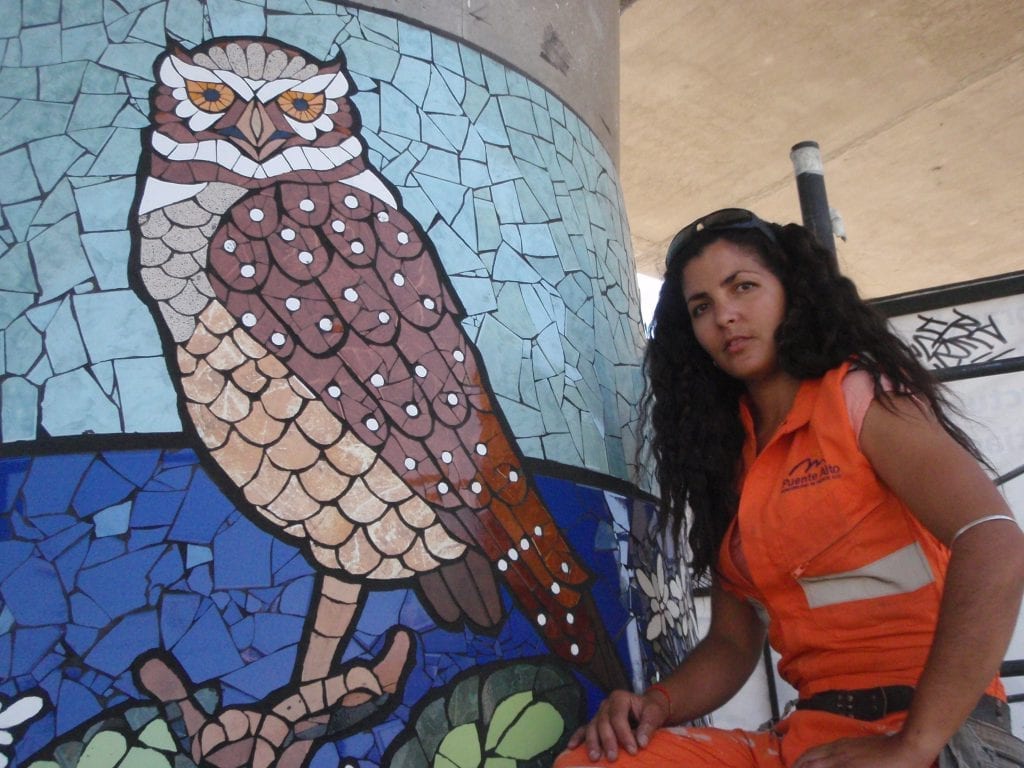 Empowering the Mosaic Community with Isidora 

Paz López
Saturday, May 6, 2017, Detroit Marriott Renaissance Center
This presentation will be about my experience leading a big urban mosaic project in Chile. I will show images of the process and developing of the mosaic technique during the creation of 4.000 m2 of mosaic. Work done directly on the street, with more than 100 people who participated in total. In the making of this project we won a lot of individual practice, and also we have learned and achieved an optimal productivity as a team, with wonderful artistic results. Another focus of my speech will be oriented to the positives aspects of integrating mosaic projects into the life of a city. I will share my impressions about how public art can transform the spirit of a town and the appreciation that people have for the place where they live. Also i want to talk about how this kind of grupal urban projects increases not only the skills, but the interest and motivation of the artists involved. Apart of make mosaics, street mosaicists are building a growing collaborative community and creating an expansive wave of successive projects.
My presentation will include the experience lived in the first International Urban Mosaic Intervention in Chile, a project that i have organized the year 2014. This project was a big celebration of our mosaic passion and the beginning of many alliances among more than 90 artists who have participated. A wonderful initiative that empower the mosaic community and has inspired many people who have learned and enjoyed with the happening of this great cultural event.
Videos and several pictures will be a visual support for this presentation.
Isidora Paz López, Chilean, 41 years old, sculptor, mosaicist and ceramist, is part of the third generation of a family of artists. She studied art during 6 years at the University of Chile and got her title as ceramist in the year 1999. In may 2011 she got the commission of her first mosaic project, 150 m2 on the external walls of a sport stadium.  From 2012 to 2013 Isidora worked in a big urban intervention, leading a team of more than 100 people in the realization of 4.000 m2 of mosaics. The concrete surface of 4 metro stations and 83 pillars of the train line that crosses the town of Puente Alto, in Santiago de Chile, were covered with mosaic. This work is considered now the largest mosaic project of South America.  In the year 2014 she organized the 1st international Urban Mosaic Intervention, inviting 60 artists from 22 countries to be part of a two weeks collective project. Together with a team of 30 chilean mosaicists, they managed to cover 200 m2 in the front of the Puente Alto's town hall. In September 2016 Lopéz was invited to take part in the Aruba Art Fair, an international street art festival where she created the mosaic mural "The Carnival Nymph".  Actually Isidora is living in Germany and continuing her work as a mosaicist, also she is organizing the second version of the International Urban Mosaic Intervention, event that will take place in the city of Pirmasens, Germany, 2017.
---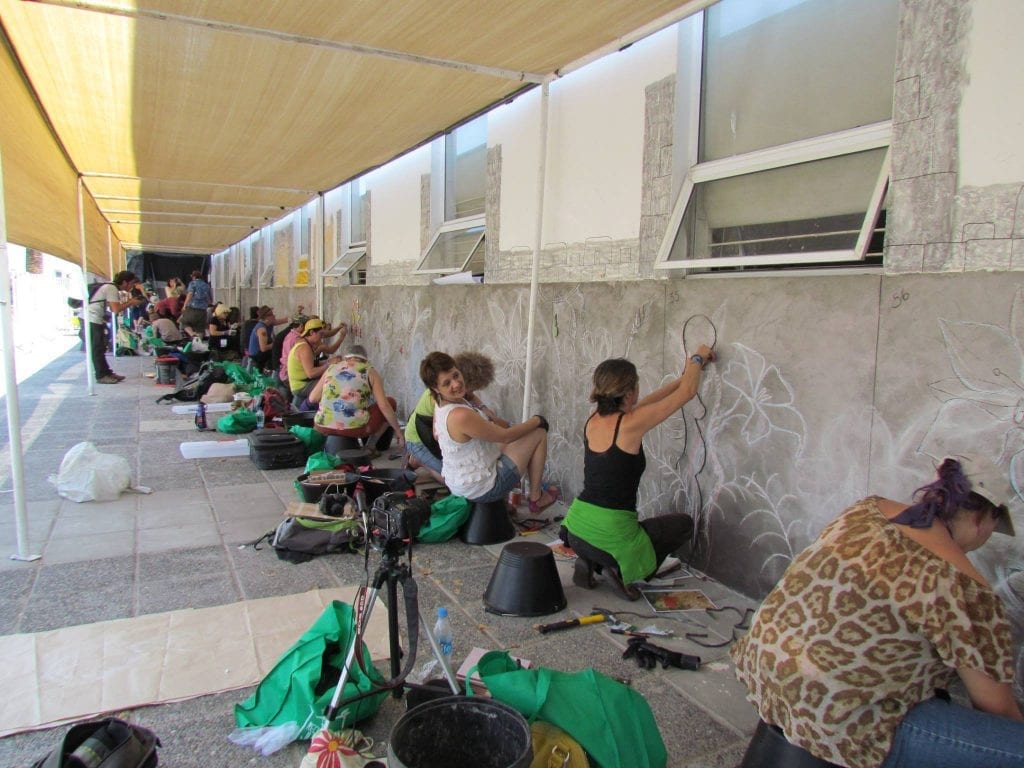 Mosaic Adventures in Urban Intervention Using the Pecha Kucha Format
with Kim Wozniak, Laurel True, Carrie Reichardt, and Cynthia Fisher
Moderated by Sherri Warner Hunter
Saturday, May 6, 2017, Detroit Marriott Renaissance Center
At the first Urban Mosaic Intervention in Puente Alto, Chile, over 80 artists from 20 countries (including the presenters), participated in the creation of a massive mosaic mural for the municipal building of Puente Alto, located about six miles southeast of downtown Santiago.  Each presenter will discuss their unique perspective of expectations going into the urban intervention, their unique daily Chilean work adventure, lessons learned, and ideas to carry forward from this groundbreaking mosaic event. The bonding network that was established between participating artists will be of interest to SAMA members as they search for new ways to create similar projects in other communities.
"Pecha Kucha" is a worldwide presentation phenomenon devised in 2003 in Tokyo around the Japanese concept of "conversation." At SAMA, we can become a part of this worldwide movement that provides a lively and focused framework for sharing ideas and experiences. Originating in the design field, Pecha Kucha events have, to date, occurred in over 200 cities around the world in countless areas of interest.
The Pecha Kucha format is simple: 20 images in just over six minutes. That's just 20 seconds per slide! The presenter speaks to each image, and the images are automatically advanced. If the presenter runs out of time, the image advances anyway, which keeps the presentations concise and on point. The audience will be astounded at the amount of information and insight that occurs in just minutes!
The Pecha Kucha presentations will be followed by a panel discussion and Q&A session moderated by Sherri Warner Hunter.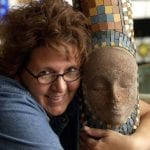 Kim Wozniak is the owner of WitsEnd Mosaics and Smalti.com, is trained in art, architectural design, and construction, and has found her voice in mosaics. After leaving the corporate world, Kim reclaimed her creative spirit by combining her love of art and building materials. Her rule-breaking style was quickly recognized in the mosaic community and has led her to create both public and private installations throughout US, and her fine art mosaics are exhibited internationally. Kim was one of three Americans representing the United States in Ravenna, Italy at the prestigious 2011 Juried Biennial Exhibition: Ravenna Mosaico – Works of the World. She has studied the medium of mosaics with masters from Italy, Mexico, and the US and her work has been featured in many publications including The Craft Report, Breakout, Mosaic Art Today.
Laurel True is a New Orleans-based artist and educator, who combines glass, ceramic, mirror and salvaged building materials from the urban landscape to create site-specific installations, murals and sculptural forms. Her works have been described as fantastical, celebratory and at the crossroads of social justice and magical realism.
True Mosaics Studio has been creating professional architectural projects for the past 25 years throughout Europe and North and South America. Among True's remarkable accomplishments: Co-Founder of the pioneering mosaic education and resource center, the Institute of Mosaic Art in Oakland, CA; Founding Director of The Global Mosaic Project; collaboration with the Urban Eyes Project and the public health organization, Partners In Health; extensive mentoring in Haiti with Art Creation Foundation For Children, where she serves as Director of the Mosaic Program; invited participant in the First International Urban Mosaic Intervention in Chile in 2014; and creative ambassador through the International Community Mural Arts Program through the US Department of State in Turkey in May 2016.  www.truemosaics.com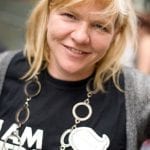 Carrie Reichardt is a craftivist whose work blurs the boundaries between craft and activism, using the techniques of ceramic and mosaic to create intricate, politicized works of art. Carrie trained at Kingston University and achieved a first class degree in Fine Art from Leeds Metropolitan. In 2015, she spent two months as the International Visiting Artist at The Clay Studio, Philadelphia, PA, US.
Carrie has been involved in international community and public art projects for over two decades. She has designed and consulted on large-scale mosaic murals and completed public projects that celebrate local communities in Mexico, Chile, and Argentina. Her most recent ceramic installation was for the facade of the Victoria and Albert Museum, whilst her Tiki Love Truck, a ceramic-adorned vehicle, was the star exhibit inside as part of the critically acclaimed Disobedient Objects exhibition. http://www.carriereichardt.com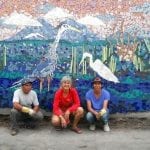 Cynthia Fisher has been a professional artist for more than 25 years with a focus on mosaics since 2000. She began her art career as an editorial and children's book illustrator, metamorphosing to full-time mosaic artist over several years. At Big Bang Mosaics, she creates installations nationwide in public, residential, and corporate settings—from children's hospitals and town commons, to transit centers, and apartment complexes. Cynthia's diverse body of work ranges from illustrative to painterly to non-representational. For her passion, abstract mosaics, she has received prestigious national and international awards, including a Juror's Choice award at MAI 2016. Cynthia conducts school and community projects, and currently is preparing for a fifth mural in rural Guatemala. Other projects in progress include a collaboration on a 52-foot-diameter mosaic splash pad in Deerfield Beach, FL, and a series of murals for Dayton Children's Hospital in Dayton, OH. http://www.bigbangmosaics.com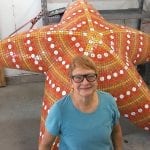 Sherri Warner Hunter is known nationally for her community-based mosaic projects and internationally recognized for her mosaic sculpture installations. Her work is included in numerous private collections and can be viewed publicly in Fletcher Creek Park, Cordova, TN; McLaren Health Care Village, Clarkston, MI; and Andrew Brown Park East, Coppell, TX. Hunter also teaches sculpture, concrete, and mosaic workshops throughout the country and at her studio in Bell Buckle, TN. She has authored two books on working with concrete, the most recent being Creative Concrete Ornaments for the Garden, published by Lark Books. https://swhartstudioinc.wordpress.com/
---
Seeing the Sacred and Profane in Mosaics with Maestro Verdiano Marzi
Saturday, May 6, 2017, Detroit Marriott Renaissance Center
In this presentation, Maestro Verdiano Marzi will present his perspective and personal observations—thoughts that are often overlooked when viewing mosaic art. Marzi will discuss and analyze many viewpoints on mosaics—the artistic, technical, aesthetic, historical and philosophical.
Verdiano Marzi's love of mosaic dates back to his childhood in Ravenna, where he was born in 1949. He attended the State Institute of Art for Mosaic, a hub for future mosaic artists. The great Renato Signorini had a workshop in Ravenna where Marzi worked until Carlo Signorini, Renato's son, took over. Marzi moved to Paris in 1973.
Marzi's creative projects include large-scale public mosaics (Val de Lille metro station, the Bourgoin-Jallieu High School in Isere, and the Villars Secondary School in Denain, France). His first solo exhibition was at the Venice Biennale in 1986 and he participated in the Fourth Moscow Biennale—Special Projects with a Russian architect in 2011. His recent American solo exhibitions were at the Fourth Presbyterian Church of Chicago in 2015, and at The Museum of Biblical Art, Dallas, TX, in 2016. Maestro Marzi is a committed and dedicated teacher who has worked with students from around the world. He created the innovative mosaic workshop at the Musée du Louvre and has travelled to Dharamsala, India to create art with Tibetan children. He has taught and inspired artists in Moscow, Paray-le-Monial, Burgundy, Bastelica, and Corsica. Marzi conducts annual workshops and seminars in the US at The Chicago Mosaic School. He lives and works in Paris, France. About Verdiano