Registration to the 2018 American Mosaic Summit is for SAMA Members only, so JOIN today!
REGISTRATION is NOW CLOSED!
Once again, we have renewed our strategic partnership with Eventbrite.com, our conference registration solution provider.  They have created a clean, straightforward, mobile accessible way to register for the 2018 American Mosaic Summit!  Each year, our attendees are amazed at how easy it was to use, especially on opening day!
In just 2 screens, you will be able to add a Registration, all your workshops, tours, art salon exhibit fee and guest tickets, then add personal and payment information and you are DONE!
If you are anxious about not getting into a workshop or on a tour of choice, first and foremost, BREATHE!  While there are several workshops with low admissions availability, the 2018 Education Series offers 29 workshop sessions, spread over THREE DAYS with an additional 3 tours.  We do not expect sessions to sell out quickly, so if your internet connection is slow, or you are still undecided, chances are, you will be able to find availability in a course that will provide you great value and an incredible conference experience!
Instructions and Recommendations
Please pay CLOSE ATTENTION to the DAY and TIME of the workshops you are selecting.  Make a list of workshops and times offered that you are interested in taking for each day so that you have your alternative choices right in front of you as you are completing the form.
If a workshop is sold out, you will see an opportunity appear to place yourself on the waitlist for that course.  Waitlisted spots are free, but there is no guarantee of spots coming available.
Please keep in mind we have several sessions that are occurring on Tuesday, March 13, 2018.  Do not register for a course on Tuesday if you already purchased your plane ticket for arrival in Boston Tuesday afternoon!
Registration Process
At 12 noon EST, Friday, November 24, 2017, the American Mosaic Summit event will "Go Live" in Eventbrite.com.  You can create a profile on Eventbrite.com in advance and log -in prior to 12 noon, but the event will not be available until noon.
The Event Form will display all items available for purchase relating to the conference.
To Add an item to your Registration, you need to change the quantity to "1".
There are over 45 items listed on our Registration Form due to the awesome program our Education & Conference Committees have put together for you.  It does mean that you have quite a way to scroll to get to the bottom to find the "Register" button which will advance you to the Personal & Payment Information Page.
All registrants that select 3 or more workshops will receive a 10% discount off your total educational program fees. Use Promotional code: 2018EDU at TOP RIGHT CORNER of Registration Order Form before clicking large "Register" button.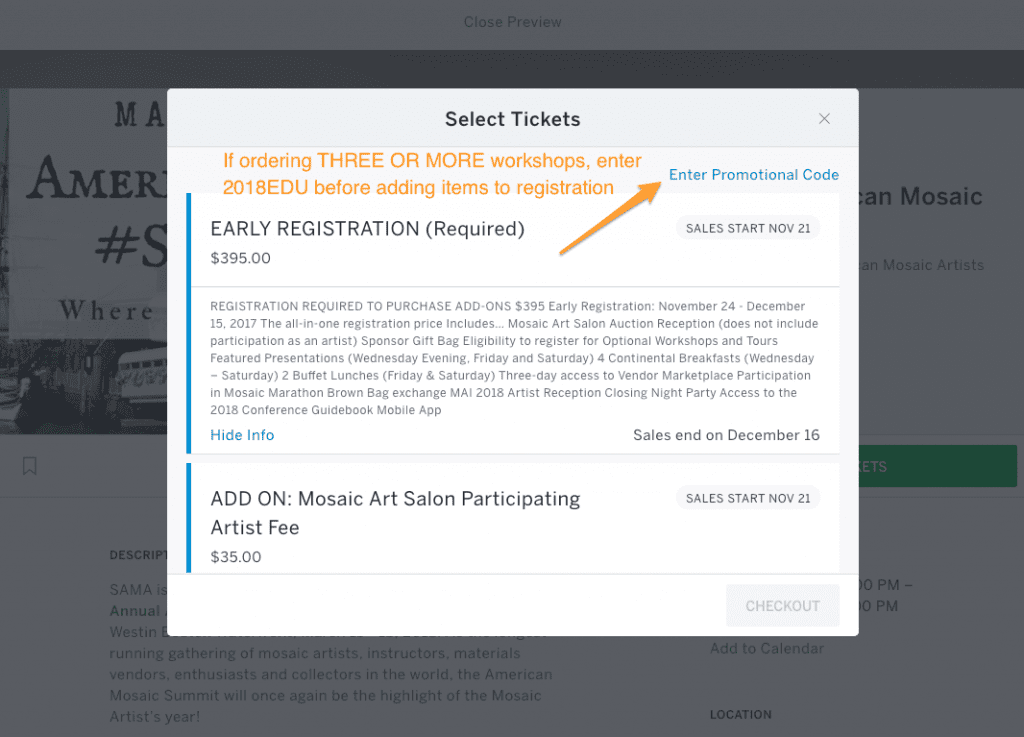 YOU MUST click/tap "APPLY" button below BEFORE adding your workshops to your form.  This updates the discount pricing for your registration!  If the discounted pricing on workshops does not appear when you are at the payment screen, you can go back and start again to make sure it is applied, but you will need to add all workshops to your form a second time.
If you are paying by Check, make sure you open the "Other Payment Options" in order to be able to see the Pay Offline button!
The Promotional Code: 2018EDU is only to be used if you are registering for THREE or MORE workshops.  Improper use of the code will result in corrected Workshop fees and a $50 penalty charge.  Please be careful if you are planning on several workshops for your registration!
Once you have completed your personal and payment information, you are….. DONE!  CONGRATULATIONS!
You will get an email with a barcoded confirmation of your registration and you are set till we see YOU in Boston!
2018 American Mosaic Summit Registration Pricing 
For 2018 there is only one registration package option.  You must be registered to take a workshop or tour.   A la carte meal event tickets are only for guests!  If you are registered, you have all meal events and receptions included!
$395 Early Registration: November 24 – December 15, 2017
$450 Late Registration: December 16, 2017 – March 5, 2018
Registration closes March 6 – March 12, 2018
$500 Walk-in Registration opens March 13, 2018, onsite
The all-in-one registration price Includes…
Mosaic Art Salon Auction Reception (does not include participation as an artist)
Sponsor Gift Bag
Eligibility to register for Optional Workshops and Tours
Featured Presentations (Wednesday Evening, Friday and Saturday)
4 Continental Breakfasts (Wednesday – Saturday)
2 Buffet Lunches (Friday & Saturday)
Three-day access to Vendor Marketplace
Participation in Mosaic Marathon
Brown Bag exchange
MAI 2018 Artist Reception
Closing Night Party
Access to the 2018 Conference Guidebook Mobile App
Social a la Carte items
Continental Breakfast: $20 each / $ 25 onsite each
Luncheon: $55 advance / $65 onsite each
Mosaic Art Salon & Auction Reception: $45 advance / $55 onsite
MAI 2018 Artist Reception: $55 advance / $75 onsite
Workshops and Professional Seminars
You may also create your own program by selecting individual workshops and professional seminars, in addition to a Conference Registration. Register for 3 or more seminars or workshops and get a 10% discount off your total educational program fees (applicable to workshops and seminars only).
Billing
If You Selected "I Will Mail In A Check Or Money Order" As Your Payment Choice, You Will NOT Receive A Bill In The Mail. The Email Order Confirmation You Automatically Receive IS YOUR BILL. Please Mail Payment To SAMA, PO Box 624, Ligonier, PA 15658. "Mail-In A Check" Orders Must Be Paid Within 10 Days Of Placing Registration Or Will Be Cancelled.
Refund – Cancellation Policy
Conference Registration Cancellations Received Between November 24 – December 15, 2017, Will Be Entitled To A Full Refund Of All Conference-Related Fees.
Cancellations Received Between December 16, 2017 – February 18, 2018, Will Be Entitled To A 50% Refund Of Conference-Related Fees.
After February 18, 2018, There Will Be NO REFUNDS Of Any Conference-Related Fees.
This Policy Does Not Apply To The Vendor Marketplace Booth Fees, Sponsorship Commitments, Membership Fees Or Any Products Or Publications In The SAMA Store.
Registration is now Closed.