Deborah Kraft, Special Programming and Events Coordinator for Urban Expositions, the producer of SOFA Chicago, walked into the Society of American Mosaic Artists' gallery space and said "WOW, THIS is mosaic?"
For the fourth year in a row, SAMA demonstrated mosaic art at SOFA Chicago.  The Sculpture, Objects, and Functional Design Show is in its 21st year and is the longest running gallery-presented art show in Chicago.  Galleries from around the world bring their artists' work to the thousands of art collectors who converge on the show each year.  SOFA is a major source of art for numerous collectors, museums, and designers.  Attendance at the event was estimated to be almost 40,000 people this year.  Art for sale included a $90,000 sculpture by glass artist William Morris and a $200,000 set of nesting vases by Dale Chihuly.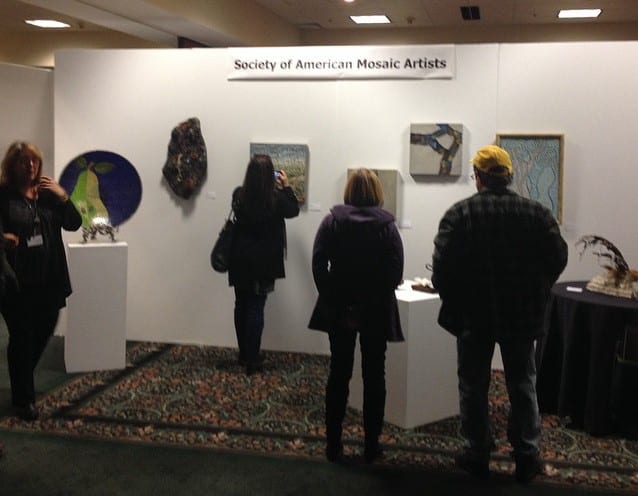 SAMA volunteers staffed the gallery space and demonstrated a variety of styles, materials, and techniques that go into making mosaic art.  Additionally, SAMA hosted several high school and university art classes who came to the fair on field trips.  Many of the young students were excited by what they saw and will hopefully become part of the next generation of mosaic artists.
Nearly seven years ago, SAMA member Gwyn Kaitis approached SOFA with the idea of distributing brochures during the art fair.  Her idea was accepted and volunteers staffed a small table in the nonprofit Partner Pavilion for the next 3 years.  Eventually Gwyn had bigger ideas in mind and suggested that fair attendees might be interested in seeing how mosaic art is made.  The following year SAMA was provided with a small space and allowed to demonstrate during the show.
Each year since that time, SOFA has invited SAMA back to demonstrate—this year being the largest and most extensive presentation to date.  This was the first year that SAMA was allowed to hang actual artwork in the gallery space apart from the pieces made during demos.  The ability to display members' work made a huge difference in the reaction of the crowds as they drifted through the space and stopped to study the intricate details of mosaic art.  Numerous positive remarks were made and many people expressed excitement at the direction that mosaic art is taking today.
By partnering with Urban Expositions to participate in SOFA Chicago, SAMA has been able to engage its mission of promoting education and excellence in mosaic art.  We strive to continue the wonderful collaboration and demonstrate our exceptional art form again next year!