2016 Matching Gift Challenge
September 30th is the end of SAMA's fiscal year and to ensure the organization finishes strong, not one but TWO generous donors are challenging the mosaic art community to demonstrate their support of SAMA by making a financial contribution.
[button style='blue' size='large' link='https://sama.z2systems.com/donation.jsp?campaign=3&']Donate Now![/button]  


For EVERY Dollar given to SAMA through September 30, 2016, our Challenge Donors will MATCH your donation up to the challenge goal total of $4,000!
WHERE will the funds go and WHAT will they be used for?
All donations made during this Matching Gift Challenge will go toward strengthening our General Operating Fund.  This is the money that we use to pay our day to day expenses, for example:
payroll for one full-time and one part-time employee
accountant, insurance and taxes
website, technical and communication services
Groutline and media content editing and publishing
SAMA merchandise and publications storage
conference, exhibition, special programs production
These are the essential expenses for maintaining SAMA as the world's premiere nonprofit mosaic art organization and to continue to work effectively and efficiently as we build and develop programs that educate, inspire, and promote excellence in mosaic arts.
WHO does SAMA serve?
Our programs enhance the creative and professional lives of our members, conference attendees, exhibiting artists, instructors, vendors and public at large.  The impact that SAMA has made to the evolution of the contemporary mosaic art community for over 16 years, is immeasurable!  Help ensure the continued success of SAMA by making a donation TODAY that will DOUBLE it's worth!
For more information on the impact SAMA has had on the lives of our members, read some of the stories in our Andamento Blog's "Why I'm a SAMA Member" section.
HOW Can I Donate?
[button style='blue' size='large' link='https://sama.z2systems.com/donation.jsp?campaign=3&']Donate Now![/button]
Click button above and in just 2 screens, you can make a financial contribution and receive a receipt for your taxes via email instantly!
Also easy to use is our PayPal Giving Fund Portal!  Add SAMA to your preferred charities with PayPal and you can donate a small amount anytime you shop, or use to make a donation directly!
You may also mail a check directly to SAMA at P.O. Box 624, Ligonier, PA  15658.
Low on Cash?  Not to worry!  You can support SAMA while shopping on Amazon!  Amazon Smile will donate a percentage of your purchase to SAMA without adding to the cost of the items you purchase!   All you need to do is click on the links below to designate SAMA as your preferred 501(c)(3) charitable organization!  

All orders placed during the Matching Gift Challenge will count toward our Goal!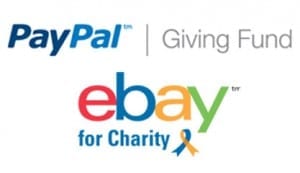 You can also donate while Shopping on Ebay by adding to your total purchase and additional donation amount.  For more, click on Logo  or  
HERE.
THANK YOU for your support and commitment!  
SAMA is a 501(c)(3) corporation. Donations are tax deductible to the extent allowed by law.