REGISTRATION is OPEN – SCROLL DOWN FOR FORM!
Once again, SAMA is proud to partner with The Sculpture Objects Functional Art and Design (SOFA) Fair in Chicago, November 2-5, 2017 at Navy Pier!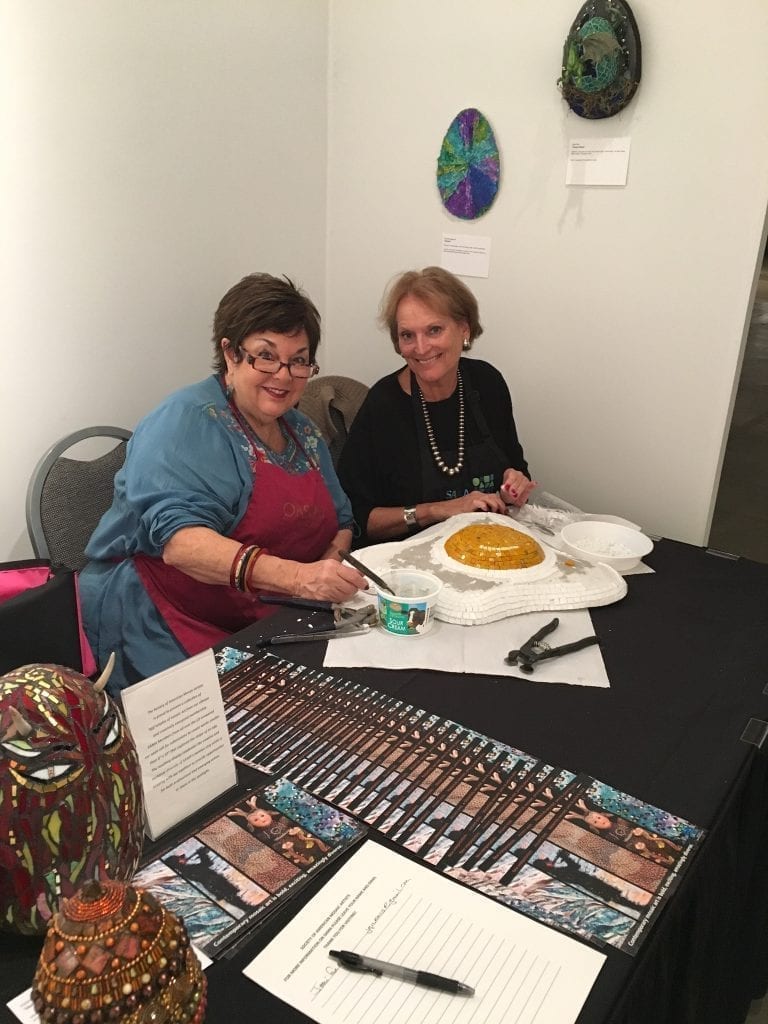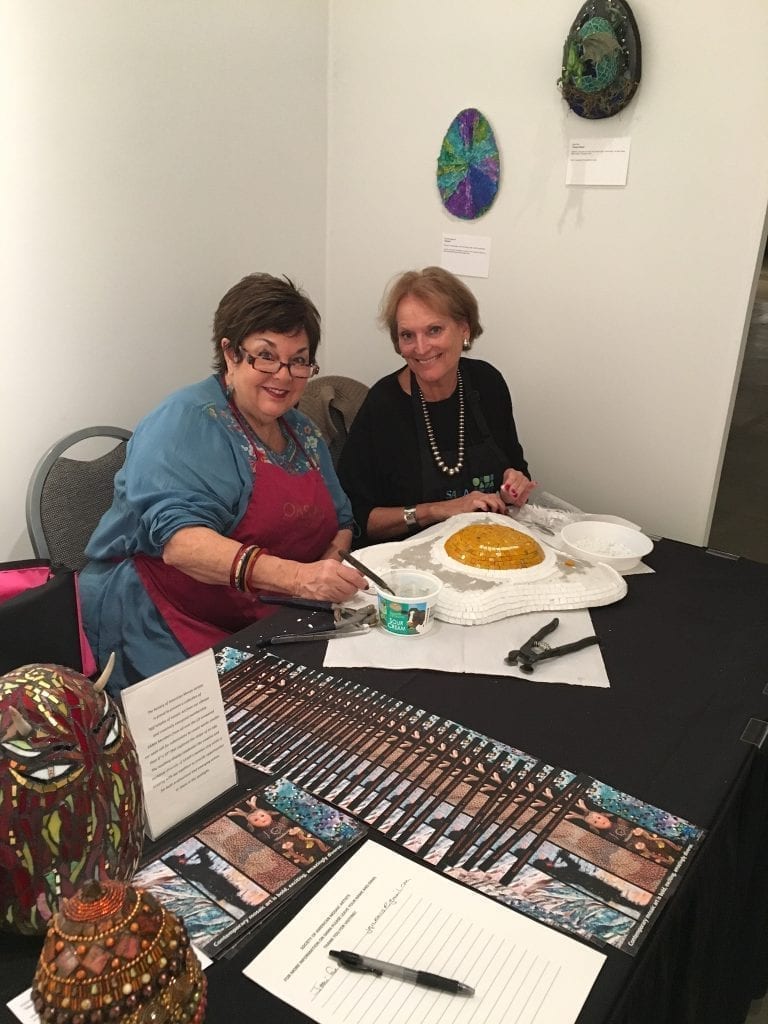 SAMA Volunteers from all over the country will be demonstrating mosaic techniques, tools and materials with thousands of visitors during this event.  For 2017, we will feature a non-juried exhibition of mosaic art from SAMA's diverse membership on the walls of our educational demonstration space titled, One Hundred Moments in Mosaic .
We are inviting SAMA Members to make a 2D mosaic on a 6″ x 6″ frame we will provide and return it to SAMA HQ by October 27, 2017!   We are limiting the exhibition to 100 squares to be reserved on a first come, first serve basis, exclusive to all active SAMA Members.
BONUS EXHIBITION in BOSTON!
All mosaics submitted to the One Hundred Moments in Mosaic exhibition will be stored after the SOFA Chicago event this Fall and reinstalled at a public venue in Boston, MA in March of 2018 to coincide with the 2018 American Mosaic Summit and the Mosaic Art International 2018 exhibition series.  So, you send us one mosaic and we will present it in two major cities!  Chicago and Boston!
It's that easy!  Well, we do have a few more details and Terms of Participation…
TERMS OF PARTICIPATION
Theme and materials of mosaics must be appropriate for viewing by school age children and a General Audience.  Both the Chicago and Boston spaces will be heavily trafficked by a wide array of people.  This is SAMA's special opportunity to educate, inspire and promote excellence in mosaics to a enthusiastic audiences.  Let's put our BEST on display! (overtly offensive or explicitly themed work may be pulled at SAMA and/or SOFA's discretion)
The mosaic can be made from any materials and can be executed in flat as well as sculptural or bas relief forms, however the mosaic should not exceed the 6″ x 6″ wall footprint due to the planned nature of hanging.  The mosaic will not be available for sale during the SOFA event, or in the venue in Boston, however, a listing of all participating artists will be made available to booth and gallery visitors with artists contact information for further inquiry.
Once you complete your registration you will be emailed an invoice for $100 participation fee which can be paid online or via mailed-in check.  Frame kits will be shipped within 2 days of receipt of payment.
The $100 fee includes:
One 6″ x 6″ EZ Mosaics aluminum frame including Wediboard substrate insert and D-ring hanger.
Shipping of EZ frame kit to the artist in a reusable USPS Flat Rate Medium Priority Mail Box. (BE MINDFUL OF REUSE WHEN OPENING YOUR BOX!)
Display of Mosaic at SOFA Chicago, November 2-5, 2017 and in Boston in March of 2018.
Return Shipping of your mosaic to you from Boston in early April, 2018.
Artists will be responsible for:
adhesive and tesserae for mosaic
Shipping of mosaic to SAMA HQ in Ligonier, PA by October 27, 2017 in order to be prepped for display during the event ($13.60 at US Post Office).
Artists must provide a short artist statement about the work and Materials list and send via email by October 21, 2017.
Participation is available to SAMA Members Only 
Cancelation Policy
Space for this project is limited! By completing this form, you are committing to the terms we have outlined and promise to pay the $100 participation fee. Once participation fees are paid, only 50% will be refunded if you cancel before October 15, 2017 and there will be NO REFUNDS for cancellations received after October 15, 2017. All retained fees after cancelation will be considered tax deductible donations to SAMA.
Further Questions can be emailed to our Executive Director, Dawnmarie Zimmerman
REGISTRATION OPENS SATURDAY, AUGUST 19, at 12 noon Eastern in the space below!
---
If you click Submit and are NOT redirected to a Confirmation Page or DO NOT receive a confirmation email within 5 minutes, please check your internet connection and try again.  If issues continue, please contact us.
---
The Sculpture Objects Functional Art and Design (SOFA) Fair in Chicago is the premier gallery-presented art fair dedicated to three-dimensional art and design. On par with Art Basel and TEFAF Maastricht, SOFA is produced by Urban Expositions, a Clarion Events company.
Critically acclaimed and continuously running since 1994, what distinguishes SOFA from other top art events is its focus on three-dimensional artworks that cross the boundaries of fine art, decorative art and design.  SOFA is noted for its exceptional presentation, with an elite selection of international dealers presenting for sale one-of-a-kind masterworks in handsome, custom-designed gallery exhibits.
SOFA is held annually in the fall at Chicago's major destination, Navy Pier, with an average of 80 dealers and 35,000 people attending. Sales at the fair are estimated at 15-20 million dollars per show.
With a strong educational emphasis, SOFA CHICAGO includes an acclaimed lecture series and special exhibits exploring the artworks on view and surveying new trends in the art world.  A VIP program includes exclusive events tailored to high-profile gallery clients and collector/museum groups.
SOFA has evolved into a dynamic international marketplace and community – a confluence of perspectives where art, design and people intersect.