The Society of American Mosaic Artists held its 16th annual conference, The American Mosaic Summit, May 2-6, 2017 where 287 conference attendees enjoyed The Motor City—Detroit, Michigan!
A huge THANK YOU went out to Joan Schwartz, Conference Chair, who was the driving force bringing SAMA to Detroit, along with Ruth Tyszka, Darcel Denau, and the newly formed Mosaic Artists of Michigan (MAM).  The conference worked like a well-oiled machine—we all had so much fun and wished everyone had been able to attend.
A week before the conference, first time attendees were invited to join our first-ever live Webinar to get a jumpstart on the conference experience—50% of first-time attendees logged in.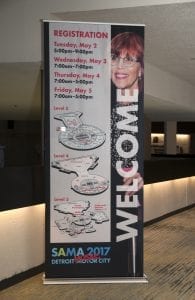 Registration went smoothly and was followed by a Welcome Mixer with a cash bar where a bidding war ensued on an impromptu raffle of a two, life-sized, signed posters of Jacki Gran, President of SAMA. MAM put together a goody bag of Michigan-made food products, Detroit Tigers caps, and Motawi tile among other things to raffle off.
For the third year in a row, workshops were offered on Tuesday as well as Wednesday and Thursday.  The Mosaic Marathon led by Sue Majewski with MAM created three panels of colorful animals that were donated to the Children's Hospital of Michigan. WitsEnd Mosaic and LATICRETE International once again were our Mosaic Marathon Sponsors!
The three tours offered in Detroit included visits to Motawi Tileworks, Detroit Library, and Detroit Institute of Art. The Guide to the Detroit Tours is on sale NOW in the SAMA store!
The Vendor Marketplace was a huge hit again this year and everyone went home loaded with goodies from the fabulous mosaic vendors.
Wednesday's SAMA Café featured presentations by Cathleen Newsham, David Jarvinen, Jessica Liddell, Julie Sperling, Kelley Knickerbocker, and Catherine Dobrowitsky. Topics ran the gamut of the mosaics in New York City's subway to bringing "sexy" back to our art practice.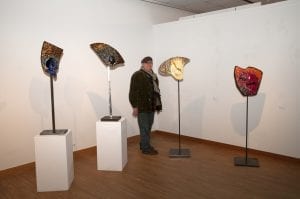 The MAI Exhibit on Thursday night was held in the Janice Charach Gallery at the Jewish Community Center of Metropolitan Detroit, and was the highlight of the conference. The space beautifully highlighted the work of the Invitational Exhibit on the first floor of the gallery with mosaics and drawings by Verdiano Marzi, and the MAI juried exhibition on the second floor. Conference Manager, Chris Forillo outdid himself in putting together a delicious menu for all to dine on.
Presentations on Friday afternoon included Detroit artist, Albert Young, who uses found objects and hot glass in his sculptures; the love of picassiette, by Bonnie Fitzgerald and Jolino Beserra; the trials and tribulations of Gary Drostle in creating 2,000 square feet of mosaic floors for a hospital in California; and a 30-year retrospective of the work and philosophy of Giulio Menossi.
Friday evening began with a Volunteer Appreciation get-together before the doors opened on the highly anticipated Mosaic Art Salon.
2017 General Members Meeting
Saturday morning we held our annual General Member's Meeting. Dawnmarie Zimmerman, SAMA's Executive Director introduced the Executive Committee—President, Jacki Gran; Vice President, Tami Macala; Secretary, Donna Post; Treasurer, Pat Bryant; and Member-at-Large, Libby Hintz. Chris Forillo, Conference Manager and Shawn Newton, Communications Manager round out the paid staff.
Our Communications Manager, Shawn Newton, was unable to attend so Jacki Gran unveiled our new PRINT publications, the first annual Anthology of Groutline 2016 and Advice from the SAMA Pros (Volume I): The Business of Mosaic Art. Both of these publications were sold in the Vendor Marketplace and are available in the SAMA store.  Business-card ads were available in these publications as SAMA looks forward to expanding advertising opportunities. Shawn has become an amazing asset for SAMA, producing our publications, creating advertising options, and continually coming up with exciting new ideas.
Jacki Gran, Exhibition Chair, shared the intricacies of MAI International that included three areas: Fine Art, Site Specific, and Invitational. Groutline and the website will have all the photos and stories, along with the winners chosen by our jurors, Gary Drostle, Shug Jones, Sergio De Giusti, and Susan Goldberg.  Verdiano Marzi brought us the most incredible collection of his work. We were awestruck with his generosity and we thank him and the Chicago Mosaic School for facilitating the Invitational.
The 2016 Robin Brett Scholarship was awarded to Deb D'Souza. She gave a terrific presentation and Scholarship Chair, Libby Hintz, made a plea for more members to apply for this opportunity.   Applications are open now on our website.  Libby is also Membership Chair and she gave a report on our 847 members and thoughts on future growth, member benefits, and recruitment.
Pat Bryant, Finance Committee Chair and Treasurer, gave us the statistics of our financial health. Her committee meets monthly, along with meetings with the accountant to keep a close watch on our spending.
Susan Jeffreys took on the difficult task of Fundraising Chair. Along with her committee, she is leading the way to a simpler sponsor, donor, and member benefits structure which is currently in the works.  The committee is also looking for more ways to raise money throughout the year, and we will be encouraging members to sign up for monthly recurring donations.
Susan also chaired the Strategic Planning Retreat, which was held in 2016 in Park City, Utah. During this time, the Board looks at where we are, where we need to be, and how can we get there. Susan is excellent at leading this retreat and keep us all on track (like herding cats!)
Gabriella Grama stepped up to a huge position—Sponsorship Chair—immediately after joining SAMA and the Board of Trustees.  She did a fantastic job calling sponsors and donors to bring in the money needed to run SAMA.
Donna Post then called the business meeting to order so we could vote on our nominees joining the Board.
Nominated for a three-year term:
Judy Davis
Yvonne Allen
Gabriella Grama
Re-elected for a three-year term:
Erin Bliss
Libby Hintz
Tami Macala
Re-elected for one-year term:
Donna Post
Jacki Gran
The votes were held and the business portion of the meeting was adjourned.
Retiring from the Board of Trustees:
Cherie Bosela
Debbie Immel
Roxana Nizza
Susan Jeffreys
We THANK YOU for your service to SAMA!
The Board is recruiting so please contact Donna Post to learn more.
Donna is also Volunteer Coordinator and her report included the following volunteer statistics: since the 2016 San Diego conference, the Board of Trustees has donated approximately 2,205 hours SAMA. Non-board volunteer hours OUTSIDE of conference time totaled approximately 347 hours.
Number of volunteer hours needed to fill conference shifts here in Detroit is over 700 hours.
THANK YOU to everyone who has given their time to SAMA. We can't do this without you!
The Board is looking for help in the area of grantwriting, publicity, public relations and governance.
Donna announced the Volunteer of the Year—JOAN SCHWARTZ!!!!! Joan was the driving force behind bringing SAMA to Detroit.
Tami Macala, Future Conference Chair and President-Elect, introduced next year's conference chairs, Debora Aldo and Glynda Benham so they could tell us about BOSTON 2018, March 13-17, 2018!!!!!!
The rest of Saturday found us enjoying the Ruins Project with Rachel Sager; Empowering the Mosaic Community with Isidora Paz Lopez; a rousing Urban Intervention Pecha Kucha from members who attended the first Mosaic Intervention in Brazil; and Seeing the Sacred and Profane in Mosaics in an emotional presenation by Maestro Verdiano Marzi.
The 2017 Fundraising Raffle finished up the afternoon with Krystie Rose Millich winning the grand prize of Carol Shelkin's workshop at the Hacienda Mosaico, Puerto Vallarta, Mexico donated by the Hacienda Mosaico and Carol Shelkin! Votes were counted for the Members' Choice Award and Donna Van Hooser was the winner for Does This Make Me Look Fat?
A Detroit selfie booth and Motown sounds capped the conference in the closing night party. Whew, we had a great time and can't wait until next year to be with our friends and fellow artists again!
---
Workshops



























Mosaic Marathon













Vendor Marketplace



















Presentations
















Mosaic Arts International 2017 Artist's Reception























Mosaic Art Salon






































© 2017 Society of American Mosaic Artists All artwork is protected by copyright and may not be reproduced and/or copied without the express permission of the artist.