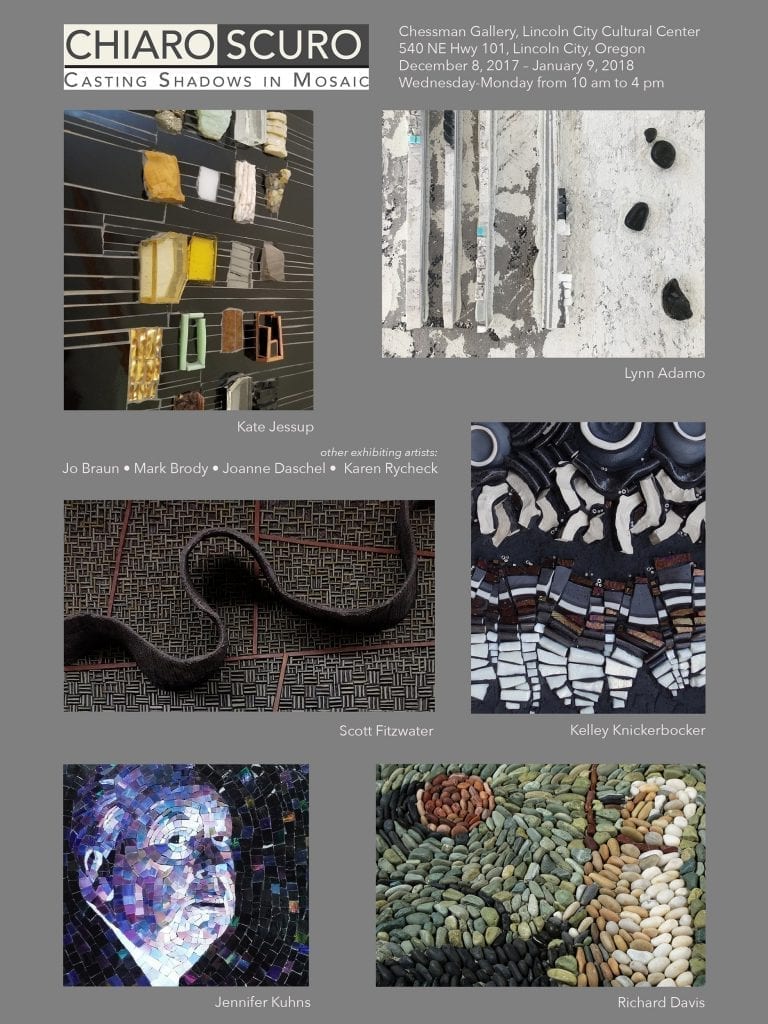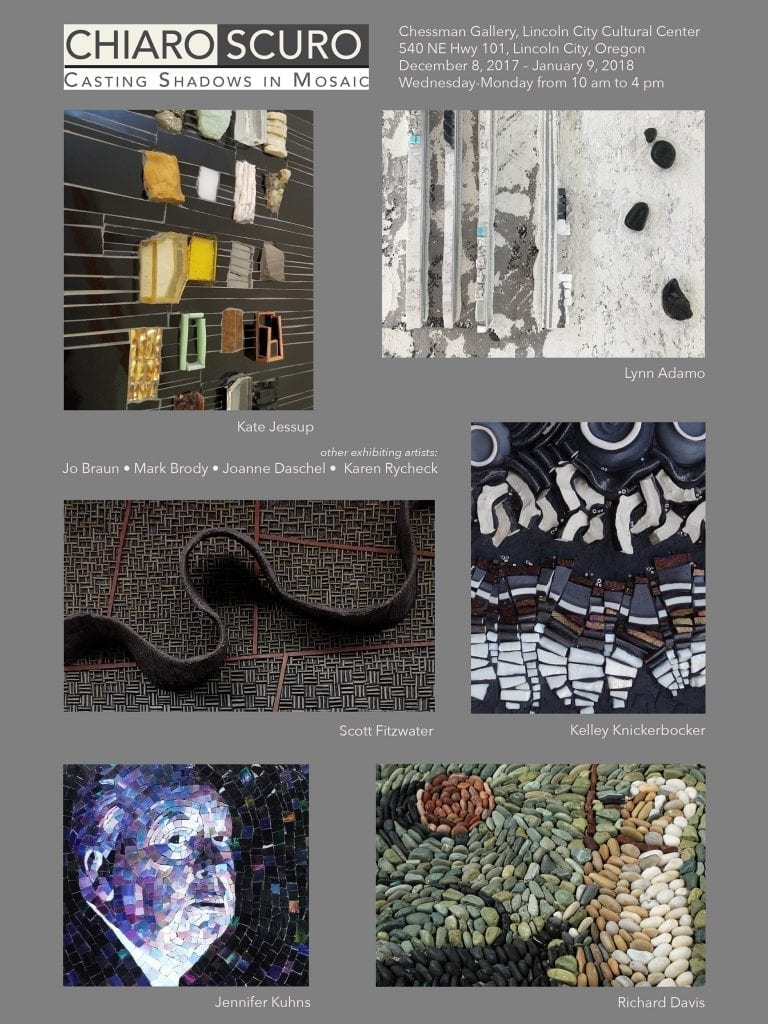 Chiaroscuro Art Exhibition
Chessman Gallery, Lincoln City Cultural Center
540 NE Hwy 101, Lincoln City, Oregon
December 8, 2017 – January 9, 2018
Wednesday – Monday, 10 am – 4 pm
Mosaic: an ancient art reinvigorated by contemporary artists. Artists are using traditional tools and materials, often combining them with non-traditional materials to create astonishing new work.
The Northwest Mosaic Art Alliance has come together to create Chiaroscuro, an exhibition that explores the nature of light and dark, how shadows are cast by the materials in the works, and how mosaic materials either reflect or absorb light. Abstract and representational styles will be seen in this exhibition.
About the Northwest Mosaic Art Alliance
We are a group of artist colleagues and friends living in Oregon and Washington who work in the broad medium of mosaic. We met through membership in the Society of American Mosaic Artists. Over the years we have grown and deepened our artistic practices from self-taught beginners exploring a new medium to successful professionals, exhibiting, teaching and presenting worldwide.
Contemporary mosaic art is not well-known in the larger fine art world. Our mission is to help elevate the status of our medium by exhibiting widely and exposing more people to our art. Collectively, our group is well known among mosaic artists worldwide. We have exhibited in prestigious venues in North America, Europe, Asia and Australia and have won awards in juried exhibitions.
The alliance is :
Lynn Adamo, Bend, OR, www.lynnadamo.com
Jo Braun, Seattle, WA, www.jobraun.com
Mark Brody, Portland, OR, www.markbrodyart.com
Joanne Daschel, Lincoln City, OR, www.joannedaschel.com
Richard Davis, Clinton WA, www.richarddavismosaics.com
Scott Fitzwater, Portland, OR, www.fitzwatermosaic.net
Kelley Knickerbocker, Seattle, WA, www.rivenworksmosaics.com
Jennifer Kuhns, Elma, WA, www.jkmosaic.com
Kate Jessup, Seattle, WA, www.katejessup.com
Karen Rycheck, Talent, OR, www.missmosaic.com