PLEASE READ the following… Completely before reviewing workshop, tour and seminar options
Increase the impact of your conference experience by adding optional tours to your Conference Registration. We believe artists and aficionados of any level will find opportunities for inspiration, exposure, and growth through these sessions.
Please pay close attention to the date(s) and time(s) of your chosen tour session(s).  Some overlap with the Workshop Series. All tours leave from the Hyatt Downtown Buffalo. There is no limit to the number of workshops or tours you can attend as long as the sessions are not scheduled at the same time. SGAA & SAMA Members and Conference registrants get first priority on workshop and tour registration through July 1st, 2023.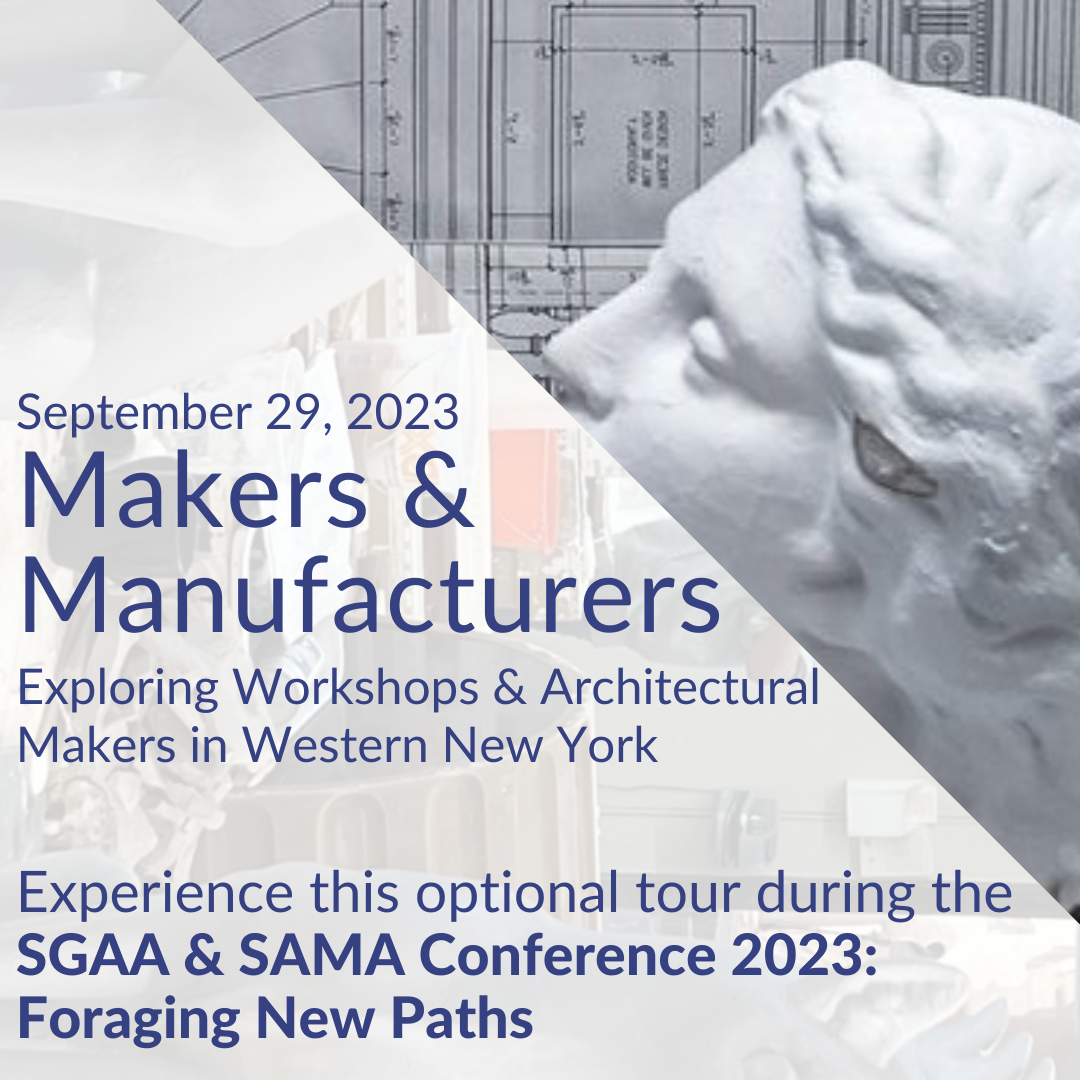 Makers & Manufacturers – Exploring Workshops and Architectural Makers in Western New York
Friday, September 29th, 2023 | 9:00AM – 4:00PM (includes boxed lunch)Cost: $105
This full day tour will take you from Boston, NY to Tonawanda, NY to visit some of the most unique architectural arts partners in the country. From makers to manufacturers, Western New York is proud to host some of the most innovative companies serving the glass and preservation industry.First, we'll head South of the city to Boston, NY: Boston Valley Terra Cotta is responsible for the restoration and revival of Buffalo's most significant facades and the only "global leader in the architectural terra cotta industry." Boston Valley Terra Cotta (BVTC) is one of only two remaining terra cotta manufacturers in the country largely because of the quality and craftsmanship of their work. As terra cotta fell out of favor around the Great Depression, many companies permanently closed their doors. Boston Valley Terra Cotta has endured, its expertise and strong reputation has allowed the firm to build an incredible portfolio of work on both restoration and new construction projects. The company was originally founded in 1889 and was called Boston Valley Pottery. Working out of their 170,000 sq. ft. facility in Orchard Park, the company continues to help restore many of America's treasures and also produces materials that create unique new builds. Since their incorporation thirty years ago, the company has completed well over 1,500 projects in North America and around the world, as far away as Australia. It employes over 150 employees operating in two daily shifts. (https://bostonvalley.com/)The tour will also travel to Buffalo Plaster and Architectural Casting, responsible for the restoration of some of Buffalo's most historic and intricate interiors and exteriors. Buffalo Architectural Casting's team is made up of highly skilled artisans, craftspeople, and plasterers. Their attention to detail, skills, and approach is unparalleled and their work is in homes and civic buildings across the country. The company is owned by experienced plasterer Gary Bolles and European trained sculptor Leo Lysy. Here in Buffalo, their list of award-winning projects include the restoration of the Hotel at the Lafayette, Shea's Theater and Performing Arts Center, Frank Lloyd Wright's Darwin Martin House and Graycliff Estate, Eastman Garden, the Dun Building, Our Lady of Victory Basilica, and the McKinney House. (https://www.buffaloarchitecturalcasting.com/historical-restoration)And we are thrilled to include Techniglass on this tour – We are so lucky to have one of the most innovate manufacturers in stained glass based right right in Western New York. Techniglass develops the state of the art tools used to better hot and cold glass technology. Manufacturers of Papyros® Kiln Shelf Paper, MO-RE®, The Grinder®, The Grinder2®, Quick-Fit Bit System®, GelBits®, Brilliant Bits®, and Aqua Flow System® (https://techniglass.com/)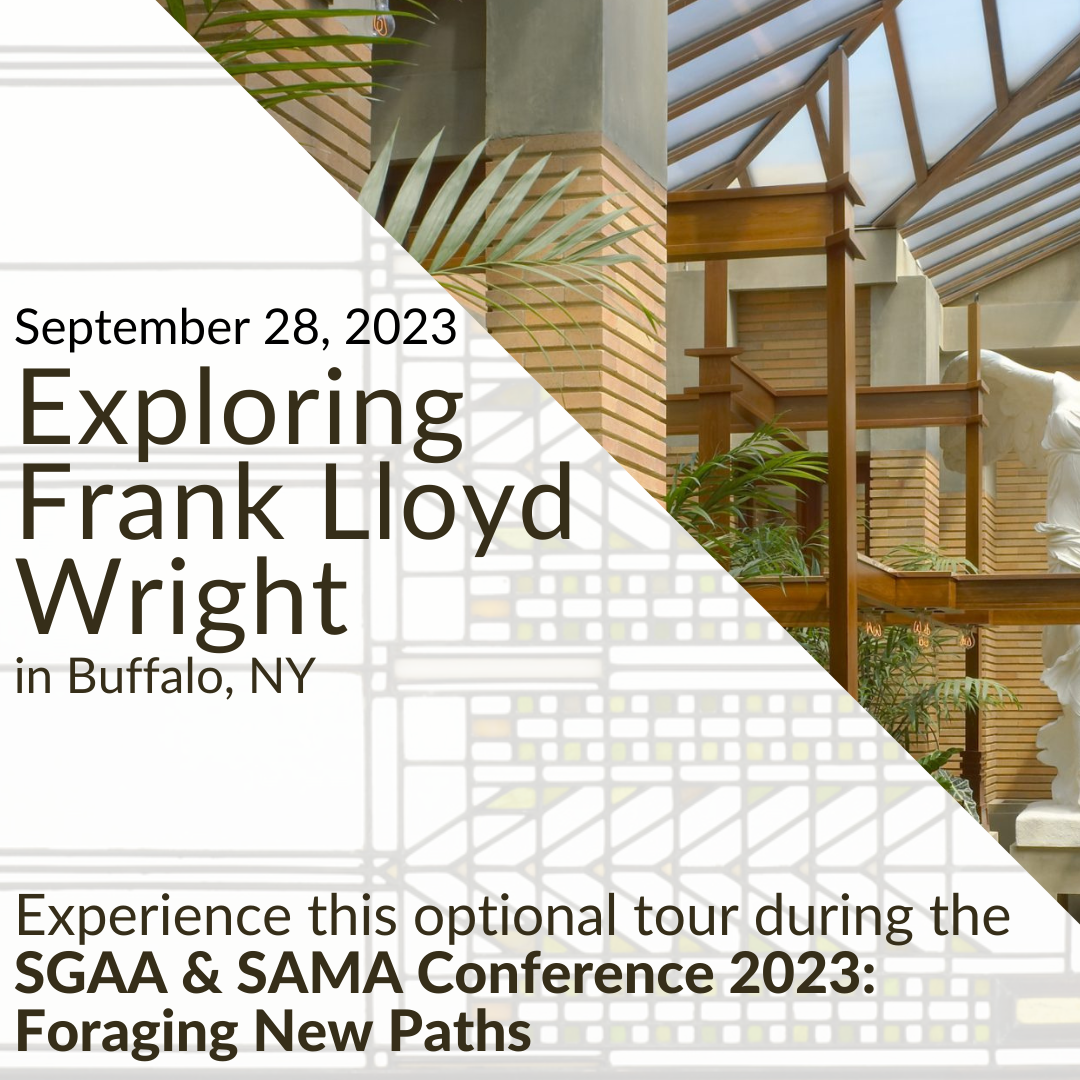 Exploring Frank Lloyd Wright in Buffalo, NY
Thursday, September 28th, 2023 | 9:00AM – 4:00PM
Cost: $185
Western New York is home to one of the world's largest collections of with from famous architect Frank Llloyd Wright. 9 total structures remain in Buffalo today, including 3 structures that were re-created form original Wright drawings or blueprints.
This tour will travel between The Darwin D. Martin House completed in 1905, Graycliff Estate, completed in 1931, the Fontana Boathouse, designed in 1905, and built in 2007, with a stop at the Tydol Filling Station at the Pierce Arrow Museum and the Blue Sky Mausoleum in Forest Lawn Cemetary, which was discussed & designed between 1925-1928, and built in 2004 by a direct apprentice of Wright – Anthony Puttnam.
The Darwin D. Martin House complex consists of 6 structures (including the Barton House which will also be on the tour), and was originally over 29,000 square feet. Hundreds of stained glass windows, a 100-foot long pergola, and so much more, Wright himself referred to his design for this project as a "well-nigh perfect composition." When historians discuss Wright's Prairie House style, they often refer to the Martin House as his best example demonstrating strong horizontal lines, long overhanging eaves, cantilevered roof and prominent foundational features. The Complex was listed as a National Historic Landmark in 1986, saving it from further destruction and vandalism after years of abandonment. Just recently in 2019, the Martin House Restoration Corporation restored the historic landscape designed for the complex.
https://www.visitbuffaloniagara.com/buffalo-unexpected-legacy/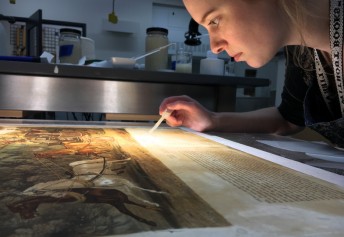 Friday, September 29th, 2023 | 2:00 PM – 5:00 PM
Cost: $40
Founded in 1970, Buffalo State's Art Conservation Department is one of the leading programs of its kind in North America. Accepting only 10 students a year, their competitive three-year graduate program trains conservators of fine art and material cultural heritage. Their graduates can be found in the conservation labs of major institutions across the United States.
The Art Conservation Department occupies a superb, modern space in Rockwell Hall. The faculty and staff of the Conservation Department have invited SGAA + SAMA attendees to come view the newly renovated and expanded, 6,434-square-foot space including the exquisitely designed conservation library, suite of studios, and all material laboratories.
Designed to support conservation teaching and research, the labs and studios include well-equipped workshops, studios, and laboratories for each conservation specialty of objects, paintings, and paper conservation, as well as for instruction in conservation imaging, examination, and documentation, and conservation science.
Noteworthy are the department's radiographic facility and digital imaging lab, its analytical instrumentation and its study collections of pigments and other historical materials used by artists and craftsmen. The department has its own extensive branch library that is supplemented by E. H. Butler Library.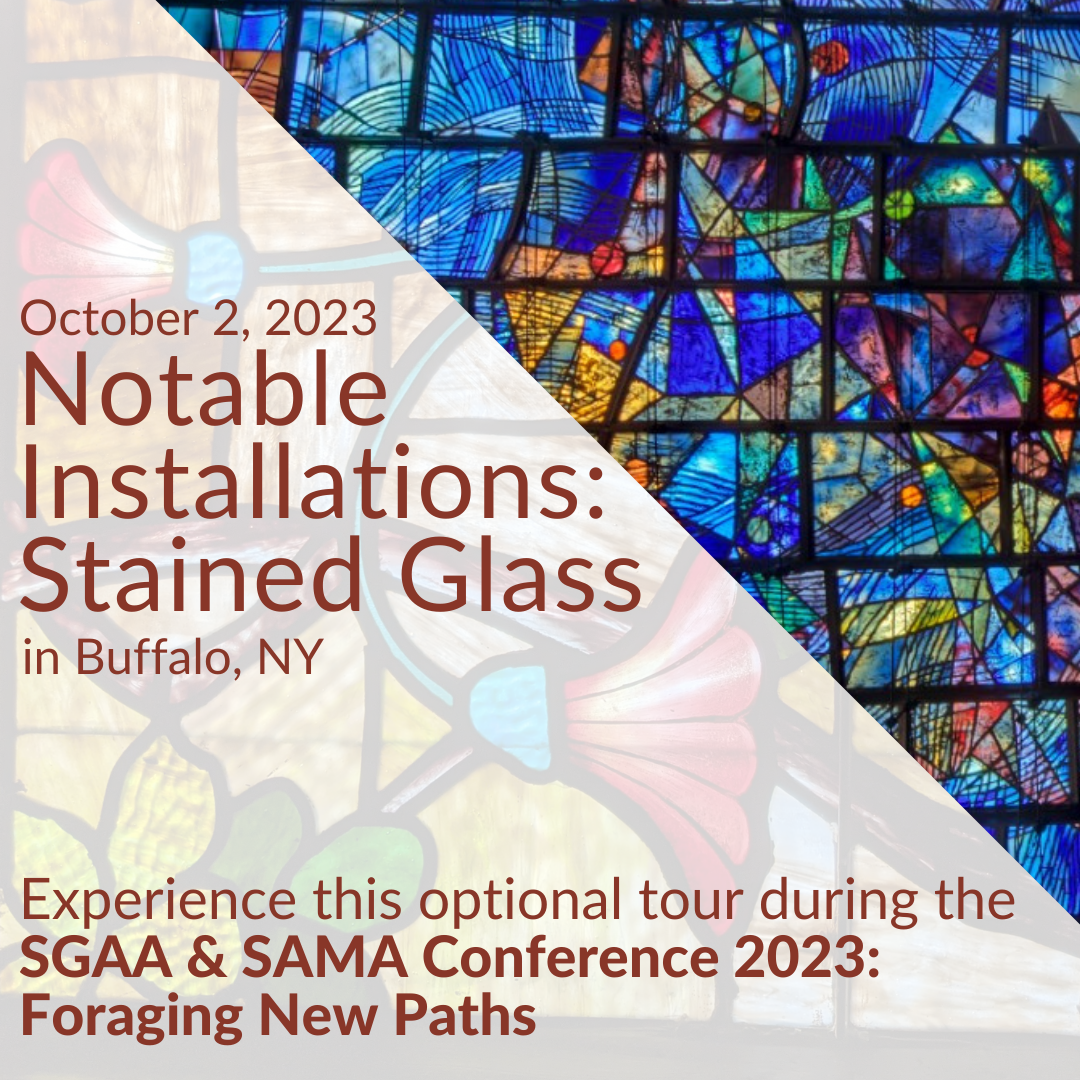 Notable Installations: Buffalo Stained Glass
Monday, October 2, 2023 | 8:30 AM – 5:00 PM
Cost: $136
Visit Buffalo's most notable stained glass installations, including the work of Louis Comfort Tiffany, Mary Tillinghast, the Tiroler Glasmalerei (Stained Glass), Franz Mayer of Munich, Inc., and more at the following:
Sites may include but are not limited to:
First Presbyterian Church
Westminster Presbyterian Church
Temple Beth Zion
Our Lady of Charity Parish
St. Stanislaus R.C. Church
Buffalo City Hall Council Chambers
St. Luke's Mission of Mercy
Central Park United Methodist Church
(sites are subject to change)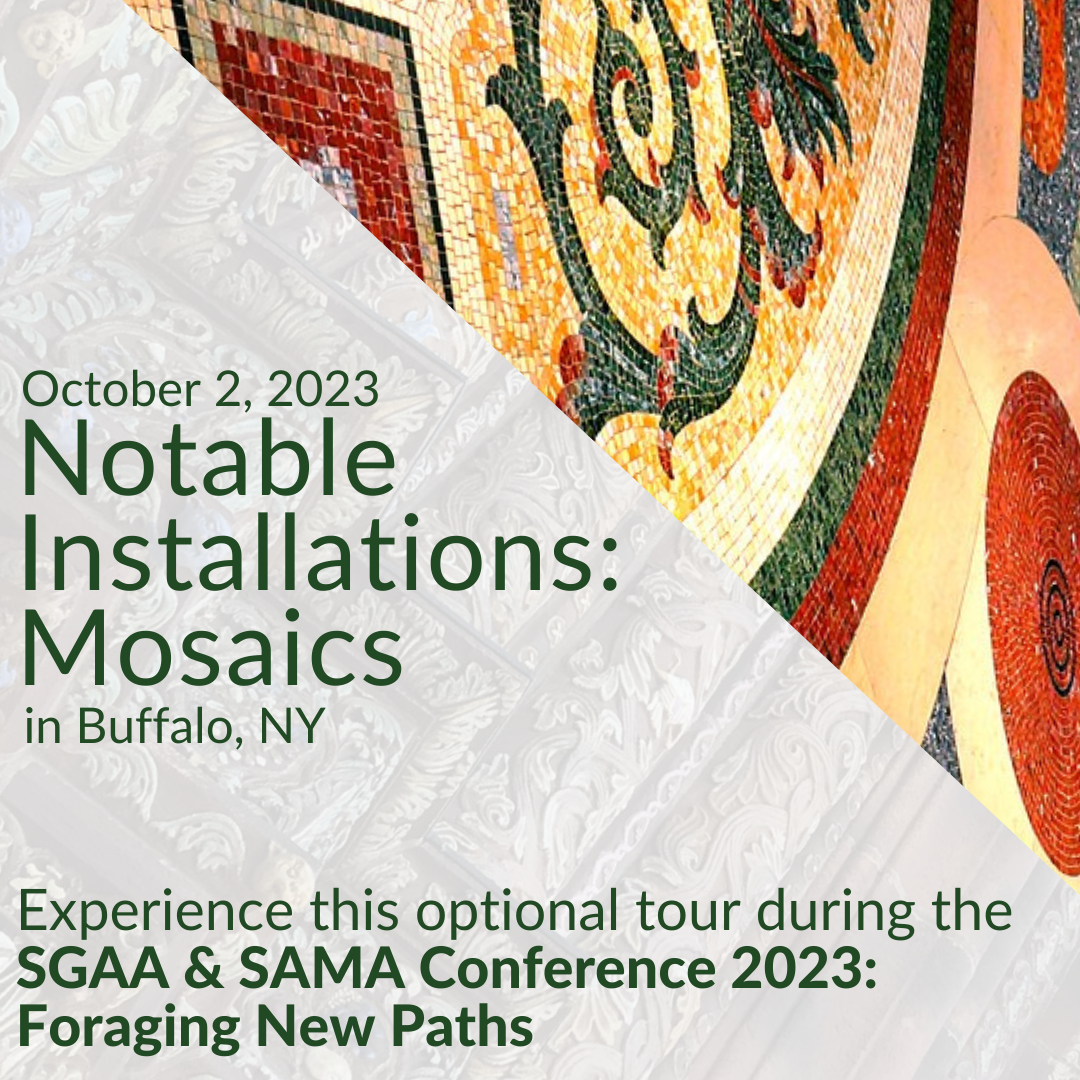 Notable Installations: Architecture and Mosaics Bus Tour
Monday, October 2, 2023 | 8:30 AM – 5:00 PM
Cost: $125
On this tour, you'll visit Our Lady Help of Victory Basilica, WNY's most famous sacred space, which was built to rival the majestic churches of Europe. From there, you'll travel across sites showing the variety of projects and efforts underway across the community as we strive to reshape sacred and civic spaces alike in Western New York. At Masten Park, you'll have the chance to see the work of our Executive Director, Megan McElfresh, in partnership with local community students and artisans.
Explore Buffalo's stained glass, mosaics, paintings, and other art from closed houses of worship at Buffalo Religious Arts Center, and the decadent floor mosaic and gilded age furnishings a the Ellicott Square Building. Includes a boxed lunch.
Tour includes:
The Basilica
Blessed Trinity Roman Catholic Church
Delaware Avenue Baptist Church
First Presbyterian
Ray of Light Mural
Ellicott Square Building
Temple Beth Zion
Buffalo Religious Arts Center
(sites are subject to change)