Spend some time exploring mosaic installations throughout the San Diego area or take a special trip to Los Angeles to visit the home of George Ehling!
San Diego Magical Mosaic Tours
Tour #1 – City of San Diego & National City
Tuesday, April 5, 2016
8:00am – 5:00pm  Full Day Tour – Includes Box Lunch
Fee: $65
There are so many amazing mosaic art installations all located within close proximity to the downtown area of San Diego. Some of the mosaic sites we will visit are the same that were seen for the SAMA conference tour in 2009, but we will be seeing many more new installations. Most projects are located within the beautiful view of the San Diego Bay. We will visit the heart and soul of San Diego that being the historic Balboa Park, as well as the County Administration Building to see the WPA-era mosaics and tile. Many other projects include sculptures by Niki de Saint Phalle, James Hubbell, and several by Kim Emerson. We will be going a little farther south to National City to visit a very large community mural facilitated by A Reason to Survive (ARTS). While we are in National City we will visit mosaics at the San Diego Unified Port District's GSA Building. The highlight of this full day of mosaic projects will be at Rady Children's Hospital featuring mosaics at "Carley's Magical Gardens".
A box lunch will be provided and we will picnic amidst art in the park.
Tour #2 – James Hubbell Home and Art Center – East San Diego County
Wednesday, April 6, 2016
8 a.m. to 4:30 p.m. – Full Day Tour – Includes Box Lunch
Fee: $75

(includes $17 donation to Ilan-Lael Foundation)
This is an intimate and rare opportunity to see the home, studios, and new art complex of James and Anne Hubbell.  As a smaller group we will meet this amazing man who is an internationally and locally treasured artist and designer of buildings whose organic, sculptural structures feature natural materials, incorporate sculpture, and stained glass. Mosaics are applied to almost every structure he builds. James and his wife have again invited SAMA members back to visit their private compound named "Ilan-Lael", located in the mountains after a 90-minute drive east of San Diego. We will again meet with James, his staff of talented artisans at work, tour the original 10 structures, as well as see the new chapel and Ilan-Lael Art Center now under construction and recently completed.
Part two of this tour: While up in the mountains east of San Diego we will go to Julian and visit Rainbow Hill a private home designed and created by Hubbell.  Some proceeds of the tickets sold for this tour will go to the Ilan-Lael Foundation that was founded by the Hubbells in 1982. "The Ilan-Lael Foundation is an arts education foundation celebrating nature and the aesthetic of the built environment for its ability to help us see ourselves and our world in new ways."
There is a long walk up the drive and very rough terrain around the property, so sturdy and comfortable shoes are an absolute must.
A box lunch will be provided during travel time.

Tour #3 – Queen Califia's Magical Circle & North San Diego County
Saturday, April 9, 2016
8:30 a.m. to 5:30 p.m. – Full Day Tour – Includes Box Lunch
Fee: $75
At the very end of Niki de Saint Phalle's amazing career as one of the world's most well renowned woman artists, she designed and built "Queen Califia's Magical Circle" located north of San Diego in a quiet park at the outer limits of the City of Escondido. This destination is back again for the SAMA conference tours. This project is quite significant and somewhat comparable in scale to Niki's "Tarot Garden" in Tuscany, Italy. This hidden gem was created in Niki's distinctive style with her mosaics incorporating semi-precious stones, mirror, glass elements, and ceramic. The project portrays the legend of how California was named and consists of a mosaic wonderland 400 feet in diameter. We will be greeted by docents who will walk us through the project site, teach us about the legend of Queen Calafia, and share stories about Niki and her fascination with mosaics.
Access to the site is via a long dirt trail, so sturdy and comfortable shoes are an absolute must.
Part two of this tour: As if Niki's project was already enough, we will be traveling west to a typical California beach to see more amazing mosaics in the City of Solana Beach. There, we will be visiting large scale mosaic installations by Betsy Schultz and Christie Beniston, alongside Litho-Crete and Litho-Mosaics concrete sidewalks.  We will picnic in the park and/or on the beach alongside handmade ceramic tile and mosaics at Fletcher Cove. You will have an opportunity to squish sand between your toes or window shop in this artful beach town. On the way back to San Diego we will head north just a little more to the City of Encinitas to pay our respects to the "Surfing Madonna". After getting back to San Diego the highlight and final destination will be again at St. George's Serbian Orthodox Church which is a favorite ecclesiastical "gem" on the tour with every surface area covered in Mexican smalti!
A box lunch will be provided and we will picnic in a park at the beach.
San Diego Tour text: Kim Emerson, Images: Dennis Reiter
---
EXCLUSIVE GEORGE EHLING MOSAIC HOUSE TOUR, Hollywood Hills, Los Angeles, CA,
Saturday, April 9, 2016
8:00 a.m. to 5:30 p.m. – Full Day Tour – includes Box Lunch
Fee: $125
George Ehling, (b. 1927), has been tiling his home with intricate patterns of recycled tile and glass bottles for over 45 years. His colorful life stories will embellish and entertain, as we tour the magnificent Mediterranean-style mansion. Perched above the steamy San Fernando Valley and the distant but distinct HOLLYWOOD sign, the home is a tribute to George's life as a Hollywood actor and union carpenter. His travels through Europe put him in proximity to archaeological antiquities, especially that of Roman Aquilea, whose influences feature prominently in the home. The exterior facades and captivating interiors reference Roman, Byzantine, Medieval and Islamic ornament. Ehling purchased his 4500-square foot castle in 1967 with a down payment from his father and began the tile work in the mid-1980s.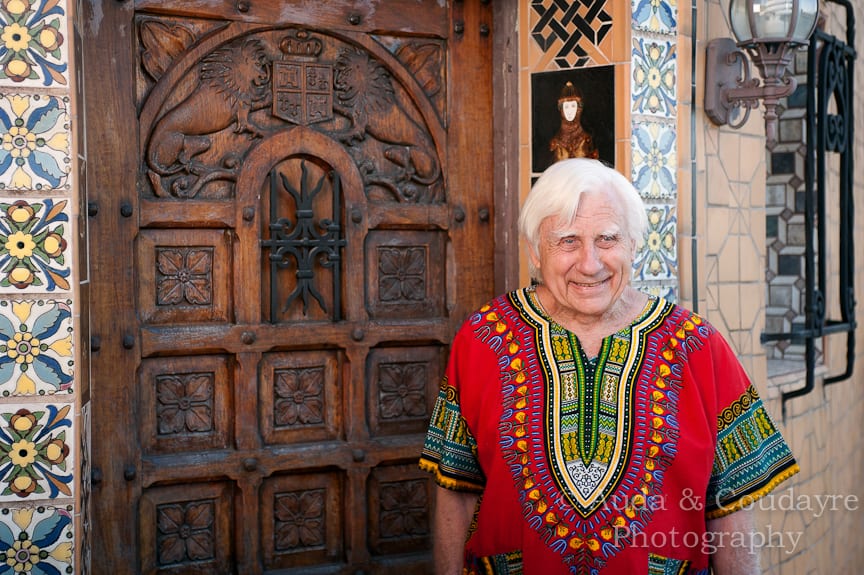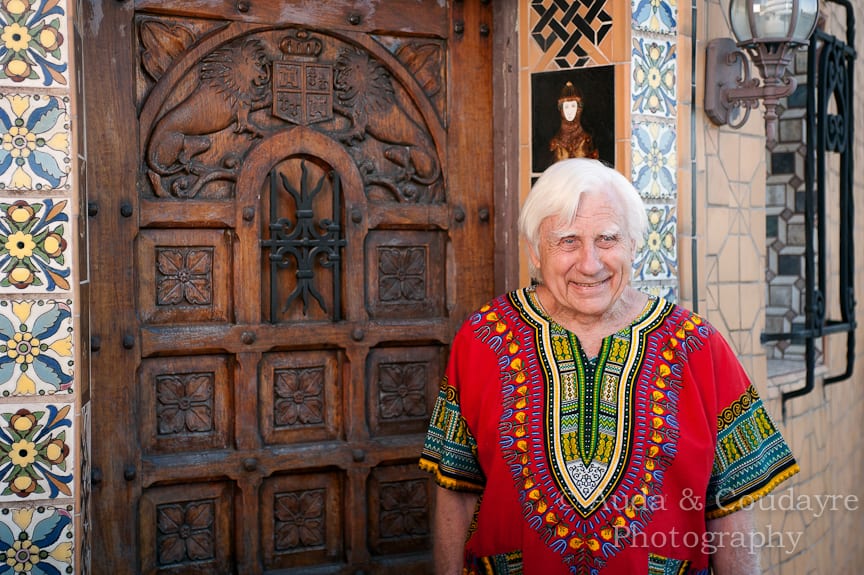 Ehling works alone and is mostly self-taught, though he attended the Italian mosaic school in Spilimbergo for a few summers learning from the maestros. Ehling's mosaic work is distinctive for its overwhelming scope, but also for its playfulness. He is a master "mash-up artist" like a modern DJ, he incorporates classical patterns with carefully cut modern scrap material to produce a wholly new language. He cross-pollinates architectural references and global geometric syntax, making an ancient visual grammar buzz with potential. The house belongs among the elite of the fantasy and outsider art environments.
George will lead the tour that lasts about 2 hours and includes Q&A. Lillian Sizemore, mosaic scholar and long-time friend will be along for the event. You can find her feature articles about George and his house in UK's international visionary art magazine Raw Vision #85, and in Andamento #9, the annual journal of the British Association for Modern Mosaic. More photos and videos at https://www.facebook.com/GeorgeEhlingMosaicHouse
Important Reminder: You attend the tour at your own risk and agree to abide by any posted or verbal instructions given for your safety. You must be able to walk up and down the stairs without assistance. By registering for the event you release all claims and accept these terms. – –
The home has many stairs and is not wheelchair accessible. You must be able to walk up and down the stairs without assistance.  No children under 12 years of age please. 
Text and photos courtesy of Lillian Sizemore