The Presentations Descriptions are still being finalized.  We are thrilled to present the following topics for our first joint conference between SGAA and SAMA.
The Science of Light with Scott Cooper, PhD
Studio Safety at any Size – an Artists Roundtable with Ariana Makau, Jenna Kurtz, Jesse Medina
Any artist's studio, no matter what the size, contains materials hidden in plain sight that are core to creation and yet potentially hazardous. Ariana, Jenna and Jesse will discuss how scaling up safety from a few initial easy steps (from a single artist to a large studio) can help us all follow Nzilani's motto: "Be Safe. Have Fun. Do Excellent Work."
Ariana Makau is President and Principal Conservator of Nzilani Glass Conservation. She is a Board Member and Health and Safety Chair of the Stained Glass Association of America: plus a Fellow of the American Institute for Conservation. Nzilani focuses on self-empowerment through information: sharing stained glass processes, health and safety procedures and the importance of preserving cultural landscapes and the environment. nzilani.com
Jenna Kurtz is a multi-discipline artist who currently focuses on creating custom stained glass windows and suncatchers. Along with her partner, Jesse Medina, she is the cofounder of Mariposa Glass and Tile Works, a stained glass and tile mosaic design and fabrication studio in Berkeley, CA. She holds a BFA in Sculpture from CSU Long Beach and has worked on various public and private projects throughout the Bay Area. Jenna has a passion for teaching glass art and spends her spare time learning carpentry.  mariposaglassandtile.com
Jesse Medina is an Oakland based mosaic artist who's love for the craft has driven him to adorn the city with over 50 works of public art. His murals can be seen throughout the Bay Area on walls, businesses, and litter containers peppering the East Bay. He is the cofounder of Berkeley based Mariposa Glass and Tile Works, a mosaic and stained glass design and fabrication studio. Along with his partner, Jenna Kurtz, they continue to beautify public spaces and client's homes with custom glass and tile artworks.  mariposaglassandtile.com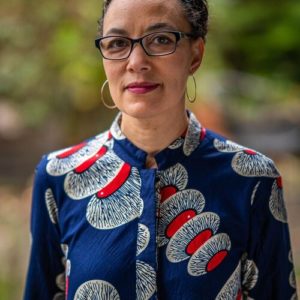 Piecing Us Together: Connecting Through Art in Challenging Times with Kate Kerrigan
This project is a culmination of everything I love: art, travel, family and friends. It is about connection. For five months, I drove across the United Sates to visit friends and family, having them create a small abstract mosaic segment. Each of their contributions was used to create one large mosaic, a tapestry woven by the people who have touched my life. After mulling over some very deep thoughts during covid, the idea for this project came to me in a flash, more like a lightening bolt. Thoughts such as the direction of my art, doing something bigger, outside of the box and more meaningful; the importance of relationships and family during covid; the itch to travel; the state of the country and having turned 50. From the lightbulb to the road, it all came together within six weeks. The rest, well…  I figured out along the way.
Between the pandemic and a country divided, many themes arose: unity, inclusion, connection, relationships and in-person contact. Timing was everything! Being on the road in the middle of it all, I was able to freshly capture the after effects of restrictions and being locked down, like the importance of face to face conversations. Meeting with people across the country, with or without differing views, was a way to connect through art and find our common ground. Just one way to help to bridge the divide and bring something positive to the table. To bring a little light in a time of darkness.
Sensitive to place and current issues, Kate Kerrigan's mosaics are an emotional response to her surroundings. Though more widely known for her representational compositions, her work has changed significantly in recent years, delving into abstract, exploring three-dimensionality and responding to the world around her. Kerrigan has been a mosaic artist for 24 years. She studied classic techniques and materials in both Venice and Ravenna, Italy. She has been awarded, recognized and published on national and international levels. Her work has been shown in Italy and Turkey, and throughout the United States. A Wisconsin native, Kate currently resides and produces in Redmond, OR.  katekerrigan.net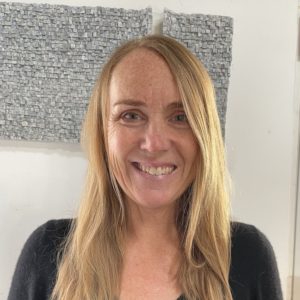 Meaning in the Making: The Choice to Mosaic with Yulia Hanansen, John Sollinger, and Dianne Sonnenberg moderated by Dawnmarie Zimmerman
We have just the creative booster shot of inspiration and motivation needed to get things moving in your studio this Summer!  This panel discussion will bring together three Internationally recognized artists who have extensive professional backgrounds and a shared deep passion for mosaic art.  How does a creative practice evolve to focus on Mosaic Art?  What about the process of mosaic making enhances and supports intentions for art that is created?  How does the experience of viewing mosaic art inform stylistic and design choices in an artist's creative process?  Moderated by SAMA Executive Director, Dawnmarie Zimmerman, this panel discussion will be a celebration of exquisitely beautiful work with a meaningful exploration of the motivations and inspirations of these highly regarded and celebrated artists, Yulia Hanansen, John Sollinger and Dianne Sonnenberg.
Yulia Hanansen, an award winning artist, has been instructing mosaic courses for 20+ years. Her Mosaic Sphere Studio, LLC produces mosaic artwork for private and public spaces. Ms.Hanansen has been a guest artist in mosaic schools throughout the United States including Unicorn Art Studio, Touchstone Center for Crafts, Cape Cod Mosaics, Cooperstown Art Association, and other educational institutions. In 2020 Hanansen opened Learn Fine Arts, an online school, where students can learn about mosaics and art foundations. Being a professor at Maryland's Towson University Ms.Hanansen teaches courses on drawing, printmaking, and artist books. She has taught at the University of Michigan and Columbia University. Hanansen's artworks have been exhibited nationally and internationally in multiple invitational shows as well as in her solo exhibitions including: Italy, New York City, Philadelphia, Chicago, Seattle, San Francisco, Miami, Baltimore, Dallas, Ann Arbor, and other locations. The artworks represent Hanansen's fascination with themes of physical sciences, nature, and a connection of human beings to the universe. mosaicsphere.com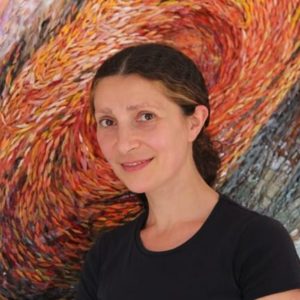 John Sollinger, or "Solly," is an artist and educator who is based in Ashland, Oregon, USA. With apparent chaos he produces mosaic wall hangings that portray realistic illusions of pristine nature when viewed from a distance. His techniques were developed in isolation, and his visual vocabulary was sculpted by intensive study and teaching of biology. Solly has earned major awards in international, mosaic and all-media competitions. He presents at mosaic conferences and offers workshops at home and overseas. In the USA his mosaics have been featured in popular press, coffee-table books, trade journals, art magazines and advertisements for art organizations and competitions.  johnsollinger.com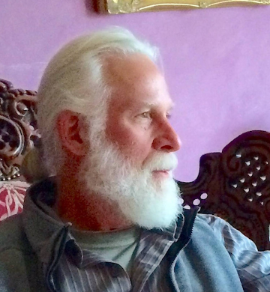 For over 20 years, Dawnmarie Zimmerman's use of stained glass and reclaimed materials has established her as a unique and pioneering spirit among contemporary mosaic artists. Her work has exhibited throughout the US and presented at premiere art festivals and galleries throughout Western PA.
Since 2005, Dawnmarie Zimmerman has served the Society of American Mosaic Artists as Executive Director where she is responsible for strategic guidance to the Board, management of staff and independent contractors and the execution of administration of programs including the American Mosaic Summit, Mosaic Arts International Exhibition, SAMA's Website, publications, and scholarship program.
In 2018, she launched the Behind the Mosaic podcast for SAMA, featuring in-depth conversations with contemporary mosaic artists.
Additionally, Ms. Zimmerman served on the Board of Directors for Touchstone Center for Crafts in Farmington, PA, in 2015 and is a member of Americans for the Arts and the Greater Pittsburgh Arts Council.