TALE OF TWO CHAIRS
The 2019 Mosaic Marathon Project
Scroll down to sign up to Volunteer!
You'll find us in the Cheekwood Room at the Sheraton Music City!
Tuesday, 12:00 PM – 10:00 PM
Wednesday, 8:00 AM – 5:00 PM (Closed early due to the MAI Gallery Receptions)
Thursday, 8:00 AM – 10 PM.
Hours may vary but we're right off the lobby, so checking in on us easy!
This is a tale of two Chairs and how they will come to live in East Nashville on the campus of Martha O'Bryan Center.
Sherri Warner Hunter, a local sculptor, and mosaic artist, is a dreamer.  Not just an ordinary dreamer, but a dreamer of big concrete mosaic ideas!
As a member of the Society of American Mosaic Artist (SAMA), Hunter has been involved in many support activities and conferences. She's taught workshops, served as a juror for the Mosaic Arts International exhibitions and has been a demonstrating vendor, as well as a mentored to many mosaic artists wanting to work 3D through personal consultations and her two books.
When she heard SAMA needed a location for their 2019 conference, she eagerly campaigned for it to come to her backyard, and volunteered to chair the local planning committee if it did. This would be her opportunity to Make Music City, Mosaic City!
An Idea was Hatched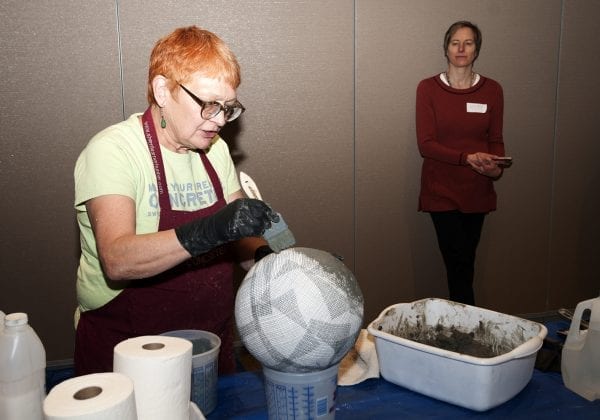 She knew there were many benefits to the host city but the one she was most interested in was leaving a beautiful mosaic legacy, created by SAMA volunteers and conference participants, to one of Nashville's worthy, charitable organizations.  That meant Nashville would be home to a new mosaic artwork, created during the conference's 2019 Mosaic Marathon. The Mosaic Marathon is an integral part of SAMA's annual conference.  As a not-for-profit organization, this is an opportunity for SAMA to give back to the art community and create a lasting reminder of the legacy of SAMA and its mission.
When the word was out that Nashville would host the conference in 2019, Hunters idea began to take form.
It began at the February 2018 SAMA conference in Boston, when she offered the workshop,  GOING BIG WITH POLYSTYRENE: "I want to make a Chair!".  Hunter had offered her popular substrate class many times in the past, at conferences, in Bell Buckle, and remote locations internationally and throughout the US.
This time would be a bit different.  Hunter offered students the opportunity to learn the steps to construct large sculptural chairs with the added bonus that they would be used for the 2019 Mosaic Marathon project in Nashville.
Both workshop filled to capacity and participants diligently work to learn the construction processes required to build the chairs.  First designing, then cutting the foam sections, constructing the installation bracket, and gluing the sections together, and finally experimenting with carving technics.
When the conference wrapped up in Boston, the grand-sized polystyrene foam chairs were loaded (just fitting) into the back of the U-Haul trailer that she towed back to her studio in Bell Buckle.

Early Development
Once back home in Bell Buckle, Hunter called in the troops from the Nashville Committee and SAMA friends from afar.  There was some serious work to be done. Volunteers worked to finish carving the chair design to make them both comfortable and functional. Special AR mesh was applied to the foam, patterns made of the surfaces for more mesh, and finally, concrete was mixed and hand applied over the mesh, totally encapsulating both chairs.  The chairs were now a blank canvas for what was sure to be thousands of pieces of colorful tiles arranged in beautiful and meaningful patterns and images.
Growing by Design
Now it is time for two Chairs to enter move to the next stage.  Susan and Jairo Prado, well know Nashville artists who have transformed numerous buildings and spaces with stunning mosaics and artworks were selected as Lead Artists.  As members of the 2019 Nashville conference committee, the husband and wife team generously agreed to take on the responsibility of this involved project. Their combined skill set and experience working on community engagement artworks would provide the creativity and management skills required for the success of this significant community project.
As lead artists, they will work with community partners to gather ideas and incorporate the vision, mission, and ideals of our recipient organization into the design
---

It Takes a Village!
When the conference starts there will be hundreds of skilled and talented mosaic artist from around the world already signed up to volunteer their time and lend a helping hand to work on the mosaic chairs and complete them during the first 3 days of the Conference, April 23 – 25, 2019.
It is estimated that more than400 hours of volunteer hours will be needed to complete the mosaic project. That is in addition to the over 125 volunteer hours donated to complete the chairs' construction or the time-consuming process of cleaning and grouting them to finish.
Mosaic Marathon Volunteer Form
---
Chair Designs








---
A Home in Nashville
We are pleased that the 2019 Mosaic Marathon artwork will be presented to the Martha O'Bryan Center.  The Chairs, which are fondly be referred to as the "Imagination Station", will be enjoyed by the Center's clientele as well as their education partner, Explore! Community School.
Martha O'Bryan Center is an anti-poverty non-profit organization founded in 1894, serving East Nashville and the city core.  The Center provides twenty programs at 11 sites to more than 10,000 individuals and families in poverty each year. Focused on high-quality public education, employment training and placement, and wrap-around family services, Martha O'Bryan Center, works to 'break the line of poverty' in Nashville.
One of the key components of their services is education.  Their K-8 education is provided in partnership with Explore! Community School.
The mission of Explore! Community School is to foster the independence, critical thinking, and creativity of a diverse community of learners, so they are fully prepared to become confident, responsible leaders who changed the world.
Both organizations will enjoy this Mosaic Marathon gift on a shared campus!  The exact location and installation date for the Chairs will be determined as the site's construction plans are finalized.  Stay tuned!
---
About the Mosaic Marathon Lead Artists
A native of Colombia, South America, Jairo Prado has lived and worked as a visual artist in Nashville for 34 years, creating commissioned works and exhibiting nationally and internationally. Noted solo exhibitions include the Leu Gallery at Belmont University and the University of North Carolina at Wilmington. Prado's work was also chosen for the Biennial Best of Tennessee Craft Artists at the Hunter Museum of American Art.  His work can be found in multiple public and private collections, including the Millennium Collection at the Tennessee State Museum, as well as Nashville's Music City Center.
Prado has also been an educator to the community, frequently collaborating with universities, community organizations, and arts institutes. His work with the community focuses on celebrating the history, culture, and creative expression of those who inhabit the city.  These collaborative opportunities provide a greater impact upon the audience and ultimately achieve a higher purpose, which is to encourage cultural unity and community transformation through the arts. His most significant collaboration is the creation of the architectural mosaic mural, "Migration," featured on the main facade of the Casa Azafrán Community Center. The project involved a year of concept planning and a year of creation and installation, engaging over 350 community members in open studio sessions to create the 7,000 piece, 30'0″ x 12'6" three-dimensional mosaic mural. "Migration" was selected for the prestigious 2014 Mosaic Arts International Exhibition hosted by the Society of American Mosaic Artists, and named a "Best of the Southeast" travel destination by the Atlanta Journal-Constitution.
Susan Prado is a native Nashvillian and practicing visual artist, writer, and creative facilitator. She received a Bachelor's Degree in Interior Design in 2001, and her experience in the field of design, architecture, and urban planning has been an important element of her work as an artist, community arts instructor, and project design coordinator. Since 2005 she has collaborated with partner, Jairo Prado, establishing Prado Studio and coordinating multiple large-scale community outreach projects.  Her expertise in management and implementation of hands-on workshops, apprenticeship programs, public art projects, commissions, and architectural installations has enabled the Prado Studio to engage and impact the local community in significant ways as they partner with schools, organizations, institutions, arts agencies, builders, city planners, architects, and contractors.   Her personal and community-based work explores creative, cultural and spiritual identity, as well as the process of healing and transformation.  pradoartstudio.com