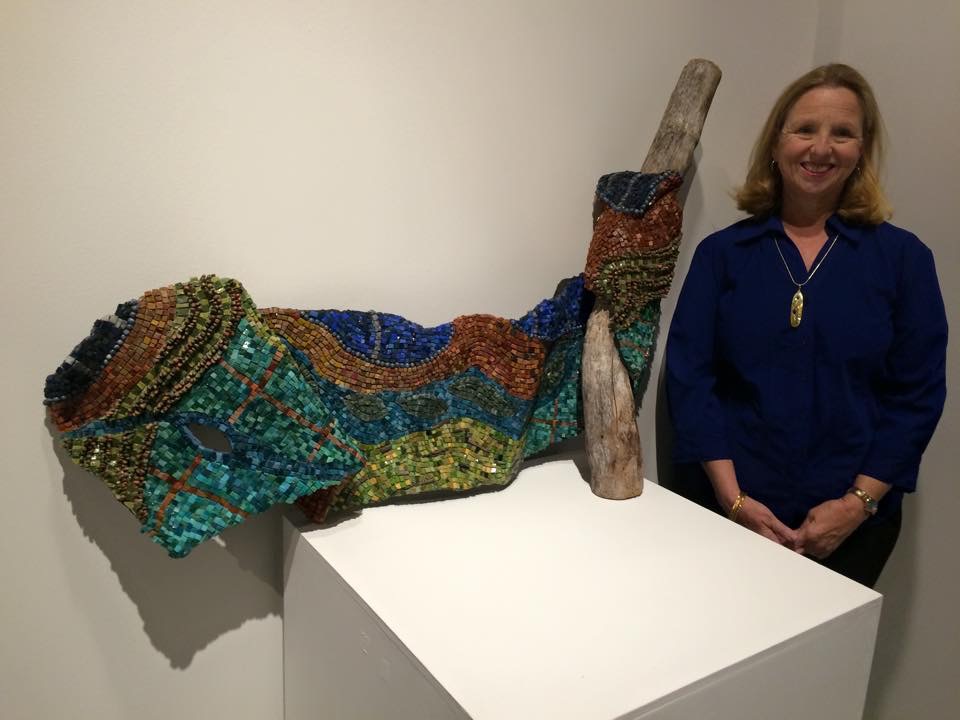 I have been involved with mosaic sense childhood. My mother made mosaics in the 1950's. I was always fascinated by it. In college I majored in fine art photography. Cutting my photos up and piecing them back together, which lead me back to mosaics.
Working organically, my work is non objective, for the most part. I create fabric inspires 3d pieces reminiscent of old family quilts, that are currently evolving into landscapes. I find inspiration in everyday sites, objects, and feeling. I love the permanence of mosaics and, in turn, the permanence of the memories mosaics create.
Jacki Gran
Vice President, Sponsorship Chair, Special Exhibitions Chair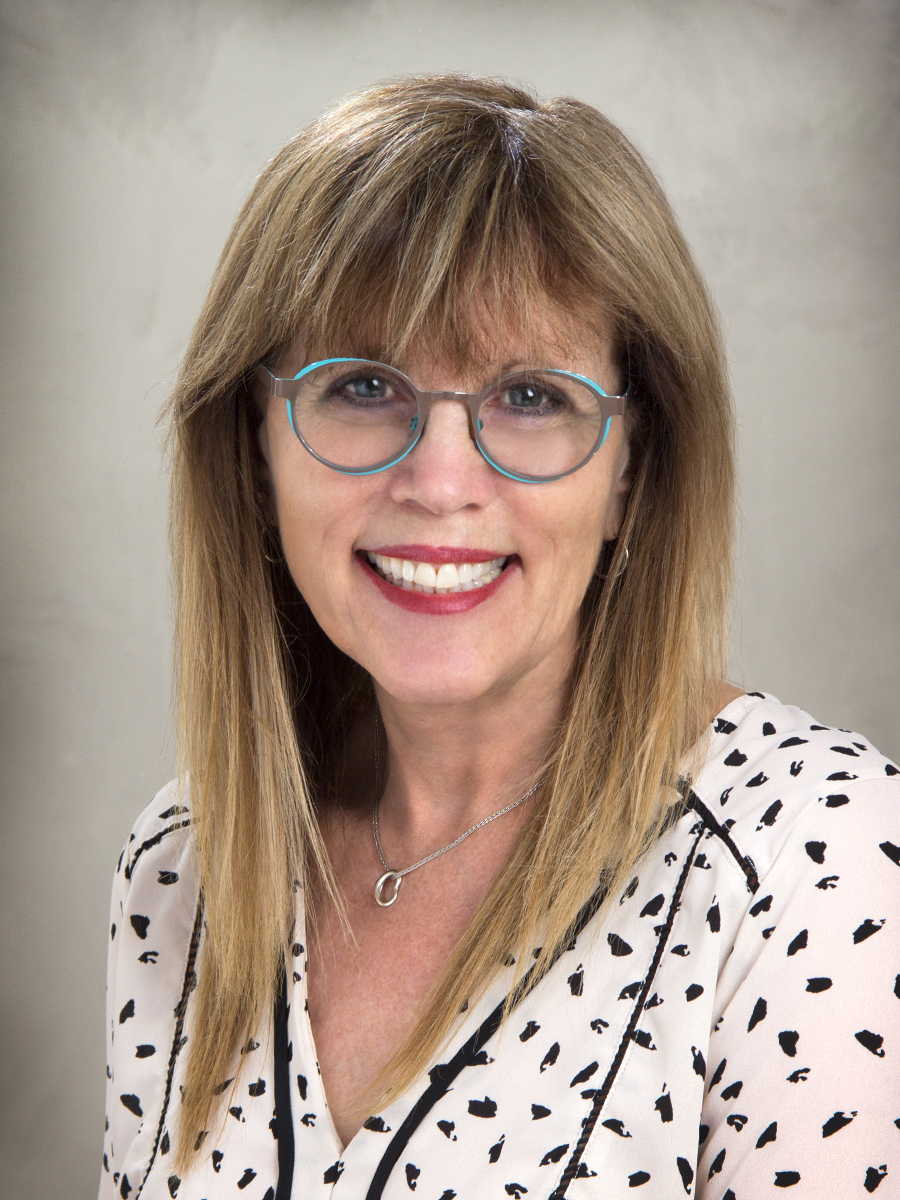 Jacki Gran is a mosaic artist residing in Homestead, FL. She has attended numerous workshops throughout the US as well as classes in Venice, Italy and Cuernavaca, Mexico. Jacki is past president of the SAMA Board of Trustees and a SAMA member since 2005.
Her mosaic art has been in galleries and exhibitions including Mosaic Arts International in Mesa, AZ and Tacoma, WA and the Museum of Biblical Arts in Dallas, TX.
Libby Hintz
President, Membership Chair, Scholarship Chair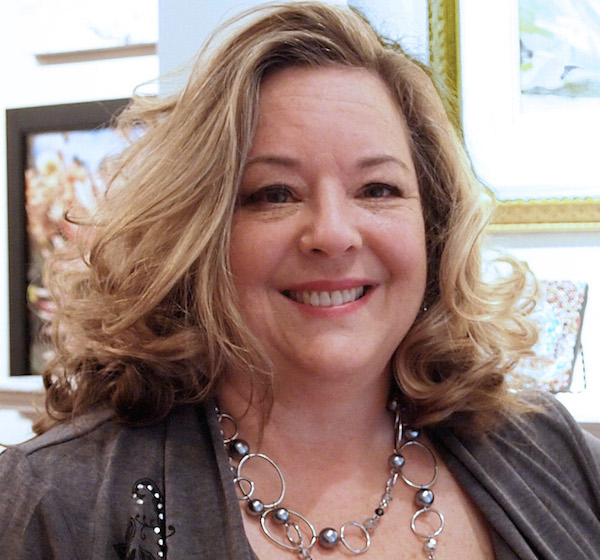 Libby is an artist, a wife, a mother of three, a mother-in-law to two and a grandmother to two sweet babies. Learning how to create a mosaic opened a channel in her life that she never dreamt could have happened when she took her first mosaic class. Creating has taught her so much about herself and how she walks through life. As a board member Libby is Membership Chair, chairs the Scholarship Committee and and is Vice President of SAMA, elected in March 2018.
Kimberly Immenhausen Kelly
Board Of Trustees - Member at Large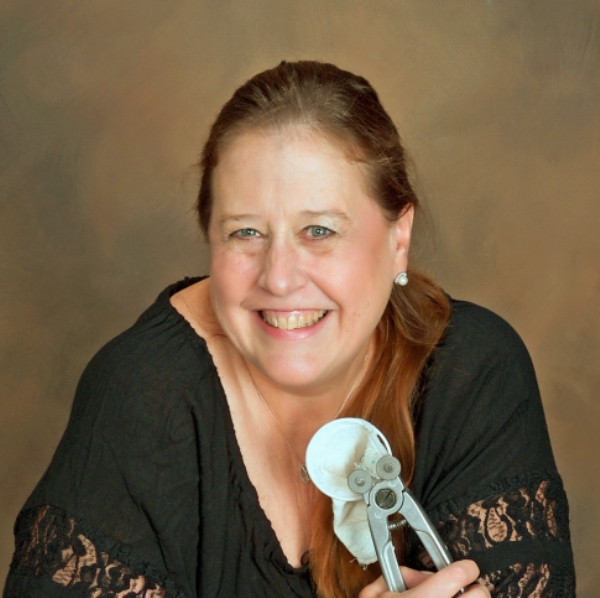 Kim resides in the northern suburbs of Chicago with her husband and business partner Bill. She has been a member of SAMA since 2011 and was elected to the board in 2017. She has a Bachelor of Arts degree in Management & Business, with a concentration in Marketing and Studio Arts; she is certified jointly in Appraisal Studies in Fine and Decorative Art by Northwestern University, and the American Society of Appraisers; she has been working full-time for well over 30 years as a customer service professional, the last 24 as a business owner of an antique boutique and retail establishment. As such, Kim has extensive experience and talent for identifying people's needs and presenting appropriate product and services.
Personally she gets pleasure from a lifelong love and study of Fine Decorative Arts, Antiques, and Theatre as she is currently working as an usher at the Marriott Theatre in Lincolnshire IL. She enjoys worldwide travel, walking, hiking and bicycling.
Her fascination and involvement with mosaics began when she took a high school trip to Pompeii and Venice, and a goal of hers has long been to be supportive and work to enhance this ancient art form from the bottom up. Her desire to serve the mosaic community has grown over the years, and as a SAMA board member she feels this is the perfect avenue to help build public interest and knowledge in the mosaic art form. Kim specializes in custom, fine and decorative art, bas-relief and sculptural mosaics which are marketed under the Garden Dwellings' name. Each piece is one of a kind, as it is in nature.
Tami Macala
Board Member at Large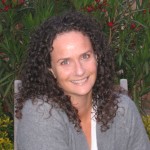 I am a professional mosaic artist and teacher. I started my mosaic art business in 2000 and named it All Cracked Up Mosaics. It quickly grew from small commissions to large scale installations. I enjoy creating large mosaics for homes, businesses and public art. In 2009 I founded the Santa Barbara School of Mosaic Art. I enjoying teaching all levels of mosaic art to anyone with a creative spirit. The school hosts many visiting artists as well from all over the world. I joined SAMA in 2011 and have loved being a member and even more now being a board member. SAMA is a great community of mosaic artists at all levels. Meeting people from all over the world at the annual summits are great opportunities to network and just be amongst like minded artists. Elected President of SAMA in March 2018.
Luis Alberto Rivera
Board Advisor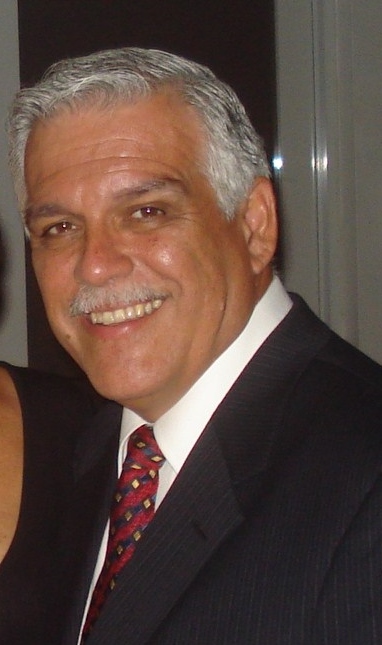 Luis Alberto Rivera, was born in the Bronx , New York City en el 1956. He arrives to Puerto Rico at the age of five along with his parents, where he grew and still lives today. Throughout his sensibility and appreciation of the arts, he studies and develops within the mosaic techniques at the Museo de Arte Contemporaneo de Puerto Rico where he studied and eventually became the mosaic instructor for the museum. Architecture as his profession, painter and self taught musician, he shares his vision throughout his trajectory within the mosaic world. After sharing at the museum for three years, Luis Alberto sets out to open his own mosaic workshop where he would share with all to paint with tiles, glass and other materials. Yes, he wanted apprentices to understand the color theory, composition, focal points and light & shadow amongst other art theories within an art piece. Fairly quickly, the Atelier has grown greatly and impacted a large number of folks who still today continue to learn one technique after the other and participate in formal expositions offered by the Atelier for all to share with their families. . Luis Alberto is passionate about mosaics and all it entails and looks forward to what this exciting trip will bring to his life and for those who have already joined in the journey.
Peggy Schuning
Board Member at Large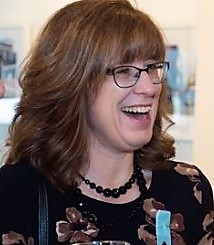 Peggy is a mixed media & mosaic artist who travels to and participates in juried art shows around the
country. She began her mosaic journey by creating stained glass garden pieces and selling them at local
farmers markets and crafts shows on available weekends beginning in 2005. In 2015 she attended her
first SAMA conference in Philadelphia. At the conference, she heard a panel discussion of artists
deliberate over mosaics as an art form and was amazed and inspired that this could be an avenue for
her. Soon after, Peggy secured a position as a studio assistant in Mosaic Arts at Touchstone Center for
Crafts in PA for the summer.
In 2018 Peggy chose to become a professional artist full-time when the private elementary school where
she taught art and computer technology closed. She continues to hone her skills by taking classes at
Chicago Mosaic School and Mosaic Arts Online.
She is a wife, a bonus mother of two daughters, and a grandmother to six curious and growing
grandchildren.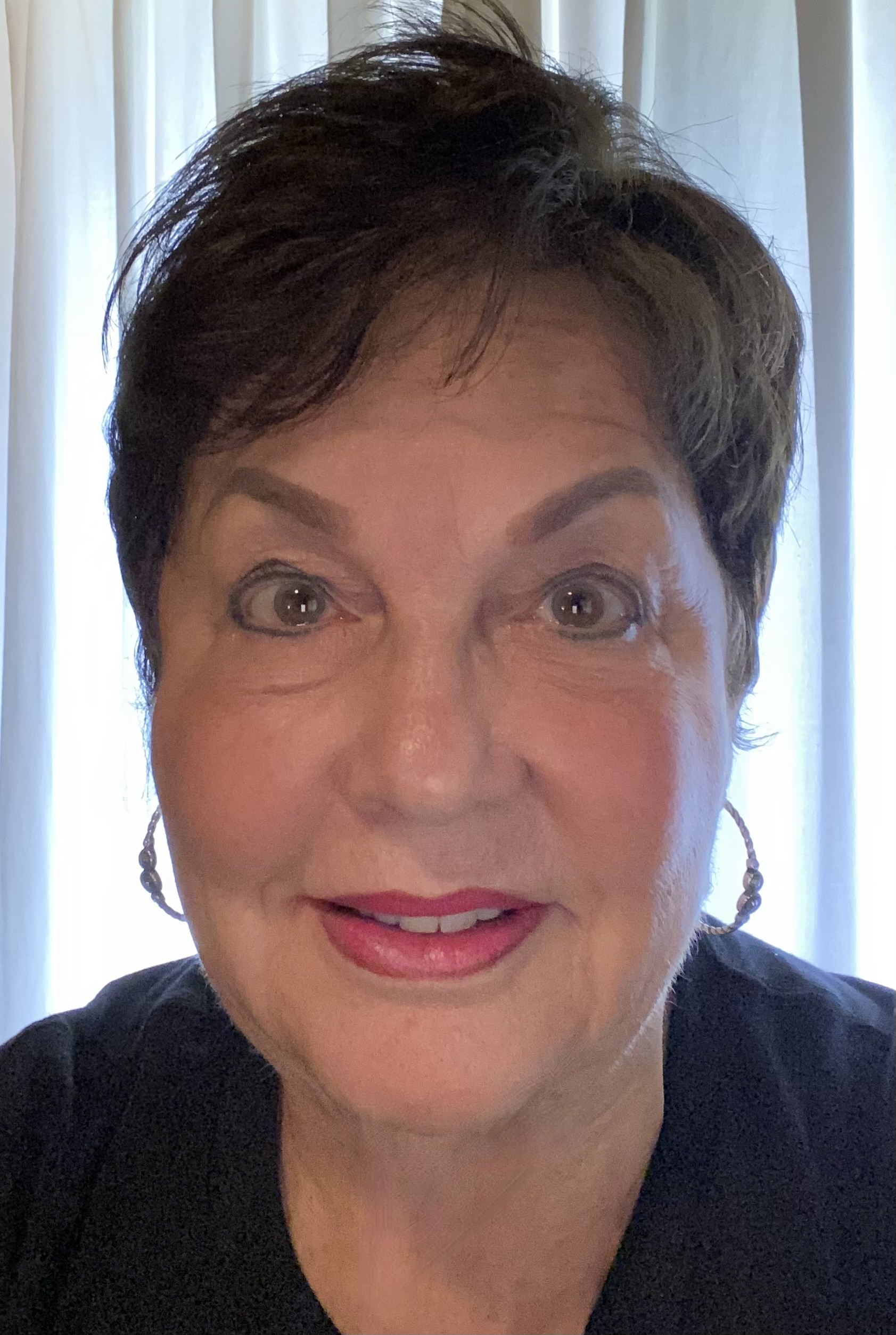 For as long as I can remember I have defined myself as an artist; as a child, throughout school, and while working as a pediatric nurse. 
Mosaics captured my heart nearly 20 years ago.
My art is stimulated by patterns, colors and objects that surround me.  It is my 'stash' to which I go to for inspiration; ultimately energizing my unconventional style of working backwards. A single object can plant the initial seed for an idea.  Attention to details and design elements are of the upmost importance in my work.
I am currently on the Board of Directors of SAMA, a member of the Birmingham, Bloomfield Art Center (BBAC) and the Center for Creative Studies (CCS).
I teach all levels of mosaics in my studio and elsewhere.
I taught at the SAMA/SGAA Conference in 2022, and will be teaching again this year at the Conference in Buffalo, NY.
I have a teaching video, available through MAO.
I'm proud to have achieved my long time goal of obtaining my own unique, recognizable style.
Dawnmarie Zimmerman
Executive Director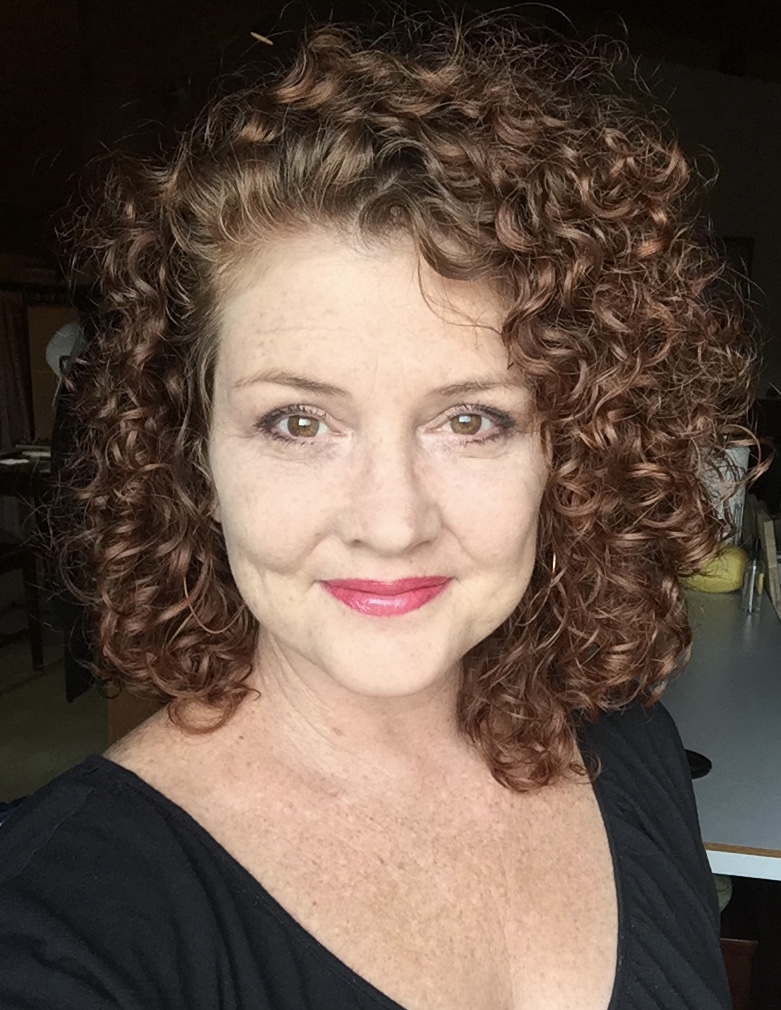 For over 20 years, Dawnmarie Zimmerman's use of stained glass and reclaimed materials has established her as a unique and pioneering spirit among contemporary mosaic artists. Her work has exhibited throughout the US and presented at premiere art festivals and galleries throughout Western PA. She has been a rostered artist with the Pennsylvania Council of the Arts and Southern Allegheny Museum of Art's Artist in Residence Program, conducting residencies in K‐12 schools throughout Western Pennsylvania. She has taught all ages in basic mosaic technique and has written articles and instructional material on working with stained glass and non‐toxic adhesives.
Since 2005, she has served the Society of American Mosaic Artists as Executive Director where she is responsible for strategic guidance to the Board, management of staff and independent contractors and the execution of administration of programs including the American Mosaic Summit, Mosaic Arts International Exhibition, SAMA's Website, publications and scholarship program.
Additionally, Ms. Zimmerman served on the Board of Directors for Touchstone Center for Crafts in Farmington, PA, in 2015 and is a member of Americans for the Arts and the Greater Pittsburgh Arts Council. She shares her daily explorations of creativity via Instagram where her followers are inspired and motivated to step outside their comfort zone, honor their intuition and find meaningful connections through everyday experiences in developing their authentic visual voices.