On Sunday, July 22, 2018, the Mosaic Art Community and SAMA Membership lost a dear friend and colleague, Laurel Skye to difficult battle with cancer.
Laurel Skye was an internationally recognized mosaic artist, author, and teacher, and operating Laurel Skye Designs at her home in Arcata, California, with her daughter Marley, where she taught mosaics, sold supplies and became an integral part of the local arts community. She studied with master artists throughout her career, including Luciana Notturni at the Scuola Arte del Mosaico in Ravenna, Italy. Ms. Skye taught workshops in public schools, and at Mosaikashop in Montreal, Quebec, the Institute of Mosaic Art (IMA) in Oakland, California, Toscana Americana in Tuscany, Italy, Hacienda Mosaico in Puerto Vallarta, Mexico, as well as many other locations.
She was a returning artist at the Morris Graves Museum of Art and has had her work displayed in SAMA's Mosaic Arts International Exhibition at the renowned Museo Italo Americano in San Francisco, CA(2004), The Bakehouse in Miami, FL(2008), The Museum of Man in San Diego, CA (2009) and the Navy Pier Museum in Chicago, IL(2010). She was also a SAMA conference Rostered Instructor often sharing her expertise in working with millefiori and Rajasthani techniques.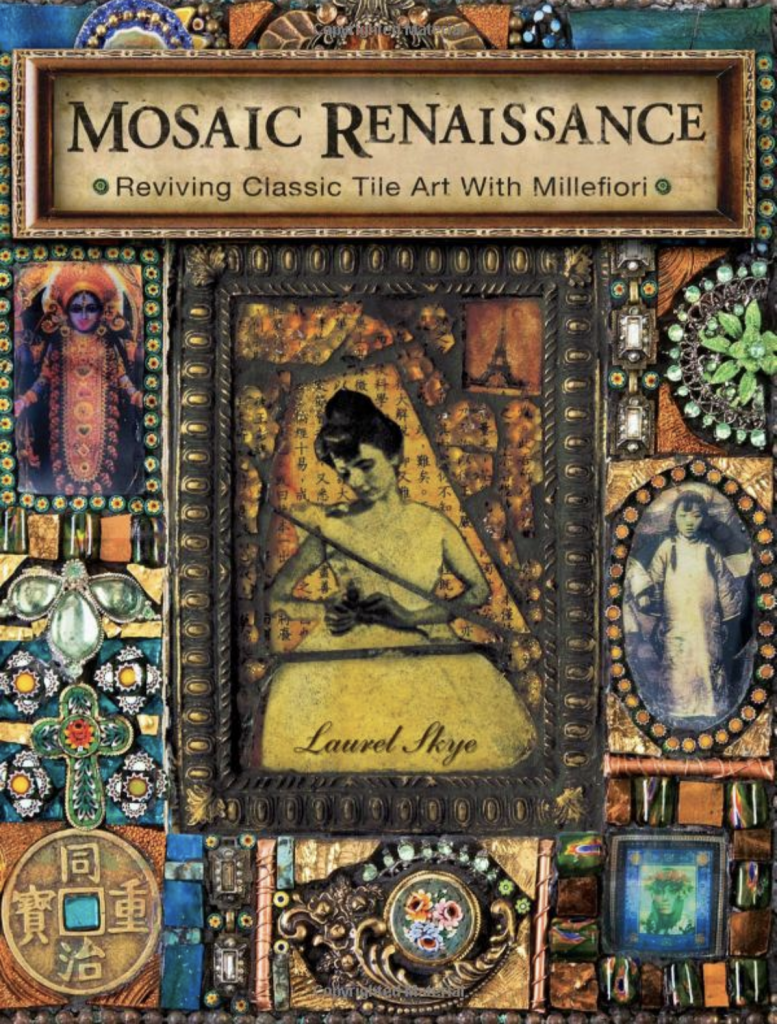 In 2009, through North Light Books, she authored, "Mosaic Renaissance: Millefiori in Mosaics."
Upon the announcement of her passing, her Facebook page became a gathering place for former students and friends, each consoling each other in their shared loss and reaching out to support her daughter, Marley through this difficult time.
Michelle Petno shared with SAMA the following…
Today we lost our friend on earth, Laurel Skye.  At the same time, the heavens gained a true warrior spirit.  Not only was Laurel a dear friend, she was a walking icon.  Never boring, always ready to help, to teach.  She never wasted a minute and her creativity was always on fire.  When she was ordering mosaic supplies, it was not unusual for her to call me 5 times to add more things – her mind was always creating!!  I so admired that she was so true to herself in every way.  Most of all she was a good teacher, a loyal friend, and a great mom, always determined to share with Marley every experience and adventure she had.
Zo, longtime loyal friend, and now Marley's guardian shared this, "Laurel soul is like a supernova,  a star that suddenly increases greatly in brightness because of a cataclysmic explosion that ejects most of its mass. Today Laurel ejected her earthly mass as well and will take her place among the other supernovas. A great loss for us all who are still on the planet but look up and say kind words when you see her – she will be among the brightest stars."
Another longtime friend, Ursi, told me recently "Laurel's life was motivated by her intense creativity and fiercely independent nature. She was a collector of artifacts, oddities, materials, experiences, and stories.  Her stories never ended, most of them hilarious.  She loved to be a hostess, serving treats and tea to the myriad of people her stopped by her house."
She was constantly amazed by the generosity of others – all of the friends, students, colleagues and even strangers who helped her and Marley through this fund.  I hope I can keep this going for Marley as long as I can.  There will be a tribute page you can leave messages on soon if you wish.  It was Laurel's desire to be cremated and, in lieu of flowers, make donations to this fund.  In the near future, we will tell you about an upcoming memorial.
A GoFundMe.com campaign was created earlier this year by Michelle Petno, a long time friend to raise funds to help Laurel and her family.  The $100,000 goal of the campaign has not yet been reached and there is still a great need. Any help would be greatly appreciated.  Visit this link for more information on the campaign.