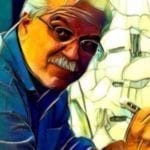 Luis Alberto Rivera has been a SAMA member since 2015 and currently serves as a Board Advisor.  Architecture as his profession, painter, and self-taught musician, he studied 16 years ago mosaic techniques at the Museo de Arte Comtemporaneo in his native Puerto Rico, and eventually became the mosaic instructor for the museum.  In 2009, he founded his own workshop, Atelier del Mosaico de Puerto Rico.  This creative workshop has shared knowledge and skills to over 9,000 students for 11 years, and developed artists whom have exhibited their work in 21 exhibitions conducted by the Atelier. This school offers, on a regular basis various workshops including Mosaic 123, Bas-relief, Mosaic Sculpture, as well as one-day workshops like Caribbean Doors.
At the end of 2017, Puerto Rico was impacted by a high-impact Category 4 hurricane, Maria. It brought strong winds, heavy rains, and extensive damage to structures. It also brought thousands of fatalities and many homes left without roofs. The island's power grid was destroyed leaving all residents without electricity for many months. Communication networks were crippled; gas and food supplies were extremely limited for many weeks. Despite this calamity, a core group of mosaic artists of the Atelier, headed by Luis Alberto, decided to comply with the due date to submit entries for SAMA's first One Hundred Moments in Mosaic event at SOFA in Chicago. Meeting at a workshop facility with the assistance of a power generator and facing a fragile postal service, the goal was accomplished by sending 15 entries. These mosaics depicted the devastation as well as the peoples' resilience to rebuild the beautiful island home.
Now in 2020, facing a worldwide pandemic under quarantine and a lockdown, Luis Alberto and his group decided again to surpass adversity. In early April 2020, he began to conduct virtual meetings to develop a collective mosaic art piece. After agreeing on the concept and design, a group of 17 artists contributed with their individual elements which were integrated by Luis Alberto into a masterpiece named "Roothold" ("Sostenidos de Raíz"). It represents a tree trunk with branches reflecting the withered, sprout, and bloom stages. It symbolizes that when we have a strong faith in God and ourselves, we can face adverse situations and survive. A ceremony to unveil this art piece has been coordinated for November 20, 2020, in recognition of the effort and talent of the group.
For more information: "Atelier del Mosaico" on Facebook or its website, atelierdelmosaico.com