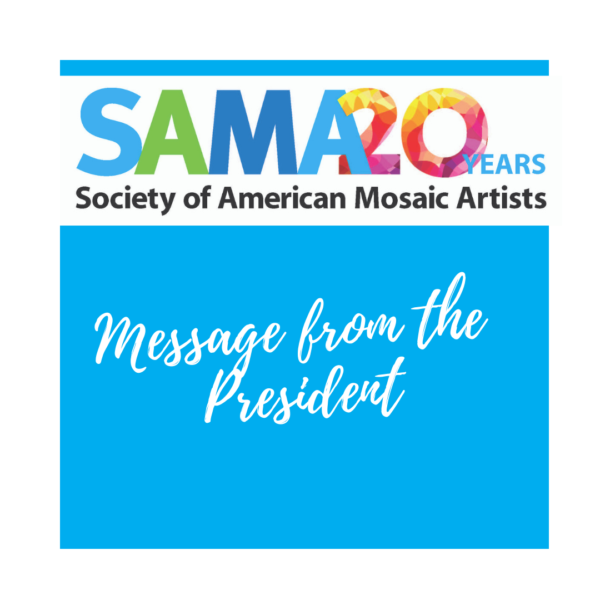 Re:  Stained Glass Association of America (SGAA) and Society of American Mosaic Artists (SAMA)
Dear SAMA Members:
I'm writing to you today to update you on the status of SAMA.  We have lots to report so let's get to it.  I'm going to hit the highlights and then will provide more background on each point.
On April 20, representatives from SGAA and SAMA will be meeting to begin the formal conversation of what a long-term partnership with SGAA could look like.

The SAMA Board of Trustees Executive Committee has been doing some reorganizing.  I have been elected President and I will take us through the partnership process.  Jacki Gran was elected Vice President, Julie Dilling is Secretary and  Joan Schwartz is Nominations Chair.  Tami Macala has stepped down as SAMA President but will continue serving on the Board of Trustees.  Donna Post has resigned as Secretary and Nomination Chair and will end her term on the Board of Trustees.  

The SGAA/SAMA Confluence Conference is happening June 27-30, 2022 in Toledo, Ohio.  There is still time to register and come to Toledo! 

Here's the link

.

We will be holding a Virtual Member Meeting for 2022 and the date will be announced after the conference.
Since January of this year SAMA and SGAA have been working diligently to partner with each other to add mosaic content to the SGAA Stained Glass Quarterly Spring & Summer publications while creating a conference that would speak to the needs of all members.  Dawnmarie Zimmerman continues to be the SAMA Executive Director on a volunteer basis and has been hired by SGAA to take the lead on the Toledo Ohio conference in June.  SGAA has taken on the financial responsibility for the conference with Megan McElfresh, SGAA Executive Director at the helm.  
The Board and I have spoken with many members who agree that we should move forward exploring a more formal partnership or potential merger with SGAA.  We will now start the process of seeing what that would look like.  If you have any thoughts, opinions or questions please share them in the comment section below.  We'll be looking to see what your questions are as we move forward. 
I want to thank Tami and Donna for their tireless service to SAMA.  The entire Board of Trustees has remained in their positions, despite their terms being over, so SAMA can thrive as we continue to believe in our mission to educate and promote excellence in mosaic art. We also thank Dawnmarie for volunteering to handle all of SAMA's millions of  details.  We could not do this without her.  
We are excited that SGAA also recognizes the importance of SAMA and our mission.  Both organizations have a common goal of excellence and we want to move forward together.
Thank you for your continued patience as we work towards creating a new future for SAMA.
Libby Hintz