Karen Kettering Dimit most recently held a mid-career retrospective of her work from September 12 to October 12,  2019, LIC Arts Open Gallery @ The Factory.  It was a rich introspective of work spanning 20 years of dedication and curiosity about her art and the mediums she delves into.
SAMA member, Karen Kettering Dimit, Co-Founder of the LIC Arts Open, is a self-taught artist. Through extensive travel, voracious art exposure, and occasional workshops, she has immersed herself in art history, classical techniques and contemporary conceptual art. Karen has won many awards and shown extensively throughout the U.S. Most recently, she was juried into the 2018 Mosaic Arts International, winning the Contemporary Innovation Award. Other recent events: invited to show in the 10th Anniversary Celebration of The Gallery at Penn College, juried into the 2016 & 2019 Mosaic Arts International, at the Women's History Museum of California, Museum of Glass in Tacoma WA, Gold Coast Arts Center, Philadelphia's Magic Garden Gallery, the Painted Bride, the Gallery at Penn College of Technology in Williamsport, the Museum of Man in San Diego, and multiple shows in NYC and Boston. She maintains a studio in Long Island City, NY.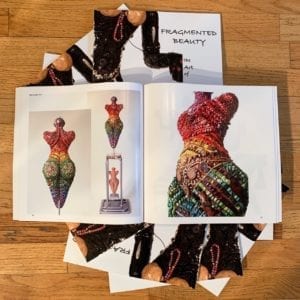 Karen has created a 100-page book, FRAGMENTED BEAUTY: the Art of Karen Kettering Dimit.  The cost is $25 (plus shipping) and is available in the SAMA store.  Karen and Greg have very generously donated all proceeds of the book sold in the store to benefit SAMA.   Thank you!
To see more of Karen's work check out her website:  www.kkdimit.com