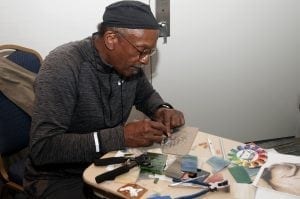 Increase the impact of your conference experience by adding workshops and professional seminars to your Conference Registration. SAMA's Education Committee has designed the American Mosaic Summit Education Series to address three distinct areas of our members' development as artists: technical mastery, artistic achievement, and career success.
Register for three or more seminars or workshops and get a 10% discount off your total education series fees. Use Promotional code: 2018EDU at bottom of Registration Order Form before clicking large "Register" button.   Some workshops also involve a separate materials fee which is included in the course fee. You must ADD the session to your registration to register for a workshop or seminar.
Please pay close attention to the date(s) and time(s) of your workshop session(s). A session with a session number ending in a letter like (3a, 3b, 3c), indicates the workshop is repeated, not continued, at each session time. Workshops will be held at the Westin Boston Waterfront hotel. There is no limit to the number of workshops you can attend as long as the sessions are not scheduled at the same time. ONLY Registered Attendees may attend workshops.
Workshop Waitlist Policy
Sold-Out workshops will accommodate waitlists through the Eventbrite registration system.  As seats come available, attendees will be notified via email with a link to register for the open seat.
Please do not contact the SAMA office regarding your placement position on the waitlist. Whether it is 1st in line or 12th in line for the next available seat, we have no way of anticipating the number of cancellations we will receive for the conference, or in which of the several potential sold-out workshops seats could appear.
PLEASE READ WORKSHOP DESCRIPTIONS FULLY
If you do not take the time to read the descriptions before registering, you run the risk of investing a great deal of time and money on a session that is not appropriate for your skill level or interests and goals.  
---
Professional Development Seminars
Broadening the Understanding of the Business of Art.  Providing professional artists with best practices and tips to transition from non-art related field to an art business.

The Abundant Artist with Cory Huff
Session 1: Thursday, March 15th, 2018, 8:00am – 5:00pm
Demo-Lecture
All Levels
Price: $295.00
Learn how professional artists, who make a living from their art, sell their own art.  Learn to navigate the Hidden Path of the Artist's Career and discover why there is such a gap between art skills and business skills, and how to overcome that gap.  Understand what Branding is and the importance of knowing your niche. Figure out what you're actually selling, who you're selling it to, and where your customers and collectors are.
We spend time breaking down artists' existing marketing to see what's working, what's not, and how to improve it. Each artist leaves with a specific, actionable plan that they can implement.
The Abundant Artist Workshop is not for everyone. This session is for artists who want to sell their art directly to a collector, with or without additional gallery representation.  If you only want to work with galleries, these workshops are not for you.  If you are a complainer or if you refuse to set goals, this session is not for you.
But if you are an artist who is focused on success, and would like to get some focused help when you need it, this is for you.
Cory Huff is a business coach for artists. He has been helping hundreds of artists sell art online since 2009, guiding them to figure out how to navigate the hidden path of the fine art career.
His mission is not only to teach talented artists to sell their art online but to dispel the "starving artist myth" forever. He believes it is possible to make the art you want, live the creative life you want to lead, and make good money doing it.
Harper Collins published his book, How to Sell Art Online: Live a Creative Life on Your Own Terms, in the Summer of 2016. He has been a guest lecturer on marketing at schools like Southern Methodist University, Pacific Northwest College of Art, and the Fashion Institute of Technology.
Cory is also a regular guest contributor to a variety of magazines and news media including the Chicago Sun-Times, IWillTeachYouToBeRich.com, and Professional Artist Magazine, Entrepreneur On Fire and Smart Passive Income. His writing has been read by more than 2 million people.  theabundantartist.com
---

Keys for Successful Community Mosaic Projects: Training the Facilitators with Laurel True
Session 2A: Tuesday, March 13th, 2018, 8:00am – 5:00pm
Session 2B: Wednesday, March 14th, 2018, 8:00am – 5:00pm
Demo-Lecture
All Levels
Price: $315.00 (Includes $20.00 Materials Fee)
In this content-rich workshop, artist and community builder Laurel True presents a distillation of strategies and techniques for project organization, management and execution gleaned over her 25 years as a public artist specializing in community-based mosaic work. Laurel delivers hard-won information and advice in an accessible way, using real-world examples of community projects she has facilitated in diverse communities, with participants of all ages and skill levels. Multiple approaches to participant training, community engagement, design development, and project creation will be presented using several project models that range from the very planned and organized to very renegade and free-flowing.
Project models will include mosaic murals and elements made using off-site creation methods such as Tile Tape and mesh, projects set directly onto the interior and exterior walls, and smaller component projects with lower time commitments that are flexible in terms of portability and permanence. Students will gain an understanding of what structure and creation approaches are best for projects with differing timelines, budgets, and levels of community participation.
The workshop will also offer an overview of:
Proposals, project goals and objectives
Community partners and outreach
Managing low-resource projects, sourcing materials
Community-based fundraising models
Overview of best practices for technical construction methods
Basic budget creation
Fostering a positive experience for participants
This session should be of particular benefit to those interested in learning how to organize and/or create mosaic murals/ projects with community participation, mosaic artists, teachers, community organizers and anyone interested in community development through the arts.
Laurel True is an artist and educator specializing in creative placemaking. Over the past 25 years, she has designed, created and facilitated hundreds of projects for hospitals, parks, commercial, residential and public spaces in the US, Haiti, Africa, Europe, Turkey and Latin America.
In addition to running a professional production studio, True is the Founding Director of The Global Mosaic Project, which provides art education and entrepreneurial training to underserved communities in urban and developing areas.
She has trained thousands of project participants, students, and volunteers, and provides professional development training to artists, tradespeople and arts entrepreneurs.
True co-founded the Institute of Mosaic Art in Oakland, California, a pioneering mosaic education, and resource center, and continues to foster education in the mosaic arts through teaching and lecturing around the world.  truemosaics.com
---
Artistic & Technical Development Workshops
Increasing an understanding of general art concepts in relation to a mosaic artwork. Increasing the technical skill of the mosaic artist through exploration of materials, techniques, and tools.

CLOSED

Architectural Design Studio for Mosaics
with Meghan Walsh
Session 3: Tuesday, March 13th, 2018, 8:00am – 5:00pm
Demo-Lecture
Intermediate/Advanced
Price: $325.00 (Includes $50.00 Materials Fee)
Have you ever wanted to explore designing spaces that are inspired by your mosaics rather than merely providing surfaces for you to decorate? Do building construction projects that incorporate mosaic seem at once intriguing but also daunting? This course will tear the lid of the box of your mind and perhaps the walls of your home and the homes of your clients so that your mosaics can begin to inform your building projects.
The goals of this course are:
To explore the idea of architecture being created from the influence of mosaic

To highlight the typical building systems such as structural, plumbing, mechanical and electrical that can be challenges or opportunities in a design project.

To learn the necessary ingredients of a set of architectural drawings used to convey an idea.

To gain an understanding of where a mosaic project starts and ends in construction projects.

To explain the typical v. custom approach to various architectural details and the potential opportunities there are by approaching things slightly differently.

To highlight critical issues of safety, durability, and liability that come up while working on design and construction projects as an artist working with builders.

To address the challenges that may come in working with builders
The course will begin with a lecture about how to read architectural drawings and the possibilities of integrating mosaic into typical residential building construction and be followed by a hands-on workshop.
Students will leave with their completed conceptual drawings and models.
Meghan Walsh, AIA, LEED AP is a licensed architect who has taught architectural design at Catholic University, Howard University and the University of Michigan. She created a non-profit to take students to build creative urban infrastructure in Brazil, where she learned to speak Portuguese.  She has lived and worked in the Czech Republic and South Africa. She holds a Bachelor of Fine Arts from the University of Massachusetts, a Master's of Architecture from the University of Michigan and a Master's in Real Estate Finance from Georgetown University. Meghan has worked in the architectural field since she was in high school (many years ago). She created her own architectural firm in Washington, DC in 2000. While she no longer runs her firm full time, she continues to design projects taking on only one at a time. Her custom, high-end work focuses on the artful use of old and new and the integration of mosaics into architecture. meghanwalshmosaics.com
---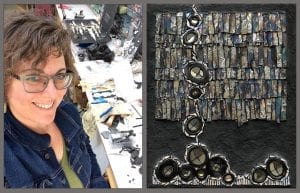 Mind the Gap: Space as a Mosaic Design Element with Kelley Knickerbocker
Session 4A: Wednesday, March 14th, 2018, 8:00am – 5:00pm
Session 4B: Thursday, March 15th, 2018, 8:00am – 5:00pm
Hands-On
All Levels
Price: $335.00 (Includes $40.00 Materials Fee)
There are as many approaches to and reasons for incorporating space into a mosaic design as there are mosaic makers. Through slides, demos, discussion, and hands-on practice, this workshop will introduce you to at least six approaches, and hopefully will get you imagining even more! To get a technical grip on effectively designing open areas into a mosaic, you'll choose one approach and execute an 8" x 8″ space-centric mosaic during the course of the workshop.
Historically, when Mosaic was the functional skin of walls and floors, it had to be a denser-than-dense, cover-the-whole-dang-substrate affair. But with today's mortar and grout technologies we can include gaps and voids for artistic effect without compromising structural integrity.
It's precise because mosaic is so dense that introducing space into it can be so valuable and effective. The juxtaposition of density with its "other", open space, makes the dense areas appear denser, and the void space(s) deeper, calmer. It's similar to what happens when you juxtapose two colors that are opposite one another on the color wheel. They enhance one another in a way that no other combination can.
Kelley Knickerbocker has been a fulltime artist since 2006 when she left a 22-year administrative career at the University of Washington to found a mosaic studio (Rivenworks Mosaics, Seattle) and begin designing/fabricating/installing mosaic artwork for public, commercial, residential and gallery environments. Kelley's ruggedly dimensional mosaic artworks are a textural distillation of her fascination with contrast, material properties and the technical challenges of mosaic construction, and garnered her the 2015 Innovation in Contemporary Mosaic award from the Society of American Mosaic Artists. Her work is widely collected and regularly exhibited in the US and abroad. In addition to her studio practice, Kelley travels around the world speaking, collaborating, and teaching in-depth workshops on mosaic style and technique.  rivenworksmosaics.com
---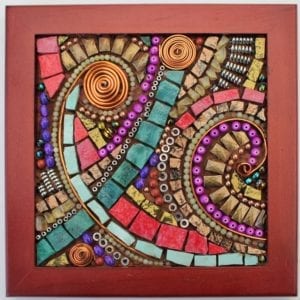 SOLD OUT!

Organic Abstract – Spontaneous Creating with David Jarvinen
Session 5: Tuesday, March 13th, 2018, 8:00am – 5:00pm
Hands-On
All Levels
Price: $307.00 (Includes $32.00 Materials Fee)
In this hands-on workshop, the goal is that the participant will have the confidence to choose materials that are new and unfamiliar and trust the process to create movement and flow and build confidence in their art. Using an embedded method, each person creates their personal framed 8″x8″ mixed media mosaic while exploring specific processes and steps that walk the individual through to the completion of their art piece. Designed to help establish movement within the mosaic through use of materials. In the process, we will also discover color, texture, and contrast plus learn many transferable skills that easily migrate to other types of mosaic making. This process has the effect of allowing a person to be more open to creating with the sensesv– instead of the emotions. This session should particularly benefit those who are hesitant in decision making or are static in their art and would like to understand movement (andamento) and flow within a space.
David Jarvinen has come to Mosaics through a ceramic tile contracting business.  30 + years in tile industry and over 15 years with instruction and custom mosaic murals, art projects and installation.  He presents classes and workshops in a dynamic environment that is technique focused and dynamic…he believes that if you learn the techniques, the art is easier! David brings a wealth of knowledge that only a lifelong career in the industry can bring. mosaicguys.com
---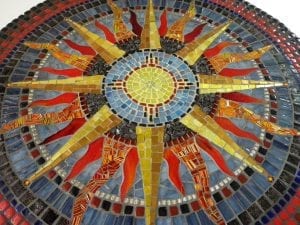 SOLD OUT! 

 Personal Mosaic Mandalas with Dianne Sonnenberg
Session 6: Thursday, March 15th, 2018, 8:00am – 5:00pm
Hands-On
All Levels
Price: $355.00 (Includes $60.00 Materials Fee)
In this hands-on course, participants will learn how to create, design and make a personal mosaic mandala, using a combination of lecture, demo, and individual exercises. Mandalas, which appear in nearly all cultures throughout the world, are round geometric designs, typically with an individual, spiritual or religious significance.
Dianne will present an overview of the fascinating subject of sacred geometry and mandala art in a slideshow during the class, but the focus of this class will be primarily on the creation of each participant's personal mosaic mandala. Participants will gain the skills and ability to create a variety of beautiful geometric round designs using the techniques learned in this workshop.
Each participant will receive an extensive design kit which will enhance their ability to create geometric designs in this and future projects. We will create our individual mandalas using stained glass, glass nuggets, and glass tile on a prepared 12″ round MDF substrate. Participants may choose to bring a "focal point" for the center of their creations, and any additional materials they might like to include. Most participants will be able to finish during the class but may opt to take their materials and projects to finish at home.
Dianne Sonnenberg is an internationally-recognized mosaic artist based in Austin, TX and Port Carling (Muskoka), Ontario. She has been involved in the global mosaic community for over 13 years and is a member of The Society of American Mosaic Artists and Contemporary Mosaic Art (CMA). Dianne is passionate about mosaic art and has taught hundreds of students the wonderful art of mosaics. Her mosaics and sculptural works have won numerous awards, including Best Architectural Mosaic at the 2010 Mosaic Arts International Exhibit in Chicago, IL. Dianne is a member of the faculty at The Contemporary Austin Art School at Laguna Gloria and teaches mosaic courses across the US and Canada. diannesonnenberg.com
---
Mosaics as a Story: Mixed Media with Meagan Corrado
Session 7: Thursday, March 15th, 2018, 8:00am – 5:00pm
Hands-On
All Levels
Price: $335.00 (Includes $60.00 Materials Fee)
The workshop will be divided into three phases. Each phase will include instruction and hands-on activities. The first phase will include an introduction to alcohol ink. Participants will learn about colors, ink qualities, benefits/limitations, and techniques to achieve specific effects. They will also learn about how to use the alcohol ink process as an opportunity for self-discovery and expression. The second phase will include information about how to incorporate collage into an overall mosaic design. Participants will incorporate personal mementos including creative writing, poetry, journaling, and photos onto their inked backgrounds. In the third phase, participants will learn how to incorporate tempered and clear glass in their overall mosaic design. Participants will ideally leave the workshop with a small finished piece.
Throughout the mixed media mosaic process, students will be encouraged to reflect on their own personal stories. They will ask themselves, "Where have I been? Where am I now? Where would I like to go?" Students will be encouraged to infuse their art with emotion, reflecting on past experiences (both positive and negative) and sources of inner strength.
This session should particularly benefit those who are interested in mixed media mosaic techniques and those would like to develop their ability to use mosaic as a conduit for personal storytelling, self-discovery, and creative expression.
Meagan Corrado is a Doctor of Social Work and a Licensed Clinical Social Worker. She earned her Doctorate of Social Work from the University of Pennsylvania in 2016 and her Masters of Social Services from Bryn Mawr College in 2009. She is a trauma therapist who integrates the arts into her practice with inner-city children and adolescents. She created the Storiez Trauma Narrative intervention, which supports trauma survivors in creating, voicing, and honoring their stories through a variety of creative mediums. Dr. Corrado currently serves as the President of the Mosaic Society of Philadelphia. She has been creating her own mixed media mosaics since 2012. Her current mosaic style involves building layers of alcohol ink, painted papers, personal writing, found objects, and tempered glass. storiezguide.com
---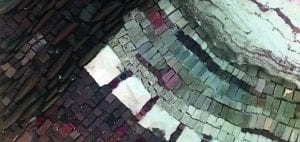 Understanding and Using Color Tone in Mosaic with Carrie Fradkin
Session 8A: Wednesday, March 14th, 2018, 1:00pm – 5:00pm
Session 8B: Wednesday, March 14th, 2018, 6:00pm – 10:00pm
Hands-On
All Levels
Price: $245.00 (Includes $50.00 Materials Fee)
Color tone, value, intensity, shade, hue, tint. . .
What does it all mean in mosaic and how can we understand and use this knowledge to enhance our own mosaic design and creation?
You will create simple unattached combinations of tesserae (your own and supplied) and see how understanding tone can enhance your mosaic. We will use a mobile smartphone or iPad to explore and "see" tone in tesserae. You will take photos of your experiments and be able to compare and make informed decisions based on your color choices and new learning. This information will change how you think about the color choices you make in your work.
There will be a short lecture and slide presentation of concepts and then we will dive right into hands-on studies/experimentations. There will be a group and individual discussion.  You will leave with several documented (photos) designs and small tone samples you can keep for reference.  Handouts and suggestions for further experimentation will be supplied.  This session should particularly benefit those who don't understand how color works in mosaic and those that do understand but want to explore the concepts further.
Carrie Fradkin has been creating and teaching mosaics for over ten years and has exhibited her work nationally. She is a graphic designer, artist (40+ years) and former K-12 Art teacher. Fradkin studied with Emma Biggs, Sonia King, Maestro Verdiano Marzi and other nationally known mosaicists. Along with mosaics, she paints with pastels and encaustics. She is passionate about color.  carriefradkin.com
---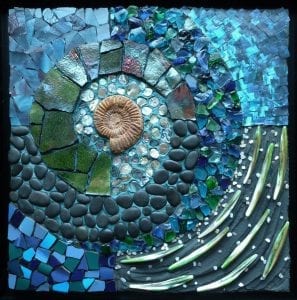 ONE SEAT LEFT!

Abstract Color & Texture with Kathy Thaden
Session 9: Wednesday, March 14th, 2018, 8:00am – 5:00pm
Hands-On
All Levels
Price: $320.00 (Includes $45.00 Materials Fee)
Get in the mosaic ACT – Abstract, Color & Texture! Inspiration can be found all around us… Explore 'seeing' an abstract composition by choosing from some images provided, then deconstructing your image into something new. After nailing down an abstract design you'll delve into adding texture, depth and dimension to create your choice of either an 8″x10" or 9″x9″ monochromatic mosaic. I will provide prepared assortments of tesserae in a single hue from which you will choose consisting of smalti, miscellaneous glass, other random and found objects. Both Welbond and thinset will be available for you to build your mosaic on the ½" Wedi board provided. This session should particularly benefit those who want to explore a limited color palette and work in the abstract while responding to a variety of materials to give voice and texture to your design. Experience with cutting smalti is helpful but not necessary.
A full-time studio artist, Kathy Thaden's mosaics range from abstract sculpture and landscapes to liturgical art and commissioned works. Kathy has taught mosaics for the past ten years, six years at Ghost Ranch in northern New Mexico and leads retreats and workshops across Colorado and Utah.
Kathy Thaden's study of fine arts and a degree in Commercial Art led her to a 25-year career in television art direction. She won numerous honors for graphic design, animation, and set design, including seven Emmy Awards. Seeking something more tactile, Kathy's creativity for the past 15 years has flowed through contemporary mosaic art. A Professional Member of the Society of American Mosaic Artists and the Episcopal Church & Visual Arts, Kathy is the founder and former President of Colorado Mosaic Artists.
"As a mosaic artist, I treasure glass and stone scraps or discarded items from our 'throw-away' consumer culture. It is important to me that nothing be wasted, finding beauty in what was once broken." thadenmosaics.com
---

SOLD OUT!

  Photo-Realism in Mosaics with a Twist – Using Stained Glass with Carol Shelkin
Session 10: Wednesday, March 14th, 2018, 8:00am – 5:00pm
Hands-On
Intermediate/Advanced
Price: $395 (Includes $70.00 Materials Fee)
This is a hands-on workshop using modern mosaic techniques to understand realism in design using photographic-models, composition, and color theory including; structure, cross contour, highlights, gradation, value and types of shadows using high quality stained glass. Attention will be given to contemporary andamento to develop a modern design using unexpected colors. Instruction will be given to aid you in learning how to evaluate your own work and to self-critique to help you to the next level of creativity. You will conquer obstacles to your creative struggles. Photographs will be provided by the instructor and can be: portraiture, flowers or fauna. You will have plenty of one-to-one and group instruction. No question will go unanswered, so bring questions and let's make art!
Carol Shelkin is a full-time visual artist and art teacher. She has developed her unique style of teaching and creating art through her studies at the Pennsylvania Academy of the Fine Arts and Studio Arte del Mosaico; Ravenna, Italy. Carol teaches and shows her work worldwide where her creations are often described as "painting with glass" and appear in many collections where they have received special recognition and awards. She has been invited to teach worldwide including at the summit of the Mosaic Association of Australia and New Zealand, Touchstone Center for Crafts, Delphi Stained Glass, Warner Stained Glass, IMA, Austin School of Mosaic Art, along with other locations. As an educator and a lover of travel, Carol also offers MOSAIC ART RETREATS & Worldwide Tours. Carol is a founding member and past President of the Mosaic Society of Philadelphia. carolshelkinmosaics.com
---

SOLD OUT!

 Ferroconcrete Substrates for Mosaics
with Lynn Takata
Session 11: Thursday, March 15th, 2018, 8:00am – 5:00pm
Hands-On
All Levels
Price: $300.00 (Includes $25.00 Materials Fee)
Concrete is a versatile, inexpensive media which can be colored, sandblasted and stained to create a wide variety of effects for mosaic sculpture. It is a fabulous substrate for outdoor mosaics. For artists with a background in ceramics, working in concrete can feel like a natural progression.
In this workshop, each student will create a ferroconcrete sculpture. Students will design and build an armature, learn about different mortar recipes and experiment using a variety of tools. Students will understand how to mix, form and finish mortar, how to select materials and tools, and explore considerations in designing the concrete sculpture for mosaic projects. Students will watch several demonstrations, have time to develop their ideas and work with both wire and mortar. The class will include individual attention, discussion, handouts, demonstrations of casting. After the workshop, students can choose to ship their small sculpture or it can be carried in a suitcase.
Lynn Takata is an award-winning professional artist who creates mosaic sculpture and concrete sculptural relief murals inlaid with tile. Since the 1980s, she has worked with concrete in various forms from casting to ferroconcrete, often using concrete as a substrate for mosaics. She layers different colors of concrete, carving through the top layers in a technique called sgraffito. Her background in hand building with clay made working with concrete feel like a natural transition. Takata learned to work with concrete working with British artist David Harding and Chicago Public Art Group founder John P. Weber.
Her public artwork is in parks, zoos, hospitals, and schools. Takata mixes stone, glass, ceramic relief and porcelain in her mosaics and involves public participation in her artwork. Concrete is an accessible media that a wide variety of ages can explore. lynntakata.com
---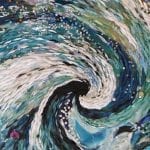 SOLD OUT!

Layered Glass Mosaics: Structure and Form with Yulia Hanansen
Session 12: Thursday, March 15th, 2018, 8:00am – 5:00pm
Hands-On
Intermediate/Advanced
Price: $350.00 (Includes $55.00 Materials Fee)
Layered Glass technique is about a free flow of tesserae used in layers creating effects of overlap, transparency, and volume. Whether it's a mosaic depicting vast space, a detail of an animal, or a close-up of a flower, your artwork will surely have an extra dimension added to it. You will create a visual feast for the viewer! Step into infinity – even after the last tessera fills the base layer there are much more to be placed on top in intricate structures and overlaps. This workshop starts with a slide presentation on layered mosaics and a demo. Hands-on part concentrates on technical and optical effects produced with this technique. Individual instruction is supplemented with demos on selecting a color palette, cutting Yulia's signature brush-stroke (boat) tesserae, and structural variations in layering.
All the participants must bring; wheeled cutter, tweezers, eye protection (eyeglasses work well), pencil, pen, one flat plastic lid. Glass, adhesives, substrates, handouts, and other supplies will be provided. Images will be provided by the instructor.
This workshop will explore the use of mosaic art as a means of personal storytelling and self-expression through mixed media techniques. Students will first learn about the fluid, vibrant medium of alcohol ink. They will learn how to create abstract backgrounds to use as a base for a mixed media mosaic. They will then learn ways to layer personal writing, painted papers, photos, and other materials onto the abstract backgrounds. Finally, participants will learn how to place the glass over the layers to create an overall mosaic design.
Yulia Hanansen, an award-winning artist, has been instructing mosaic courses since 2001. Her Mosaic Sphere Studio, LLC produces mosaic artwork for private and public spaces. Yulia has been a guest artist in mosaic schools throughout the United States including Unicorn Art Studio, Touchstone Center for Crafts, Cape Cod Mosaics, Cooperstown Art Association, and other educational institutions. In addition, Yulia is a printmaking professor at Maryland's Towson University. She has taught and assisted teaching at University of Michigan and Columbia University.
Yulia's artworks have been exhibited nationally and internationally in multiple invitational shows as well as in her solo exhibitions including Italy, New York City, Philadelphia, Chicago, Seattle, Tacoma, San Francisco, Miami, Austin, Dallas, Ann Arbor, and other locations.Yulia's latest works represent her fascination with themes of nature, climate change, cosmos, and a connection of human beings to it. She is interested in depicting places and natural phenomena that are only noticeable with the help of technology or imagination. Yulia practices her art in a mosaic, printmaking, and drawing media. mosaicsphere.com
---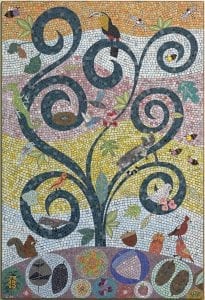 Ceramics for Mosaic Artists with Lisa Houck
Session 13: Thursday, March 15th, 2018, 8:00am – 5:00pm
Hands-On
Beginner/Intermediate
Price: $315.00 (Includes $40.00 Materials Fee)
Durable ceramic pieces are ideal for incorporating into your mosaic work. Make special elements for your mosaics that can be colored, textured and shaped to make your mosaics unique. Make tiles that are one of a kind! In this class, you will make elements to be used in your mosaics and discuss how to use these ceramic pieces in your mosaic designs. You will learn to use a portable slab roller, make slabs of clay from both white and red clay and make many small pieces using stamps and stencils and cutouts. We will explore coiling and texturize the clay to create unique surfaces.  Using underglazes and glazes we will paint and decorate some of these pieces.
The instructor will kiln fire your pieces and mail them to you two weeks after the class.
Supplies fee of $40 includes Clay, underglazes, glazes, tools and stamps and kiln firing and mailing of finished work.
Lisa Houck studied printmaking at the Rhode Island School of Design, graduating with a BFA in 1975.  She joined the Experimental Etching Studio in Boston shortly after graduation, where she taught etching and monoprinting.  In 1989 she graduated from the School of the Museum of Fine Arts, Boston/Tufts University with an MFA in painting.  She works with color and pattern to create complex, imaginative landscapes and is inspired by the natural world, incorporating scientific concepts from astronomy, archeology, and biology into my work.  She explores a variety of media including mosaics, ceramics, printmaking, and painting.
She has presented extensively throughout New England and her work is in numerous corporate and private collections, including the Museum of Fine Arts Boston, The Boston Athenaeum and Children's Hospital, Boston. She recently completed a public art project in Broward County Florida where she created paintings for four libraries there.  She also designed a 22′ long mosaic mural for the Frieda Garcia Park in Boston and a 6' X 6' mosaic for the Iron Street Park in Boston.  She currently teaches at Dedham Country Day School and Mass College of Art. lisahouck.com
---
SOLD OUT! 

Building a Landscape Through Colors and Texture
with Laura Rendlen
Session 14A: Wednesday, March 14th, 2018, 8:00am – 5:00pm
 Session 14B: Thursday, March 15th, 2018, 8:00am – 5:00pm
Hands-On
Intermediate/Advanced
Price: $360.00 (Includes $50.00 Materials Fee)
This workshop is for artists who want to explore a variety of mosaic techniques to create a representational landscape utilizing different traditional materials, e.g. glass, stone, shells, and metal. Beginning with a short presentation and exercises to illustrate general principles, the discussion considers perspective foreground and background and light source highlights and shadows. The beauty of this workshop is that the artist gets to surround themselves and then get to play with a variety of tesserae to complete their mosaic. The workshop emphasizes a hands-on exploration of mosaic techniques. This allows the artist to discover different textures, color combinations and ways to transition and form relationships with mixed materials. Throughout the workshop, individual attention and tips are provided to help with the technical aspects of mosaics and to guide the successful completion of each project.
Laura Rendlen's aesthetic and style for mosaic art is representational. She creates environments that capture the essence of a place. Through vivid color and soft expression, she conveys the intangibles in nature, particularly wind, light, and movement.
Laura Rendlen earned her BFA in Sculpture from Kansas City Art Institute and spent 25 years as a scenic painter. Laura has been published in several books, blogs, and magazines including Mosaic Fine Art Portraits and Mosaic Art Now magazine. She has also been included five times in the Mosaic Arts International exhibitions, and in 2012 she received the prestigious MAI Jurors' Choice award.  lrfinemosics.com
---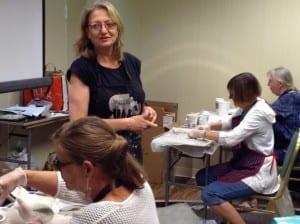 Bend, Fold & Undulate- Lightweight Dimensional Hand-Formed Substrates with Marian Shapiro
Session 15A: Wednesday, March 14th, 2018, 8:00am – 5:00pm SOLD OUT!
Session 15B: Thursday, March 15th, 2018, 8:00am – 5:00pm One Seat Left!
Hands-On
All Levels
Price: $355.00 (Includes $30.00 Materials Fee)
Australian mosaic artist Marian Shapiro is known for her use of three-dimensional, hand-formed substrates, often giving the illusion of flowing material. Join her in this practical, fun, hands-on session and discover how to make your own lightweight, dimensional, hand-formed substrates suitable for indoors or outdoors. The day kicks off with an inspirational presentation, giving examples of Marian's work using this method plus that of students who have taken this course. Then, working with fiberglass mesh and thinset, students create two wall-hanging substrates of their own design. The first is flat, folded, or undulating—or a combination of all three. The second substrate is hollow, such as a mask or torso, and is created by using sand to make a mold (sand-casting).
Both these substrates are made in two stages, so students make the first stage during the workshop but need to complete them in their own time afterwards. Sufficient material will be provided to take away and finish the projects started in class. Marian will demonstrate the steps needed to complete the substrates and each student also receives a half-made substrate and finishes it off in class so that they feel fully confident in completing their own pieces at home. There is no actual mosaicking in this class. However, discussions of design concepts as well as issues to be taken into account when applying mosaic to a 3-D form are an integral part of the day. The course focuses on process rather than product and at the end of the day you will have gained a thorough understanding of the methods taught and have the confidence to experiment with the technique and make it your own.
Marian believes strongly that people learn best by doing and her teaching style is highly participative. The class is kept small to give students individual attention and students are actively encouraged to ask questions. Full, illustrated course notes are provided to take away. This session is suitable for all levels but will particularly benefit those who wish to extend their artistic practice by moving beyond the flat surface.
Adopted Australian Marian Shapiro has been making art and architectural mosaics since 2003. She has participated in numerous group shows and has been a five-time finalist at MAI. Her second solo show was in August 2015 in a central Sydney gallery. A multi-award winning artist, her work is shown and collected both in Australia and internationally. She is known for her use of color and her innovative work with dimensional substrates. Public and commercial commissions are in Sydney, and many of her works are in private collections in Australia and abroad. Her work has been featured in a number of mosaic books and magazines. Marian has been teaching mosaics since 2008, and is widely sought after as a teacher and speaker. dariandesign.com.au
---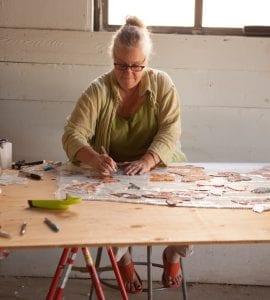 Tile Tape Tricks and other Wonders of the Double Indirect Method with Claire Barnett
Session 16: Wednesday, March 14th, 2018, 8:00am – 12:00pm
Hands-On
All Levels
Price: $220.00 (Includes $25.00 Materials Fee)
"Double indirect" may be hard to say but it makes creating a gorgeous mosaic oh so easy to do. Learn all about working in this creative and forgiving method, using both ancient and contemporary techniques. This versatile method offers incredible flexibility for creating intricate, beautiful mosaics in small or large scale, as a solo artist or as part of community projects, utilizing all different types and sizes of materials.
Instructor Claire Barnett will share her many tricks and years of experience working with tile tape and other double indirect techniques. You will learn how designing and creating your mosaic on contact paper as a temporary binder allows you to play with tiles in whole new ways and also makes for incredibly easy traveling/storing/changing of your mosaic until you are happy with your final design.
Claire will teach you how to transfer the fully designed mosaic on to your substrate using thinset as well as covering techniques of installation to adapt to different situations.
Students will make 2 different mosaics, learning both the classic cheesecloth with pasta amido (wheat paste) method and modern tile tape variations. Through hands-on experimenting, students will learn the many benefits of these various techniques, including:
Ease of design and working from template/cartoons/images using clear contact paper.
Tricks for working with bumpy and uneven tesserae.
Strategies for utilizing the double indirect method with large groups, classes, and community projects.  Benefits of and tricks for working with tile tape for large-scale mosaic installations and other architectural applications.
Techniques of modification for glass-on-glass applications.
How to avoid common mistakes as well as how to fix any mishaps that occur.
This session will particularly benefit those who want to expand their skill set in mosaic techniques from the more commonly used direct method. It will be of particular interest to folks interested in group or large scale projects but is also very helpful for all sizes of mosaic projects. It is appropriate for students of all levels.
Instructor and mosaic artist Dr. Claire Barnett has been studying, creating and teaching mosaics for over 15 years. She has studied traditional double indirect methods in Italy, including both the Ravenna Method and the Venetian method, and has adapted and modified these methods over the years, utilizing modern materials when appropriate. Claire (sometimes referred to as "the tile tape evangelist") is founder and owner of Seattle Mosaic Arts (SMA), a community based mosaic studio and school which specializes in the double indirect method. Claire and her team at SMA have created and installed many large-scale mosaics in communities, hospitals, restaurants, and private homes as well as taught and supported hundreds of growing mosaic artists as they create and install mosaics. Her specialty is in memorial mosaics and the therapeutic aspects of making mosaics. seattlemosaicarts.com
---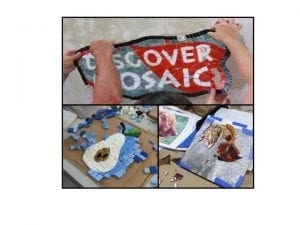 "Methods" for Making it Great! Installation & Fabrication, Process & Techniques with Bonnie Fitzgerald & Andrea Taylor
Session 17: Thursday, March 15th, 2018, 8:00am-5:00pm
Hands-On
All Levels
Price: $350.00 (Includes $55.00 Materials Fee)
There are a variety of established methods of installation and fabrication of mosaics, and this one-day workshop is designed to provide participants with hands-on experience and the necessary knowledge to choose the best method for any given mosaic project. Upon completion of this workshop, participants should feel confident in choosing and using these methods for their own mosaic work.
Students are provided step-by-step hands-on experience in three indirect fabrication processes: mesh method, face taping and reverse on paper. Installation techniques, site preparation and design modifications for large-scale work are all demonstrated or discussed.
Lecture, Q&A, and visual presentations will be interspersed throughout the day as students work on small studies in the 3 indirect techniques. In-depth discussion of what materials are best suited for a given location, environment and design, and the best fabrication method for that design, location, and environment are also covered.
Students will mix and use thin-set mortar as the adhesive for their studies and extensive product information will be shared. Along with instructional handouts and resource lists, each students' completed artwork studies are take-homes for studio reference or for prototype samples. We will work with a variety of materials including ceramic, glass and smalti.
This is an opportunity to gain a strong understanding of design, fabrication and installation techniques for architectural and large-scale mosaic work. Students will bring a mosaic toolkit to include a good quality wheeled nipper, with a detailed tool list from the instructors to be provided 2 weeks in advance.
This workshop will be team-taught. Bonnie Fitzgerald and Andrea Shreve Taylor have been recognized as dynamic, fun and personable instructors who collaborate beautifully in the classroom. With over 30 years combined experience they bring an extensive knowledge base and expertise in a broad range of mosaic materials and techniques. Bonnie and Andrea excel at providing participants with ample one-on-one instruction, as well as dynamic group facilitation.
Bonnie is the recipient of 2017 MAI Site-Specific Juror's Choice Award. Bonnie teaches workshops throughout North America, including the Smithsonian Institution in Washington, DC, Puerto Vallarta, Mexico and leads study tours to destinations in Europe. Mentoring students and creating art are interdependent pursuits that shape her artistic voice every day. She is the author of two best-selling books: "Guide to Mosaic Techniques" (2015) and "300+ Mosaic Tips, Techniques, Templates and Trade Secrets" (2012), which has been translated into 5 languages. To view her portfolio visit bonniefitzgeraldart.com, to learn about other learning opportunities visit maverickmosaics.com
Andrea's 16+ years as a mosaic artist spans from creating large-scale installations to jewelry, specializing in animal portraiture. Her award-winning work has been shown and collected internationally. Her primary professional experience is in technical instruction, conducting training programs since 1994 and teaching mosaic art since 2004. She has taught well over 1200 students in the art of mosaic. Andrea is a past SAMA Executive Board member and Education Committee Chair and served as Director of Education and Curriculum Development for Maverick Mosaics Art School and Studio. Andrea owns and operates Lark and Magpie Art Gallery and Studio, a creative destination located in northeast Wisconsin.  larkandmagpie.com
---

ONE SEAT LEFT!

 

Spiky, Pokey, Shardy: Shag Rug Mosaic with Margo Anton
Session 18: Wednesday, March 14th, 2018, 8:00am – 5:00pm
Hands-On
All Levels
Price: $355.00 (Includes $45.00 Materials Fee)
Non-traditional use of smalti is all the rage! Learn how to create a fun colorful smalti "shag" mosaic in this hands-on, full-day workshop. The day begins with a comprehensive lecture and slideshow on the "whys and wherefores" of smalti, followed by an examination of suitable bases, adhesives, and design possibilities for this technique. The cutting of the matchstick-sized "shags", a process that requires some finesse and precision, will be demonstrated and practiced.
Shag rug mosaic has it's own laying style and andamento technique that is both fascinating and complicated. Margo will show you how to navigate the various decisions required for each section and piece. Expect lots of great tips on how to both create your piece and make it even more interesting. Class participants will receive individual attention as they work on a 4" by 4" smalti shag rug style mosaic. Those students who do not finish will leave with materials to finish their project. A course outline will be provided, and students will depart with the skills to make creative shag rug style mosaics on their own. This course will particularly benefit those students of all levels who want to try working with smalti, learn to cut more precisely, or want to learn a crazy, unusual, spiky type of mosaic. Students in this workshop will be provided with all materials except wheeled glass nippers, tweezers, and protective eyewear. Please bring your favorites of these items to the workshop.
Margo Anton has been working as a professional mosaic artist for over a decade, creating fine art mosaics, mosaic jewelry, and teaching classes. She has exhibited artwork in her native Canada, the USA, Italy, and in past SAMA exhibitions. When not creating mosaics and mosaic jewelry, she shares her knowledge and love of the mosaic medium by teaching, from regular classes in Canada to workshops and artist residencies abroad. In 2009, she created the Mosaic a Day project, creating a small mosaic every day; her exceptionally precise jewelry was one of the by-products of this endeavor. Her mastery of the tiniest cuts enables her to create outstanding high-end mosaic jewelry, which she creates around the globe as she travels. Her work can be seen at margoanton.com
---
Going Big with Polystyrene "I Want to Make a Chair" with Sherri Warner Hunter
SOLD OUT Session 19A: Tuesday, March 13th, 2018, 8:00am – 5:00pm
Session 19B: Wednesday, March 14th, 2018, 8:00am – 5:00pm
Hands On
Intermediate/Advanced
Price: $365.00 (Includes $40.00 Materials Fee)
This workshop is going to be loaded with information on how to make large-scale forms using the same system I use for my commission work. We will use a chair as a starting point but there are so many directions you can go with this for both professional and personal work.
Sorry…everyone will not be building their own chair but we will create one together as I go through all the considerations needed to make a comfortable piece of sculpture.
There will be some hands-on elements as I take you through the steps of designing, armature construction, cutting and carving foam, as well as concrete and mesh applications, however, the emphasis will be on presenting the information you need to duplicate this process in your own studio. This will be accomplished through visual presentations and copious handouts on processes and resources. Make sure your camera or phone is charged so you can take lots of reference images!
We'll wrap up the day with questions and answers to address your sculptural challenges. This session is best suited for makers with some knowledge of creating 3-D forms.
Sherri Warner Hunter is the creative force behind SWH Art Studio Inc. in Bell Buckle, TN. Since moving therein in the mid-90's, the Studio's production has concentrated on large-scale public commissions and community-based artworks. Hunter's work is included in many private collections and can be viewed publicly at the Executive Residence of Tennessee, Nashville; McLaren Health Care Village, Clarkston, MI; The Pediatric Network Therapy Center, Torrance, CA; and at Lucile Salter Packard Children's Hospital at Stanford, Palo Alto, CA.
Hunter has written two books. The most recent "Creating Concrete Ornaments for the Garden" was published by Lark Books and developed from expertise honed through decades of teaching studio workshops. She continues to teach workshops at SWH Art Studio Inc., across the country, and internationally. Visit her website for additional information: https://swhartstudioinc.wordpress.com
---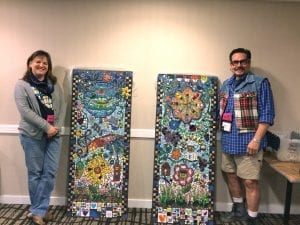 CANCELLED 

Eating and Creating from Other's Plates with Jolino Bessera and Dawn Mendelson
Session 20: TWO DAY SESSION – Wednesday, March 14th, and Thursday, March 15th, 2018, 8:00 am – 5:00 pmHands On
All Levels
Price: $455.00 (Includes $30.00 Materials Fee)
Our adventure starts with a historical overview and examples of the art form known as pique assiette. We'll talk about the types of ceramics and other materials available for the project, and demonstrate cutting techniques specific to pique assiette, including cutting cups in half and shaping objects for the best placement and effect with a wet saw and power hand tools with diamond bits. Students will be making an abstract memory ware portrait of an individual or special event in the shape of a coat of arms. The substrate will be Wedi, size 15 inches x 12 inches, with hanging hardware included. Students will choose a focal point, either from the items we provide, or something they bring themselves. Our process will focus on the possibilities and serendipity of mixing patterns, colors and textures not only through the selection of materials we bring, but most importantly with the mementos each student brings for their portrait including jewelry, medals, marbles, stones, a plate, small figurines, that broken bowl you can't throw away. Our workshop will also cover adhesives for different materials as well as specific techniques pertaining to the textural nature of pique assiette. We will also demonstrate the process of "excavating" grout around 3-dimensional objects and textured materials. We want to ensure every student is able to complete unfinished work with confidence.
Jolino Beserra and Dawn Mendelson, both Southern California artists, have been breaking things since they were born. They eventually discovered this could lead to a smashing career, and have been creating large-scale and small intimate mosaics in the art form known as pique assiette for a combined 50 years. They celebrate ceramics and found objects that contain rich textures and colors and carry a vibrant history. Their explorations of ceramics and life's "things"– contemporary, vintage or ancient – evolve into a new narrative. Their creative, innovative storytelling and subliminal portraits make use of life's mementos that beg to be touched as well as felt. With degrees in art, graphic design, and writing, they also have a love for community mosaic projects. Jolino and Dawn led the Mosaic Marathon at the SAMA San Diego conference in 2016 and have worked on various projects together. Learn more about their work: dawnmendelson.com and jolinomosaicarts.com
---
ONE SEAT LEFT!

 

Seduced by Nature

with Sophie Drouin
Session 21: TWO DAY SESSION – Wednesday, March 14th, and Thursday, March 15th, 2018, 8:00 am – 5:00 pm
Hands On
Intermediate/Advanced
Price: $455.00 (Includes $50.00 Materials Fee)
During the golden era of Roman mosaics, no expense was spared for the importation of exotic, vivid marble colors from a surprisingly wide swath of the known world. Marble is still the most easily available and versatile natural material for mosaic, and its beauty is still seducing viewers' eyes. The modern availability of colors is dizzying. See how you can enhance your game, using a combination of controlled, varied andamenti and the natural beauty of marble, travertine, and sandstone. This class will use traditional hammers and hardies.
Participants should bring their own side nippers, tweezers, and thinset tools.
Sophie Drouin first studied mosaic art with her late father, Quebec artist, painter and teacher Bernard Drouin, who had studied painting, fresco, and mosaic in Florence and Venice in the mid-1950s. After his untimely death in 1998, she sought out new teachers, traveling to Italy and France to find masters of mosaic tradition and technique. She found Luciana Notturni in Ravenna and then in France met Verdiano Marzi, who has become her mentor and friend.
Sophie is a member of the Society of American Mosaic Artists (SAMA), a North-American group which annually organizes a conference and a juried show called Mosaic Arts International. Sophie's submitted works were accepted every year that she entered from 2007 until she was asked to be a juror for the show in 2015. She won two awards from Mosaic Arts International, as "Member's Choice" in San Diego and as "Best 2-d" in Austin. She has exhibited in the United States in Miami, Phoenix, San Diego, Chicago, Austin, Lexington, Charlotte, Tacoma, Seattle, Boston, Lake Oswego, and Mystic. In Europe, she has won two awards in the professional category at the Chartres Prix Picassiette Biennale competition and was invited to participate in two exhibitions for RavennaMosaico, a city-wide Biennale mosaic festival in Italy's capital of mosaic arts, Ravenna. Her work has also been exhibited in Clauiano, Italy and Riga, Latvia. She was invited to her native Quebec City for a modern mosaic exhibition called "forward mosaic" as the only Canadian mosaic artist in a trio of exhibiting artists. She was also the only Canadian to be invited to participate in the "black and white" exhibition featuring 22 international artists at the Maison de la Mosaïque in Paray-le-Monial, France, in 2014.
Sophie is active in her hometown of Kitchener, Ontario, as a member of the award-winning UpTown Gallery where she is currently on the Executive Committee as Exhibitions Chair. She won three of the seven awards on offer at the recent Canadian Annual Mosaic Exhibition, including Best in Show and Best Wall Hanging.
Sophie has translated and been an interpreter for her mentor, Verdiano Marzi for workshops and conferences; she is also the English Language Editor and Canadian correspondent for the France-based "Mosaique Magazine", the highest quality publication about the art of mosaic in the world.
Sophie is also a musician and has been a professional violinist and chamber musician since 1984, joining the Winnipeg Symphony (1990-87) before joining the Kitchener-Waterloo Symphony in 1997 when her husband won the Concertmaster position there.
---
JUST ADDED! Creating with Re-Purpose with Dawn Mendelson
Session 22A:  Wednesday, March 14th, 8:00 am – 5:00 pm
Session 22B: Thursday, March 15th, 2018, 8:00 am – 5:00 pm
Hands On
All Levels
Price: $305.00 (Includes $30.00 Materials Fee)
The use of recycled elements in mosaic art develops the ability to see objects in a new light and invigorate the imagination. The combination of glass, ceramic, metal and mineral can reveal unexpected illumination and dimensional effects. Recycled elements carry a history and incorporate story or memory into a piece. By taking inspiration from the materials in this workshop, you will create a unique and personal artwork. This is a hands-on project and we will dive in after a brief presentation on process and creativity. Focus will be on design and techniques specific to using a variety of materials in a single cohesive piece.
Provided:
8" x 10" Wedi substrate
Thinset
a variety of repurposed ceramics, glass, natural materials and metal
Students should bring:
Tools (nippers, glass cutter)
One bag of unusual material to contribute (optional) (broken pottery, stones, scrap glass in smaller pieces)
Any special personal materials you want to integrate into your piece (optional) (preferably hand-sized or smaller).