The International Symposium of Mosaics in Sardinia, Italy with Kim Emerson, Julie Dilling, Gila Rayberg, Julie Richey, Marian Shapiro, and Aida Valencia
Friday, April 26, 2019, 4:00pm
For the past three summers in the small village of Ploaghe, on the island of Sardinia, Italy, the International Symposium of Contemporary Mosaics has invited artists from all over the world to participate in a unique mosaic art journey into the unknown. This mosaic art event is the brain-child of world-renowned mosaicist, teacher, and artistic director Giulio Menossi of Udine, Italy. In a panel format, just six of the artists who have participated in the symposium will share their journey and inspiration of the individual mosaics they created, while discussing what they learned, and what they took away from this amazingly intense and profound experience. They will share how they have incorporated the symposium into their own mosaic practice, and how we can all learn from pushing our boundaries into a "discomfort" zone. An introduction will be presented by Kim Emerson who will give a background about the symposium, along with some highlights of her conversations with Maestro Menossi about his philosophy and his purpose in conducting this world-stage mosaic art event. The presenting artists will be the following: from year one, Marian Shapiro and Aida Valencia, from year two: Julie Dilling and Julie Richey, and from year three: Gila Rayberg and Kim Emerson.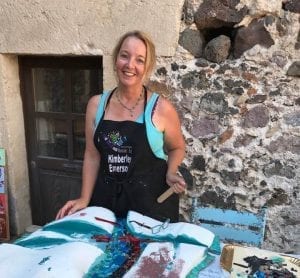 Kim Emerson has been designing and creating mosaics for private and public spaces since 1991. She received her Bachelor of Arts in Architectural History, and a Master of Science in Historic Preservation of Architecture – both degrees from the University of Oregon, School of Architecture and Allied Arts in Eugene, OR. Prior to establishing her own business, Kim Emerson Mosaics, LLC in San Diego, CA, Kim worked for O'Connell Gallery in Portland, OR, Architect Milford Wayne Donaldson, F.A.I.A. in San Diego, CA, and world-renowned artist James Hubbell in Santa Ysabel, CA. Besides teaching, creating her public art and residential projects, and her own small studio mosaics, Kim has extensive experience working with non-profit organizations, community groups, in construction, arts education, galleries, and museums. Her largest commissions are located at Rady Children's Hospital in San Diego, CA, the City of Carlsbad, CA, the City of San Diego, CA, San Diego Unified Port District, CA, the Worcester Art Museum in Worcester, MA, the Citizen's Council for the Arts in Couer d' Alene, ID, the City of Imperial Beach, CA, the City of Cerritos, CA, the Trust for Public Lands in Los Angeles, County, and in Tijuana and Veracruz, Mexico. Along with her husband Dennis Reiter, they established the San Diego Mosaic School in 2015 where they teach mosaics as fine art. Kim considers herself a "life-long" member of the Society of American Mosaic Artists (SAMA) and has been a member since 2004. She has been a former SAMA board member, a two-time recipient of SAMA's Best of Show – Architectural category award in the Mosaic Arts International (MAI) in 2005 and 2006, as well as a recipient of SAMA's Robin Brett Scholarship in 2013.
Kimemersonmosaics.com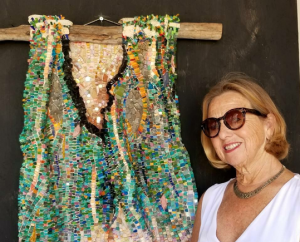 Julie Dilling was a Co-owner of Tesserae Mosaic Studio.  As a child of the Air Force, Julie has lived all over the world. Her experiences in a variety of landscapes and world cultures are certainly apparent in her artwork.   While Julie's passion lies in mosaics, she did not begin working as a mosaic artist. With a degree in Fine Arts from the University of Texas at Arlington, Julie began pursuing photography on the side while working as a geological technician for a Texas oil company.  Julie's passions have always been in the arts. She began making collages from her photos and loved the idea of creating her own puzzle.
Julie enjoys working with children and, for 2 years, taught art at the prestigious Hill School in Ft. Worth.   Working organically, Julie loves to build 3-D substrates on which she can create beautiful abstract mosaics.  Her intuitive approach has brought a wonderful new perspective and personality to her mosaics.  Julie finds inspiration in everyday sites, objects, and feeling.  She loves the permanence of mosaics and, in turn, the permanence of the memories her mosaics create. Her art has been exhibited in galleries and museums around the United States and Italy, The Museum of Man, San Diego, CA., The Museum of American Sports Art, Indianapolis, Indiana.  Women's Museum of California, San Diego, CA.  Currently, her work is on exhibit at The Museum of Biblical Art, Dallas, Texas.
Julie served the Board of Trustees for Society of American Mosaic Artists (SAMA) for six years as Scholarship Chairman and Vice President.  Julie Dilling Mosaics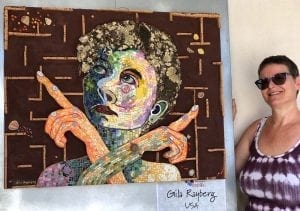 Gila Rayberg arrived at the visual arts after a successful career as a freelance musician and educator.  Allowing her strong sense of intuition and love of
experimentation to guide her, Gila has developed a unique voice in the realm of mosaic portraiture. Gila exhibits regularly throughout the United States and has
won numerous awards for her uniquely expressive portraits. In the summer of 2018, Gila was one of nine artists, from seven countries, invited to participate in the 3rd Contemporary Mosaic Art Symposium in Ploaghe Sardinia, under the direction of Maestro Giulio Menossi.  Gila travels throughout the US, and internationally, giving workshops and sharing her passion for mosaic portraiture. Her artwork has been published in numerous art books and is collected worldwide.  gilamosaics.com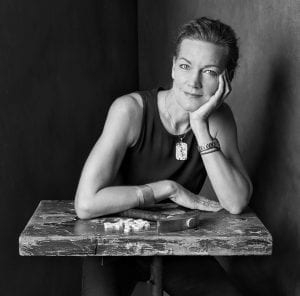 A graduate of the University of Dallas and a 1987 Rotary Foundation Graduate Scholar to Italy, Julie Richey began making mosaics in 1991. Working in diverse mosaic media she has completed many residential, commercial and public art projects in the US, Mexico, Italy and Spain. Her home and studio are in Dallas, Texas.  Julie exhibited in the Society of American Mosaic Artists Mosaic Arts International juried exhibition for 11 years. Her mosaics have been included in juried shows throughout the US and in Italy, including the international "Opere del Mondo" exhibition as part of the 2011 Ravenna Mosaico Biennial festival. She has won Best 3-D Mosaic in 2011 for "La Corrente," a sculptural dress mosaic; Juror's Choice for "Night Shirt" in the 2009 and Members' Choice for "L'Ambasciatrice" in
the 2007 Mosaic Arts International. In September 2009, "Night Shirt" was awarded the international Grand Prize from Orsoni Smalti Veneziani.  Julie leads annual Mosaic Masterpiece Tours to Italy, taking her guests on behind-the-scenes tours of artists' studios, Italian manufacturers, culinary centers and museums. Mexican mosaicist Ana Foncerrada and Julie created Mosaics in Mexico, an annual tour and workshop that culminates in San Miguel de Allende, Mexico, where participants create a group mosaic wall at the home and art gallery of outsider artist Anado McLaughlin.  In June, 2015 Julie was one of 11 international artists invited to Friuli, Italy to create a "re-imagined" chair for the First International Symposium of Mosaic, hosted by Clauiano Mosaics & More. In the summer of 2015, she was one of 11 artists in Ploaghe, Sardinia for the Sardus Pater -themed International mosaic symposium.  JulieRicheyMosaics.com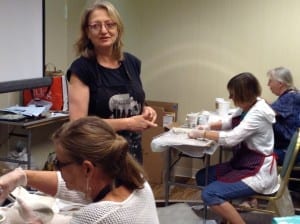 Adopted Australian, Marian Shapiro has been working full time in mosaic since becoming obsessed by the art form in 2003. She is fond of a visual pun and is probably best known for her dimensional works which give the illusion of flowing material. Her artwork is shown and collected nationally and internationally and she is also in demand as a teacher and speaker.
Over half her time is taken up with commissions, ranging from small domestic pieces to large public and commercial work. Commissions have often taken her work in new directions and she enjoys the sometimes challenging process of realizing the clients' ideas and satisfying their needs while retaining her own artistic vision and integrity.  www.dariandesign.com.au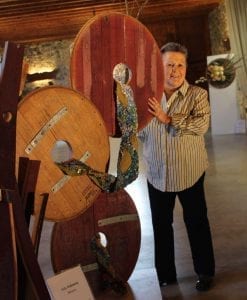 Aida Valencia was born in San Diego and raised in Tijuana, with a bi-cultural tendency emerging as an innovative visual artist. Her sculptures are characterized by the use of intense colors, reflecting her Mexican roots, interpreted in a contemporary form.
She graduated from Universidad Autónoma of Guadalajara, Jalisco; studied the art of mosaic in Ravenna, Venice, and Udine in Italy with Appreciation of the Visual Arts at the Instituto Nacional de Bellas Artes Mexico and Cultural Industries in Tijuana at CONACULTA.
Valencia fully focuses on art and projects through my Casa Valencia Mosaic Art Studio in Tijuana. As a visual artist, her work trespasses the border of a typical sculpture and transforms itself from a simple drawing to a life-size piece of work full of color and movement. AidaValencia.com
---
2019 Featured Presentations