How to Talk About Art, and Why We Should with Karen Ami, Karen Kettering Dimit, Sue Giannotti, Yulia Hanansen, and Angela Sanders
Friday, April 26, 2019, 3:00pm
When many of us look at art, it either evokes a response within us, or it doesn't. Do you know why a work speaks to you and can you explain your experience to others? The way we respond to art can teach us to speak about our own work, and help us understand our own definitions of beauty, truth and our attraction to certain aesthetics. By viewing artwork and listening to the impression a piece makes upon us we can gain a greater insight into our own creative voices. The process of truly seeing art and internalizing the experience can help creatives get comfortable to speak about art with a new and easy vocabulary. This panel discussion, led by Karen Ami, Founder, and Director of The Chicago Mosaic School, features four diverse artists; Sue Giannotti, Yulia Hanansen, Karen Kettering Dimit, and Angela Turner Sanders – who will interact with and respond to selected mosaic artworks in a rich and lively discussion. They will share how they see art and have grown to feel comfortable in discussing what it is about specific work that resonates with them and what does not, engaging the audience with new perspectives, inspire creativity, and increase understanding of the visual arts. Participation from the audience and Q&A will follow.
Karen Ami was born in Chicago, raised in Indiana and Illinois. She attended The Boston Museum School, Tufts University (BFA, 1986) and The School of the Art Institute of Chicago (MFA, 1995) majoring in ceramics and sculpture. In 2005, she founded The Chicago Mosaic School the first and only first Not-For-Profit school for Mosaic Arts Education outside of Europe. Ami lectures internationally and is a curator and juror of contemporary mosaic exhibitions around the world. She exhibits her sculptural mosaics, drawings and ceramic works in national and international venues. She was the first American artist to be awarded first prize in the Prix Picassiette International Exhibition in 2014 for her work, "The Dialogue". Her work is private and public collections in Japan, Italy, France, Mexico and Australia.  ArtAmiba.com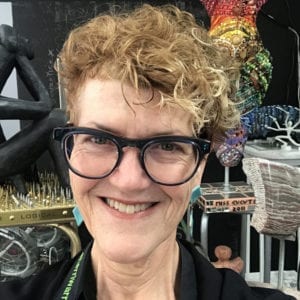 Karen Kettering Dimit, artist and curator, co-founded the LIC Arts Open, a multi-day arts festival in Long Island City, Queens, now in its seventh year.  She has juried and curated many exhibitions for the festival, most recently, the acclaimed UPSTANDERS!!!, as well as co-curated a large exhibition of mosaic artists, "TERRA INCOGNITA: Mosaic Explorations", for The Gallery at Penn College.  Most recently, Ms. Dimit juried the Atlantic Gallery's National Juried Show and was co-juror of the National Association of Women Artists' Margo Harris Hammerschlag Biennial Award for Direct Carving. Ms. Dimit was the Chair of the Sculpture Division at the Pen and Brush for many years, curating shows and jurying new members.
In her art practice, Ms. Dimit's artworks have been juried into many New York City, national and international exhibitions. Her mosaic and stone sculptures have received the "Best in Show Award" in several national and international shows, and recently she was honored with the Contemporary Innovation Award at the Mosaic Arts International juried exhibition, and the Local Legend Award from the LIC Arts community.  Kkdimit.com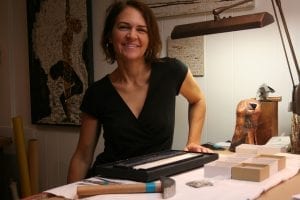 Artist Sue Giannotti is the founder of Mosaic Opus Studio, near St. Louis, Missouri where she creates original mosaic artworks and architectural commissions. A strong proponent for learning and understanding the language of mosaic, she is both an instructor and a student. She is in her 13th year of teaching at the Chicago Mosaic School and is the Director of the school's certification program, emphasizing proper technique, language, and artistic voice in mosaics. Her mosaic education began in Italy and each year she continues her studies with international masters. She has exhibited in many national and international exhibitions and was recently a juror of the Pictor Imaginarius mosaic exhibition in Nazzano, Italy. She hopes to see the day when mosaics are widely-accepted as a fine-art medium and works diligently to teach how artistic voice can be expressed in mosaics through the elements and principles used in all artistic media. www.SueGiannotti.com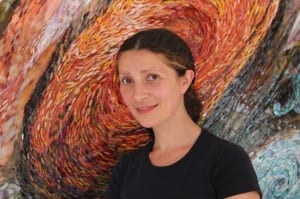 Yulia Hanansen, an award-winning artist, has been instructing mosaic courses since 2001. Her Mosaic Sphere Studio, LLC produces mosaic artwork for private and public spaces. Yulia has been a guest artist in mosaic schools throughout the United States including Unicorn Art Studio, Touchstone Center for Crafts, Santa Barbara School of Mosaic Art, Mosaic Society of Pennsylvania, and other educational institutions. Yulia is a printmaking professor at Maryland's Towson University. She has taught and assisted teaching at University of Michigan and Columbia University.
Yulia's artworks have been exhibited nationally and internationally in multiple invitational shows as well as in her solo exhibitions including Italy, New York City, Philadelphia, Chicago, Seattle, Tacoma, San Francisco, Baltimore, Austin, Dallas, Ann Arbor, and other locations. Yulia's latest works represent her fascination with themes of nature, climate change, cosmos, and a connection of human beings to it. She is interested in depicting places and natural phenomena that are only noticeable with the help of technology or imagination. Yulia practices her art in a mosaic, printmaking, and drawing media.  mosaicsphere.com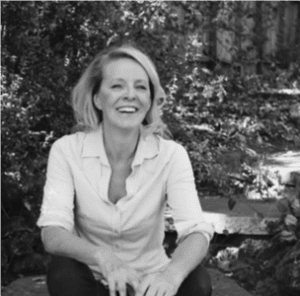 Angela Sanders was born on the North Sea in Hull, England, emigrating to Canada and then the US as a young girl. Living in California today, she graduated with a BFA in painting from the Art Institute, beginning her career as a painter and lithographer. Angela's passion for modern mosaics began more than a decade ago and has led to an internationally recognized body of work. With constant mobility as the hallmark of her childhood, each of her mosaics channels pervasive themes of time, place, movement and a sense of loss and of discovery. Angela describes her work as an ongoing dialog between physical places and associated emotions. One might call it the geography of memory. Her color-intensive, abstract mixed-media compositions in smalti, stone, shells and found objects reconstruct remembered worlds, expressing her associations with places, more so than depicting them. Angela cherishes her long-standing association with the renowned Chicago Mosaic School. Her award-winning works have been exhibited extensively in the US, Europe and most recently in South America, and are also held in private collections. AngelaSandersMosaics.com
---