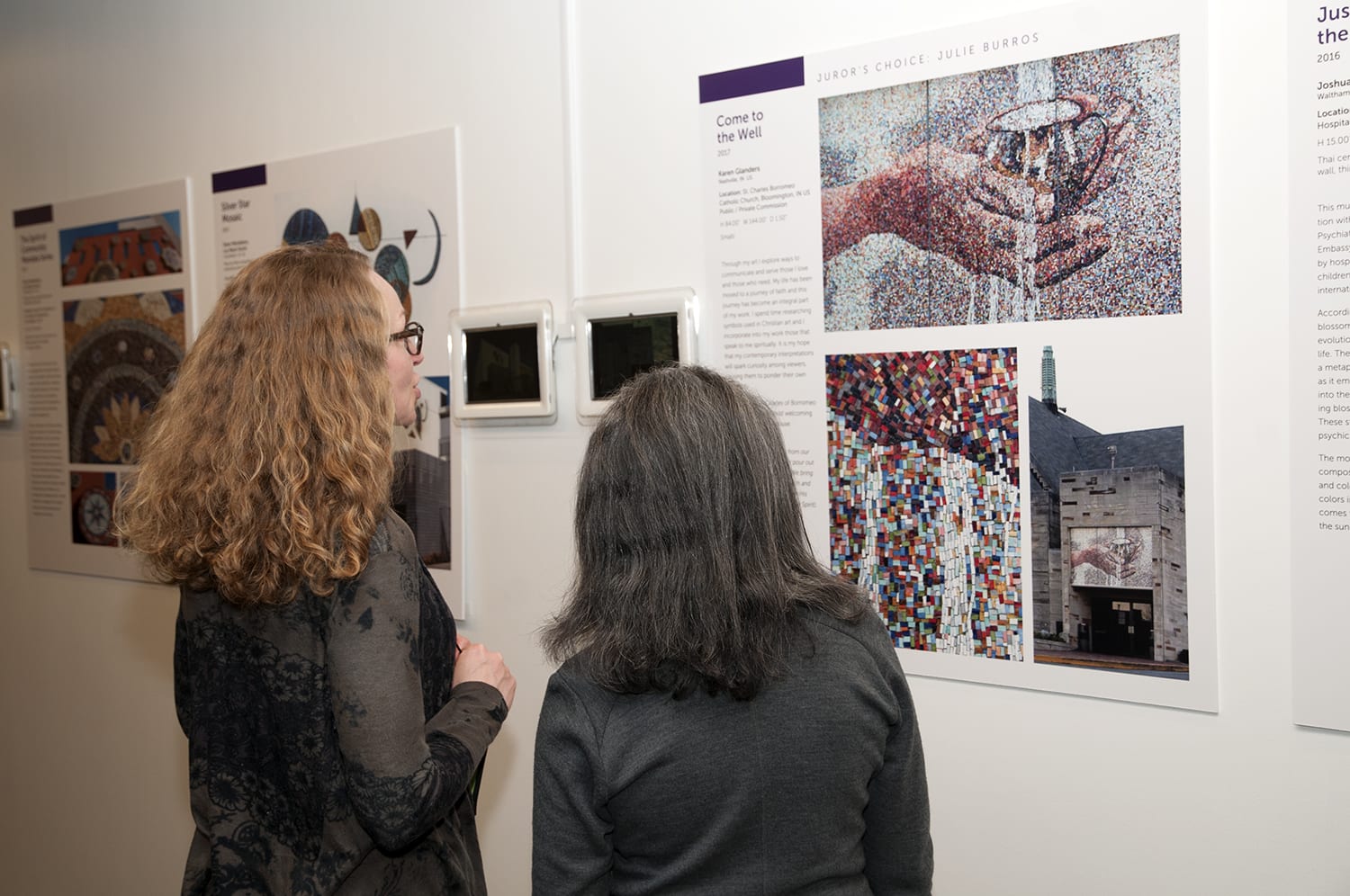 Help us put the pieces together!
We are thrilled to announce the ALL NEW Conference Sponsorship Program! We are shaking things up for 2019 and have redesigned our Sponsorship structure with new opportunities to connect your business with our members.  Add your name and logo to one of our events or products while enhancing our ability to produce an exciting and inspirational experience in Nashville!
The Society of American Mosaic Artists is a 501(c)(3) organization dedicated to educating, inspiring, and promoting excellence in mosaic arts. Your support enables us to bring our mission to life through our annual conference, educational programs, and publications, exhibitions, scholarship opportunities and a yearly charitable donation of a significant mosaic artwork produced by SAMA members at the annual Mosaic Marathon.
If you have been a Sponsor in the past, THANK YOU!  SAMA looks forward to your continued support and if possible, please consider increasing your support.
Major gifts of $1,000 and more play a critical role in helping SAMA provide programming that has an impact on the mosaic community, both in the USA and abroad. As a member of one of our leadership societies, your support will have an impact on SAMA's ability to continue fulfilling our mission to educate, inspire and promote excellence in the mosaic arts. Higher levels of sponsorship also provide the opportunity of naming an event or key conference component in your honor. We invite you to select a level that represents your willingness to support the mosaic arts and provides the benefits most compelling to you.
You may contact the Sponsorship committee at any time with questions or corrections. Contributions@americanmosaics.org.
Review the details below to determine the Sponsorship level that is right for you!
Gift Bag Item Guidelines
All Sponsors are eligible for adding items to the Sponsored Gift Bag distributed to all attendees.
Product samples, coupons, new product announcements, catalogs, and brochures can be included in the "swag bag."  This is an ideal option to get samples of your product(s) in the hands of users so they can try them out, coupons to entice them to shop or printed materials to represent your company whether or not you are able to attend the conference.
All Sponsors will receive an email with the address and requested quantity of items to be shipped for inclusion in the gift bags in February, 2019.  
2019 SAMA Sponsorship Policies
SAMA is a 501(c)(3) organization. Donations are tax-deductible to the amount allowed by law.
Sponsorships and benefits cover a 12-month period: January 1 to December 31, 2019.
A page on SAMA's website is dedicated to Sponsors, and a hotlink from this page to Sustaining Contributor websites connects them to 1,200+ active mosaicists around the world who visit SAMA's website regularly.
The "Named" sponsorships are available on a 1st come – 1st served basis.
Sponsorships become active when payment in full has been received.
Benefits of Sponsorship are only valid for the 2019 American Mosaic Summit.
Sponsorships can be paid online by credit card or by mail with check to SAMA, P.O. Box 624, Ligonier, PA 15658. ("In-kind" donations must be approved by SAMA's Executive Committee).
Sponsorships payment due date:   March 30, 2019!
Sponsorships do not include annual membership dues. Be sure to join/renew your SAMA membership now.
AFTER SUBMITTING THIS FORM YOU WILL BE REDIRECTED TO A CONFIRMATION PAGE… IF IT BRINGS YOU BACK TO THIS PAGE, REVIEW THE FORM FOR ERRORS. IF YOU DO NOT RECEIVE A CONFIRMATION EMAIL IMMEDIATELY, PLEASE CONTACT US AT Contributions@americanmosaics.org.
You will receive an email confirming your commitment and a SEPARATE EMAIL within 7 Business Days with your INVOICE FOR PAYMENT.
You may contact the Sponsorship committee at any time with questions or corrections. Contributions@americanmosaics.org.