Today's Featured Member Kim Wozniak has been an active & supportive SAMA member for a long time!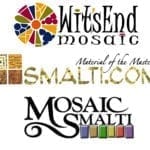 Kim writes: Family owned and operated WitsEnd Mosaic, Smalti.com and MosaicSmalti are full-service providers of all things mosaic, with something for everyone from beginners to professional artists. Our group of stores allows customers to shop for everything from Mirror Tiles & Nippers to Mexican & Italian smalti, Hammers, Hardies, adhesive and more. Our three stores combine one shopping cart making it easy to shop for all your supplies and check out just once, saving our customers time and money.
You can buy with confidence from the oldest online supplier of mosaic art materials on the web. Focusing on quality and service our family is dedicated to the art of mosaics and the people who create them. We feature the finest mosaic tile from around the world. Our longevity and success are made possible by the loyalty and creative spirit of our customers.
Life's A Mosaic, You Pick the Pieces!
The three stores sell the following items: Glass: molded, mass produced tiles Glass: smalti Gold leaf tile or Gold Smalti Glazed Ceramic Tile: mass produced Handmade Ceramic Tile Unglazed Porcelain Tile Metal Objects, Jewelry Findings Beads Adhesives, Grout and Sealers Tile backer boards and substrates Handtools: Nippers, hammer & hardies