CANCELLED
Due to unforeseen circumstances, Joshua Winer will not be participating as a Workshop Instructor for the 2019 American Mosaic Summit.  Joshua and SAMA are very sorry as we know many were anticipating attending his lecture and workshop.  If you have registered for the workshop, please contact info@americanmosaics.org to arrange for a transfer into another workshop session or a full refund. Thank you for your understanding.  
Ceramic Tile Mosaic Mural Making with Joshua Winer
Session 29: Wednesday, April 24, 2019, 8:00am – 5:00pm
Workshop: Hands-On 
All Levels
Price: $330 (Includes $55 Materials Fee)
(Session description revised 1/7/19)
This workshop is a hands-on opportunity for students of all levels to create a ceramic tile mosaic and to learn all the skills, methods and materials that are involved so that the student can create their own ceramic mosaic mural for an interior or exterior setting. Ceramic tile mosaic murals are created from a broad range of glazed ceramic tiles that we will cut and break into a variety of shapes and sizes to build this mosaic. We will apply the tile with acrylic thin set cement onto a mosaic mural design drawing that is pre-drawn onto a substrate, learning to created mosaic details as well as backgrounds, developing patterns and adamento rhythms. The mural will consist of 4 panels each 3′ high x 1-6″' wide, and students will work together on a group on the entire project.
The three-panel mosaic mural will be used in an additional workshop to demonstrate how to use multiple colors of grout on one project, Colored Grouting Workshop with Joshua Winer, Session 31: Thursday, April 25,2019, 1.00 pm-5.00 pm
Students will work together as a group on the mosaic project. All materials will be supplied by the instructor, and no tools need to be brought by the students. While there will not be a project to take home, students will be receiving detailed information to refer to for future projects.  Additionally, this piece will be installed permanently in a Nashville non-profit facility.  Participants will be able to include this experience on their resume as a community created artwork.  Details to be provided at the workshop.
Techniques to do with workshop participants:
Using tools for cutting ceramic tile
Building ceramic tile mosaic murals on panels
Creating realistic mosaics from ceramic tile
Creating andamento rhythms with ceramic tile
Cleaning cement off tile.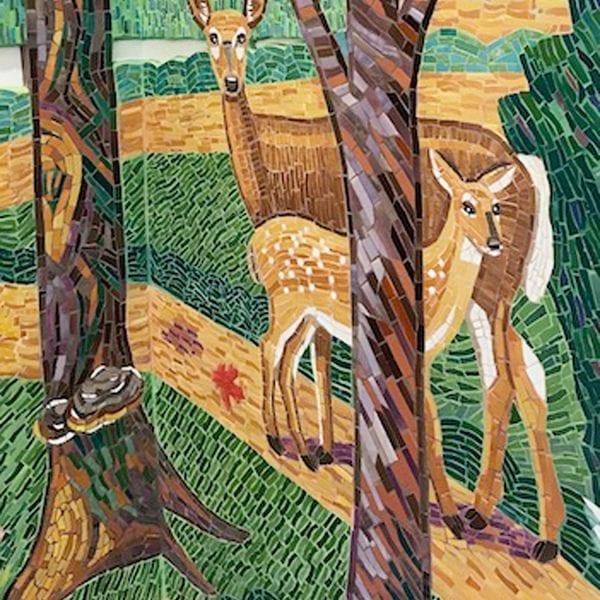 Techniques to be presented by the instructor (but not done by the participants in this workshop).
Glazing ceramic tile
Making handmade ceramic tile
Firing tile in a kiln
Purchasing glazed tile
Substrate sample choices for interior and exterior mosaic murals
Installation hardware and installation options.
Joshua Winer is an award-winning international artist, teacher and community organizer specializing in large commissioned public art, primarily in the medium of mosaic murals and painted murals. Joshua has created over 200 works of public art during the last 30 years of full-time commissioned work, which can be seen in his hometown of Boston, as well as in Texas, Michigan, California, New York, and Chicago. He has also decorated a French Renaissance castle and created a series of community mosaics in Chiang Mai, Thailand.  joshuawiner.com  / schoolmosaics.net / jewishmosaics.com
---
Professional Development Seminars
Broadening the Understanding of the Business of Art.  Providing professional artists with best practices and tips to transition from non-art related field to an art business.
Artistic & Technical Development Workshops
Increasing an understanding of general art concepts in relation to a mosaic artwork. Increasing the technical skill of the mosaic artist through the exploration of materials, techniques, and tools.