Eileen Palmer writes:  Having a penchant for the Mid Century Modern aesthetic, this lyrical smalti mosaic made by Libby Coker Hintz really called out to me. I love her use of rhythmic pattern, height, color, and negative space. I think it's a great compliment to my collection of 1960s dish ware.
This beautiful mosaic tree is also the work of Libby Coker Hintz. Very evocative of a Gustave Klimt painting, don't you think? Libby was my first mosaic teacher, and a dear friend, it's very special to have her art in my home.
The top whimsically comical mosaic is by Gabriela Grama. I love her use of little sea shells for the curly heads, and the real cell phone lens is just killer! The bottom mosaic is a piece by Heather Vollans. Heather has a magical way of making stone speak. 
This little cutie is by Bonnie Fitzgerald. She made this great yoga series with clay figures in all different poses—just love them.
This mosaic by Shug Jones is only 6" X 6". In that small space Shug was able to translate attitude, gesture, and a sense of place. You can sense that the gal in the center may have been standing in place waiting for a while, you can see her weight shifted to one leg—as someone with back issues I know that stance. Incredible what the artist can translate with just a small shard of glass.
I love how artists bring dimension to their mosaic creations, these two abstract works are great examples. The red and blue work on the left is by Margo Anton and is an example of her "spikey-shardy " technique. The other worldly piece on the right was composed by Jane Chaskey. Jane's creativity and imagination are quite inspiring.
Mosaic jewelry is very special, it's a way to keep the creation of special artists close to your heart. These pieces are by Libby Hintz, Verdiano Marzi, Rachel Sager, and Linda Purrazzella.
I created this abstract floral piece in a retreat taught by Tami Macala in Todos Santos Mexico. It was my first attempt with both smalti and thinset. I think it compliments my Mexican pottery collection. Tami's retreats are quite magical.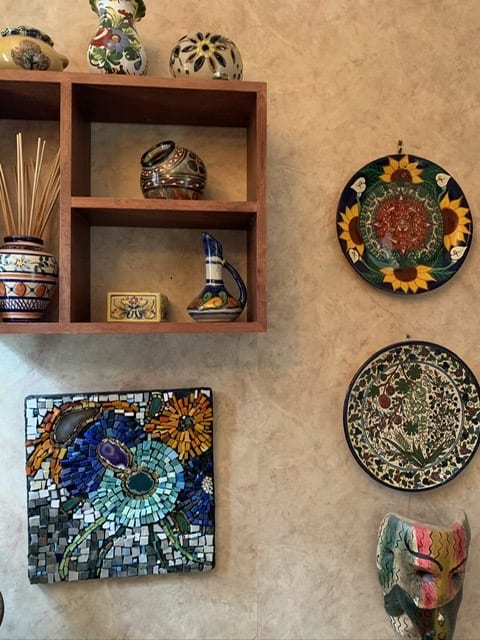 Carol Shelkin is an extraordinary teacher; I worked on this portrait of Rosa Parks in her glass realism class at a retreat at Haciendo Mosaico, in PV Mexico—the location is Paradise! Carol not only teaches you to become a more skilled artist, but somehow a better human as well.