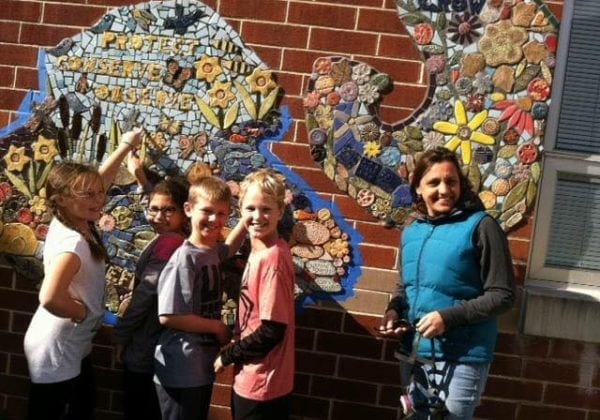 Constructing Community through Collaborative Mosaics with Tamara Froud and Jessica Gorlin Liddell
Session 2: Thursday, April 25, 2019, 8:00am – 5:00pm
Workshop: Hands-On 
All Levels
Price: $310  (Includes $35 Materials Fee)
Mosaic art is an amazing vehicle for collaboration. It can bring communities together, develop pride in an area and facilitate positive mental well-being through the collaborative process. Many professional mosaic artists find opportunities facilitating projects in schools and community centers.  Artists Tamara Froud and Jessica Liddell each have some twenty years of experience with community mosaics and between the two of them have completed hundreds of projects with thousands of children and adults. Tamara won the best community project at MAI 2017 and Jessica facilitated the Mosaic Marathon with SAMA in 2016.  Join them for this exciting workshop as they unscramble the sometimes intimidating preliminaries to setting up a project and clarify the processes involved.
During this class, you will investigate the following areas:
Finding Schools/ Organizations to partner with
Site Assessment
Writing a proposal
Creating a design with community involvement
Working out a budget and securing funding
Communicating with school officials/community organizers to set expectations
Choosing and organizing materials
Scheduling the work
Determining a range of age-appropriate activities
Examining various options for fabricating and installing work
Jessica and Tamara will start the workshop by showing photographs of their many varied projects.  This presentation will provide inspiration and a visual guide to the different approaches one can take with collaborative mosaics.  We will then break into groups and rotate through four different activities designed give you experience from both sides: as community participants and project providers. Workshop participants will get hands-on experience while learning some fantastic collaborative techniques.
The detailed handouts will make up a reference pack of information that will enable participants to set up future projects with confidence.  The class will end with a question and answer period. This session would particularly benefit artists with some mosaic experience who are looking to expand what they do and who are interested in the richly rewarding teaching and collaborative processes.  Participants will leave with valuable technical information, teaching aids and a professional reference pack for future projects that will help to expand their businesses.
Jessica Liddell started her company, Bella Mosaic Art, in 1997. She specializes in large-scale architectural works and has created permanent mosaics in parks, libraries, schools, office buildings, hospitals and private residences across the US. In 2003, Jessica renovated a commercial property in Philadelphia, Pennsylvania and established a ceramic, mosaic and glass studio where she fabricates many of the tiles used in her projects. She also teaches adults and children in the space. Along with her work in schools, Jessica has developed a corporate team building program and has worked with a number of companies to foster creativity and teamwork with their employees. Her artwork has been featured on HGTV and The Travel Channel along with many regional news shows and publications. BellaMosaic.com
There are two things that Tamara Froud distinctly remembers from growing up: drawing and making mud pies. It took her 10 years of study, travel and various jobs before she tried out mosaics. She has never looked back. "I love the durability and longevity that mosaic offers as an art-form and the challenges involved in tool use, the making process and the fixing process. I am drawn in by incredible materials, which allow an on-going exploration of colour and texture."
A highly motivated inspirational workshop leader with excellent organizational skills and infectious enthusiasm for mosaic and Froud loves to teach and stimulate people's imagination and creativity and to inspire them to collaborate and is consistently wowed by the resulting artwork.
She prefers a bit of function to the form and aims to create something that resonates with the location. She is fixated on combining mosaic with other elements: concrete, sculptural bases, woodwork or metalwork and is looking to take this ancient art into the future.   Mosaicartltd.co.uk
---
Professional Development Seminars
Broadening the Understanding of the Business of Art.  Providing professional artists with best practices and tips to transition from non-art related field to an art business.
Artistic & Technical Development Workshops
Increasing an understanding of general art concepts in relation to a mosaic artwork. Increasing the technical skill of the mosaic artist through the exploration of materials, techniques, and tools.